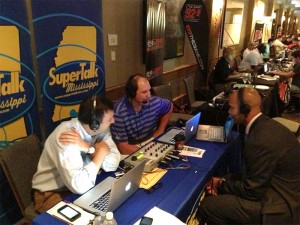 Head to Head, Mississippi's only statewide sports show, will broadcast live from outside Reed Green Coliseum on the Southern Miss campus on Thursday, February 27, from 3-6 p.m. The show is broadcasted locally on SuperTalk Mississippi stations WFMM 97.3 and WLAU 99.3 each weekday.
Head to Head is co-hosted by Matt Wyatt, a former Mississippi State University quarterback who is currently a color commentator for MSU football, and Richard Cross, an Ole Miss alum who has done color commentating and announcing for Conference USA, SEC, and Sunbelt Conference broadcasts. Head to Head has been part of the SuperTalk MS line-up for over a year with much success. Both Wyatt and Cross look forward to returning to the Southern Miss campus after hosting their show on campus once before.
"Southern Miss recruited me as a football and baseball player almost 20 years ago, and I've been keeping up with their programs since then," says Matt Wyatt. "It's always exciting to be on the USM campus where their teams have had so much success over the years."
"Hattiesburg has been great to Head To Head," says Richard Cross. "The city, the people and the good folks at USM have welcomed us with with open arms – and good food – and we can't wait to be back in the Hub City."
Southern Miss is also excited to have the statewide show on their campus according to Brent Jones, Southern Miss Associate Director of Athletics for Marketing and Communications. "We are pleased to have the Head to Head with Richard and Matt visiting back with us on our campus. We were able to showcase our football program on a visit they had last summer and we look forward to showcasing our basketball programs which both have had outstanding seasons. Richard and Matt do a great job of showcasing and highlighting the entire sports scene in the state of Mississippi, and we are very fortunate to host the show for the 2nd time in less than 6 months. "
The men's basketball team will play Florida International beginning at 6 p.m. that evening at Reed Green Coliseum.
"Exciting time to be in Hattiesburg as Donnie Tyndall and his team really have it rolling on the hardwood. The fan support and passion surrounding this team has been great to see," says Cross.
"I don't think there's any question, Donnie Tyndall has the best men's basketball team in Mississippi this year," says Wyatt. "They play with great effort and chemistry, and are just plain ole' fun to watch!"
The public is invited to come out and show support for Southern Miss during the live show on campus. Tickets for the game following the broadcast are available for purchase at www.southernmiss.com, calling 1-800-844-TICK, or by visiting the Pat Ferlise Center located on West 4th Street in Hattiesburg adjacent to campus.
For more information about Head to Head, visit their page at www.supertalk.fm/shows/head-to-head/. Follow the show on Twitter at @headtoheadradio.