Statewide support comes together for one beloved charity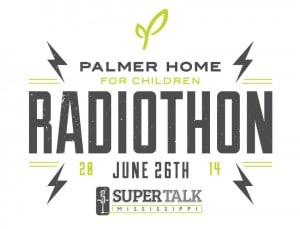 COLUMBUS, Mississippi – Tune in on Thursday, June 26, 2014 for the second annual Palmer Home for Children Radiothon on SuperTalk Mississippi Network, 6 a.m.-6 p.m. Listeners can join in by listening to one of 11 SuperTalk Mississippi Network stations or online at www.supertalk.fm. The audience will hear directly from children, alumni, staff and supporters of Palmer Home as they share their stories of hope and healing, as well as learning more about the exciting growth that is made possible by generous supporters of the event.
The 12-hour Radiothon will broadcast live from Palmer Home for Children's Columbus, MS campus. All three major talk shows, The Gallo Radio Show, The JT Show and Head to Head with Matt Wyatt and Richard Cross will be showcasing the positive impact Palmer Home for Children has on children in need. Join the conversation by following @PalmerHomeMS and @SuperTalk throughout the day sharing the moments that evoke emotions that make the day memorable to all involved.
"We are thrilled to collaborate with SuperTalk again this year and are truly grateful for their commitment to our mission," said Josh Whelan, Vice President of Development for Palmer Home. "Since we are privately-funded, we rely on the support of generous partners like SuperTalk to help us impact the lives of hundreds of children. Without organizations like SuperTalk, it would be difficult to create an environment of hope and execute our goal of making our children's lives whole. It is with profound gratitude we host Supertalk on our Columbus campus again this June."
A dynamic line-up of guests include Mississippi Secretary of State, Delbert Hosemann; Sam Haskell, renowned TV executive, writer and speaker; Jimmy Wayne, country music singer and songwriter and author; and athlete Tyson Lee, former Mississippi State University quarterback, who after leaving the NFL, moved back to Mississippi and began working with the Fellowship of Christian Athletes at MSU.
"It is a tremendous honor to be able to use the statewide reach of SuperTalk Mississippi to raise funds and awareness for Palmer Home," said David Day, Program Director for SuperTalk Mississippi.  "Their mission is clear, just and something every Mississippian should know about and support."
During the Radiothon, listeners are encouraged to call in and support Palmer Home for Children with donations and pledges. Money raised from the Radiothon will go directly to Palmer Home for Children. Last year, the inaugural event raised $73,000 and this year the goal has been set for $100,000. One anonymous donor has committed to a matching gift of $20,000 to help reach the goal.
The number to call for donations during the Radiothon is 662-245-4642 or listeners can donate online by visiting palmerhome.org.
About Palmer Home for Children
Since 1895, Palmer Home, a privately funded non-profit, has been a leader in residential child care with a mission to provide long-term care for children who lack an adequate family structure. For more information, please go to palmerhome.org.
Contact:
Katharine Hewlett, Marketing and Public Relations Manager
662-328-5704 x166
khewlett@palmerhome.org