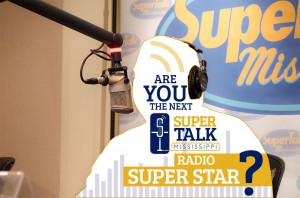 ARE YOU READY TO BE HEARD ON 11 FM STATIONS ACROSS THE MAGNOLIA STATE?
SuperTalk Mississippi is currently taking applications for possible future openings on our statewide network.
Do you already have a show? Always dreamed of being on the radio? Got a great idea for a new SuperTalk show that will set you apart from everyone else?
We want to hear from you!
Do you have what it takes to create powerful, compelling radio?
Are you creative?
Do you have unique perspective?
Are you articulate?
Can you accept coaching and critiques on a regular basis in order to improve your show?
Are you informed?
Do you have a great sense of humor?
Are you a good storyteller?
Do you realize that creating powerful radio requires hours of preparation before the mic is even turned on?
Are you interested in a wide range of topics – not just politics?
Can you commit to SuperTalk's "never be boring" mission statement?
Are you wired in to social media and ready to make Twitter and Facebook a part of your show?
Submit your information below and if you spark our interest, we will contact you to set up an interview:
Oops! We could not locate your form.
*TeleSouth Communications is an Equal Opportunity Employer.