Earlier today, Mississippi State outlasted Ole Miss in a back-and-forth matchup in Oxford. Below, you'll find a look at the game from both sides as SportsTalk Mississippi's Brian Scott Rippee and Brian Hadad recap the action and look ahead to what's next for the Rebels and the Bulldogs.
Rebels 'out-toughed' in home loss to Mississippi State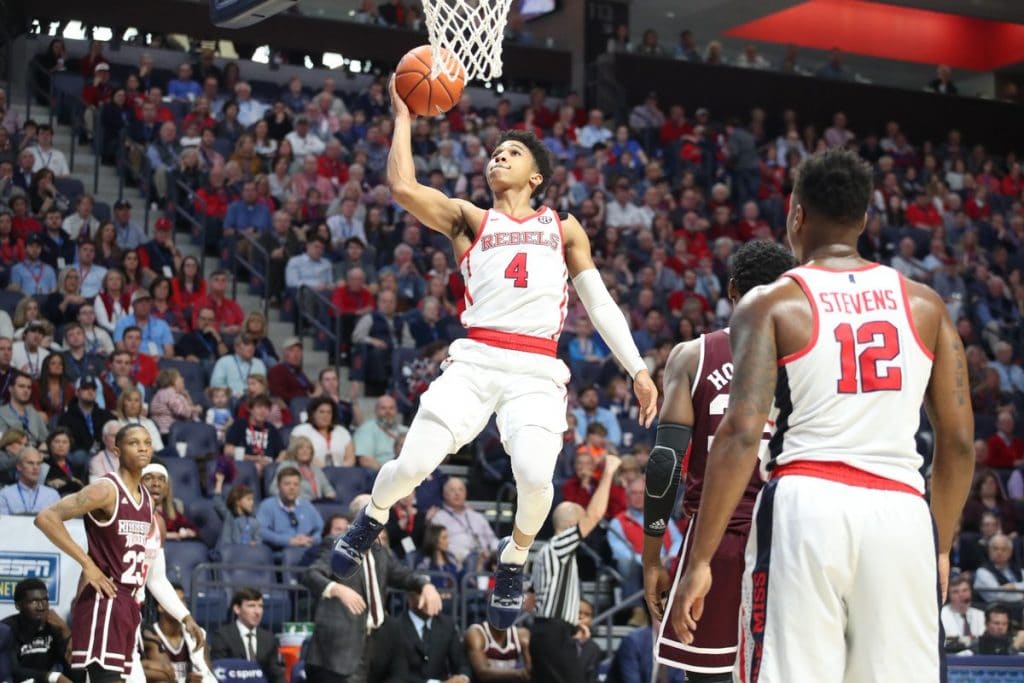 Story by Ole Miss Beat Reporter Brian Scott Rippee 
The frustration in Kermit Davis' voice was palpable. He was mystified at the lack of effort in the lethargic performance his team put together in an 81-75 loss to Mississippi State on Saturday, the team's fourth consecutive loss and fifth in its last six games.
Davis burned a timeout less than two minutes into the game, disgusted with his team's conviction on the glass in the game's first couple possessions. A similar sequence occurred late in the second half when the Bulldogs snared three offensive boards in one possession, leading to two points, a four-point lead with five minutes left and another Ole Miss timeout.
"The out-toughed us from the start," Kermit Davis said. "I'm trying to coach effort in a rivalry game in a sold-out arena and that is inexcusable."
https://www.youtube.com/watch?v=2c6VlCABOG0
That's where this game was won and lost. Make no mistake about it. It isn't as simple as a lack of effort alone, but the rebounding disparity was evidence of a shortage of energy. Mississippi State pulled 15 offensive rebounds, recorded 19 second-chance points and won the rebounding margin 40-28. Dominik Olejniczak played a combined 42 minutes and did not record a defensive rebound.
"That's almost impossible," Kermit Davis said. "Blake Hinson didn't rebound the ball. They made a lot of good plays, so give Mississippi State credit."
No one was spared from criticism from the first-year head coach. 
"(Dom) wouldn't rebound the ball," Kermit Davis said. "Wouldn't pursue balls and was late to everything. Bruce came in and did some good things, but Bruce can only play about two minutes. He always asks to come out. It is frustrating at times, but that is kind of where we are right now."
Mississippi State won the 50-50 balls by a margin of 19-8. Ole Miss made one less field goal, turned the ball over less and actually led the game at halftime by four, before succumbing to the Bulldogs' physicality in the second half. 
"Eventually, toughness won out," Kermit Davis said. "They came out and hit us in the mouth."
Breein Tyree had 25 points on 7-of-15 shooting. Terence Davis scored 15 and Devontae Shuler added 14 points. The Rebels led late in the second half, but didn't take advantage of chances to extend the lead, and had a handful of poor possessions in the final two minutes. Ole Miss didn't record a field goal in the final three minutes of the game and missed its last seven shots. The guards had to help crash the glass because of the ineptitude of the post players and weren't able to get out in transition as easily as a result.
"It's just want to," Terence Davis said. "Ball getters. We don't have enough ball getters on our team. We have to have more to go get the ball. It is that simple."
https://www.youtube.com/watch?v=yGQuTkCcV3c
State took a lead on a Reggie Perry three with nine minutes left and didn't relinquish it. Perry was a terror for Ole Miss inside. He scored 21 points and pulled eleven rebounds. He dominated Stevens and Olejniczak inside. Perry was inserted into the starting lineup in place of Aric Holman, a move that proved to be fruitful for Ben Howland.
"My confidence is up," Perry said. "My teammates have done a good job of putting me in the right position."
Coming off a 17 point, five-rebound performance at Florida, K.J. Buffen earned a start over Blake Hinson, but struggled mightily in 21 minutes. He scored just one point and grabbed four rebounds.
"He struggled with their length," Kermit Davis said. "You can't just flail away in this league off one foot, flop and expect someone to give you a call. It is a big boy league. You have to go up with two feet, shot fake and at times make others better."
Ole Miss has now lost four in a row and five of six since winning in Starkville three weeks ago. This was a bad loss for this team. It got bullied on its home court in a game it badly needed to win after a 1-4 stretch since the win in Starkville three weeks ago. The schedule gets a little more friendly next week with Texas A&M and Georgia, but the finishing stretch is daunting for a team that is gravitating back towards earth after a 3-0 start in league play.
"We are a first-year program," Kermit Davis said. "We are 14-7 and .500 in the SEC. We've lost to some really good teams. It is just where we are. There is no spiral here."
Mississippi State Grinds Out a Much Needed Rivalry Win Over Ole Miss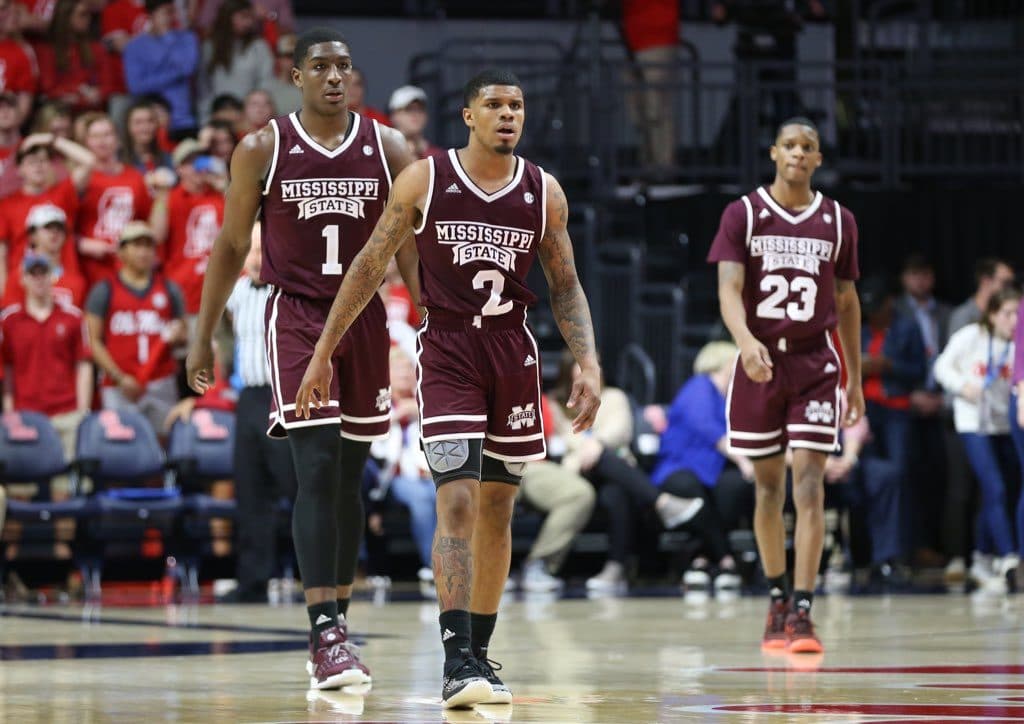 Story by Mississippi State Beat Reporter Brian Hadad 
Just three weeks ago Mississippi State had to watch the Ole Miss Rebels celebrate on their floor after an 81-77 win for the red and blue in Starkville. Today in Oxford, the Bulldogs repaid the debt in full, as Quinndary Weatherspoon and Reggie Perry led State to an 81-75 win at The Pavilion. The senior and freshman combined for 48 points and 19 boards, as the Bulldogs enjoyed a +12 advantage on the glass. Ole Miss was driven by junior guard Breein Tyree, who had another huge game against MSU, going for 25 points and keeping his team in the game throughout.
THE PLAYER
Reggie Perry with three straight games in double figures for the 1st time in his career. #HailState🐶 pic.twitter.com/tHhp0X9Kvk

— Mississippi State Basketball (@HailStateMBK) February 2, 2019
Reggie Perry's time at Mississippi State seems to have arrived, as the freshman followed up a huge night at Alabama with another career high today. Perry dominated on the offensive glass, leading to a +9 edge for State, and was a huge part in MSU's 19-6 lead in second chance points. Perry also came up big from the outside, hitting two three's in the final five minutes of the second half, one to give MSU the lead for the first time since the first half, the second to answer a Tyree three on the other end that seemed to give the Rebels life. Perry was a five star signee, now he's playing like a five start for Ben Howland.
Q CONTINUES TO LEAD FROM THE FRONT
Quinndary Weatherspoon with two pressure free throws, he's up to 25 PTS.

Dawgs up 79-75 with 1:09 left – timeout MSU#HailState🐶 pic.twitter.com/SWbp9QPHoG

— Mississippi State Basketball (@HailStateMBK) February 2, 2019
In what felt like a must win game, it should be no surprise that Mississippi State's do it all senior Quinndary Weatherspoon delivered when the Bulldogs needed him. Weatherspoon consistently scored or got to the free throw line in the second half, as MSU turned a seven point deficit around into a lead around the midway point of the final 20 minutes. Weatherspoon finished with 25 points, including a clutch 8-9 from the line. Q has really carried the Bulldogs over the past few weeks, and if Perry can step up to give him a legit low post option, this team could finally turn into the squad that the preseason polls thought so highly of.
WHAT'S NEXT?
Let's #BootUp 🐯 pic.twitter.com/4Ei5ndRMYH

— LSU Basketball (@LSUBasketball) February 2, 2019
LSU has been red hot since conference play began, as one of two teams left unbeaten in SEC play. The Tigers are long and athletic, but guard Tremont Waters gives them a backcourt option that's as good as anybody in the country. After the Tigers, State will welcome Kentucky to the Hump, so this could be a huge week if State can play the way it did today. As always, plenty to talk about on SportsTalk Mississippi and the Thunder & Lightning Podcast.
Stay up to date with all of Mississippi's latest news by signing up for our free newsletter here. 
Copyright 2023 SuperTalk Mississippi Media. All rights reserved.