HB 1083 passed through the Mississippi House of Representatives on Wednesday, and it has caused controversy on college campuses across the state.
The bill makes it easier for the 67,000+ Mississippians with an enhanced concealed carry permit to bring a firearm into government proceedings, on college campuses or even into an athletic event. It does so by creating a process to sue the institution or organization if the permit holder is not allowed in with their firearm.
It's obvious that not all permit holders would be in one place at the same time, for the sake of a visual representation, Ole Miss' Vaught-Hemingway Stadium holds 64,038 people and MSU's Davis-Wade Stadium holds 61,337.
While the author of the bill, Rep. Andy Gipson, says that the law has existed since 2011, the conversation surrounding its reach has been re-ignited. The passage of the bill in the House quickly grabbed the attention of MSU AD John Cohen, Ole Miss AD Ross Bjork, and even SEC commissioner Greg Sankey.
"ADs and institutions typically do not want to wade into political matters, We're supposed to stay neutral and be supportive of our state, but this is something that needs to be on our radar. We have an obligation to make our facilities and our campuses as safe as possible, so when this hit the radar we have to be a leader in talking about this," Bjork said.
Bjork went on to say that they will continue to monitor the bill as it moves over to the Senate, and hopes that it could possibly be amended to exclude college campuses. Cohen says that facilities across the SEC have a "special" atmosphere because of the passion and emotion that surround them, but the introduction of firearms to that atmosphere could be problematic.
"Our concern is that if you introduce certain elements to that emotion, in some ways it could stop us from making this as safe of an environment as it needs to be," Cohen said. "That's what we wake up in the morning thinking about, and that's what we go to sleep at night thinking about; protecting our student-athletes, the fans, the opposing teams, the officials, that's our responsibility, and we don't take that lightly."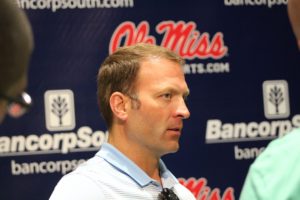 One of the most significant potential outcomes of this bill could be the loss of home games for Ole Miss and MSU due to safety concerns from opposing teams. Bork mentioned that both schools may need to begin to look at other places to play just in case. Not only would disappointed fans be left in the wake of lost home games, Oxford and Starkville are heavily reliant on the economic impact that football season brings.
"Our economies in our small college towns, which we're super proud of, rely on these games, and the economic impact is millions of millions of dollars per game and obviously per season," Bjork said. Maybe we'd have to go to Memphis to play our games, John (Cohen) you'd have to go to Birmingham. I think you have to look at the extreme possibilities where a competitor may say 'I won't come there' or officials may not show up. There are a lot of unintended consequences.
Commissioner Sankey released a letter stating that scheduling could be affected, and that his office has received concerns because of this bill just as he did when the state of Arkansas introduced a similar bill last year. While the law in Arkansas eventually ended up exempting athletic events, Mississippi must now wait and see with HB 1083. Sankey says that he hopes it doesn't come to that, and that much like the Arkansas case, he hopes to see a change.
Rep. Gipson says that even if HB 1083 fails, the law allowing enhanced concealed carry will remain. He also questioned the ADs and Commissioner Sankey's understanding of the bill. Gipson also said that similar laws exist in Texas and Georgia, both of which are home to SEC teams.
"The first time I heard from the SEC was after we passed the bill on Wednesday…It was obvious to me that from reading that letter, that they either did not know or were poorly advised that we already have campus carry in Mississippi," Gipson said. "Whether 1083 lives or dies, we have campus carry in Mississippi. In fact, we've had it longer than most of these University presidents have been presidents or even lived in our state."
Gipson went on the say that the law is about self-defense and protecting their 2nd amendment rights. While Bjork agrees that the protection of Mississippians rights is important, safety must be the number one priority.
"We want everyone to have their rights, but we're obligated to make sure our stadiums and our venues are safe," Bjork said.
The future of HB 1083 may be unclear, but to get rid of concealed carry on campuses would require a rollback of gun laws in the state and Gipson says that he has support from an important player in Mississippi politics.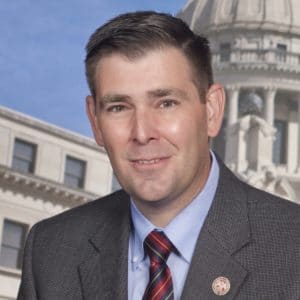 "The governor has told me that he supports HB 1083, I'm not sure he would sign a rollback of our concealed carry laws. We need to take a big step back and understand that before you ever became a university president, this was the law in Mississippi. Before you became an AD in Mississippi, you know who you are, this was the law. Y'all need to back up," Gipson said.
Gipson said he would be open to sitting down with the involved parties, but he would not offer up a rollback of the gun laws in Mississippi which the ADs and Commissioner Sankey called for.
USM President Rodney Bennett issued a statement as well in opposition to the bill.
On February 7, 2018, the Mississippi House of Representatives passed House Bill 1083, which, if signed into law, would authorize any person who has an enhanced firearms license to carry such firearm on public property. This would result in a policy change, which would disallow public agencies from maintaining any policies that designate spaces where firearms are prohibited. Earlier this week, I traveled to Jackson to speak with members of the legislature to share my concerns about this type of policy change.
As a public institution, The University of Southern Mississippi remains committed to providing a safe, productive, and inclusive learning environment for each member of our community, and we will continue to do all that we can, within the law, to advocate for and ensure the safety of our students, faculty, staff, and visitors.
The bill will head over to the Senate for debate and consideration, and the conversation will surely continue around this controversial piece of legislation.
Stay up to date with all of Mississippi's latest news by signing up for our free newsletter here. 
Copyright 2023 SuperTalk Mississippi Media. All rights reserved.