Photo courtesy of Rodney Smith Jr./Facebook
Rodney Smith Jr. is on a mission to make a difference "one lawn at a time" as he travels across the country seeking to help those in need by cutting their lawn for free.
"If you know of anyone who is elderly, disabled, a single mother or a veteran who needs their lawn mowed let me know," he posts as he enters a new state.
On a trip titled "50 States & 50 Lawns", Smith Jr. made a pit stop in Mississippi yesterday and detailed his trip on his Facebook page.
This is the second time that Smith Jr. has gone on such a tour, but this time he has added a few new goals to his efforts as he works to involve kids in local communities, teach them about lawn mower safety, and encourage community service.
The kids who help out receive a T-shirt bearing the organization's name 'Raising Men Lawn Care Service'.
The organization challenges kids all over the country to take the 50-yard challenge, which means cutting 50 lawns. If they do, they receive a new color T-shirt for every 10 lawns. Their website also states that after 50 lawns, the child will get a special gift.
"Once you reach 50 lawns, we will come visit you, cut a few lawns with you, and give you different color Raising Men Lawn Care Service shirts. We will also give you a brand new lawn mower! Let's make a difference together by mowing one yard at a time!"
Smith Jr. caps off every lawn he mows with a selfie with the homeowner and any helpers that he has.
Created in the 2017, the organization now has 8 chapters and has mowed over 2,000 lawns.
To learn much more about the organization, sign up for the 50-yard challenge or submit a lawn, visit their website –  http://weareraisingmen.com
To follow along with the rest of Smith Jr.'s journey, here is the remainder of his tour schedule.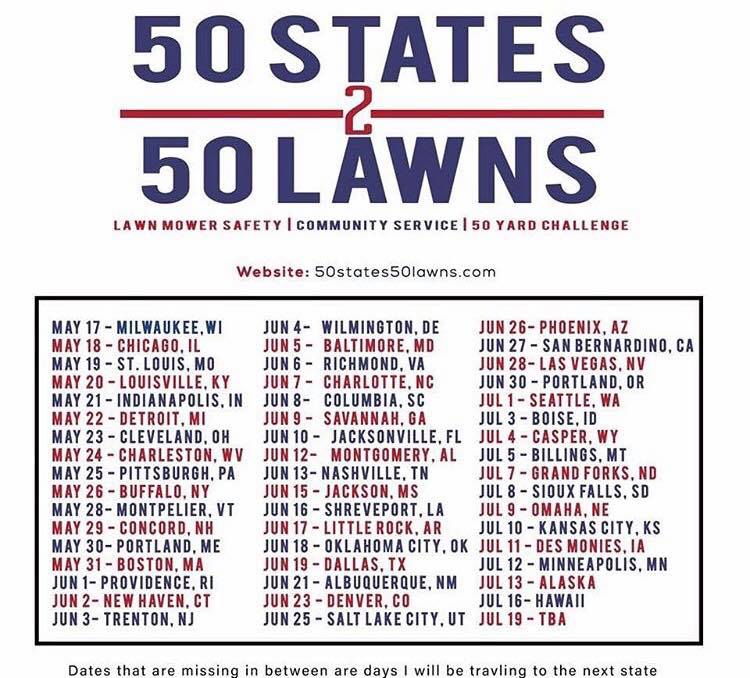 Stay up to date with all of Mississippi's latest news by signing up for our free newsletter here. 
Copyright 2023 SuperTalk Mississippi Media. All rights reserved.