The Mississippi National Guard's 155th Armored Brigade Combat Team has taken over the responsibility of Operation Spartan Shield at Camp Buehring, Kuwait.
The brigade conducted a transfer of authority ceremony with the outgoing Fort Bliss-based 2nd ABCT, 1st Armored Division.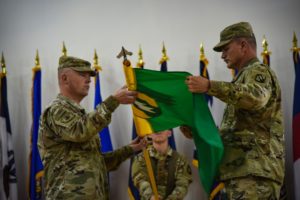 This is the first time a National Guard Brigade Combat Team has taken over the Operation Spartan Shield mission. The 155th ABCT has been training for months at Fort Bliss, Texas to ensure they are ready to do their job. The units will essentially swap places as the Fort Bliss-based 2/1 AD transition back to El Paso.
"The 155th's role in the TOA is very similar to what the 2/1 AD did when they arrived. It is important that we continue to build upon the foundation that they have laid," said 155th ABCT commander Col. Doug Ferguson. "We are the first National Guard BCT to have this mission. I think that speaks to the professionalism and readiness that this brigade has continued to exhibit throughout its history. We're proud to have units from across the United States represented within our ranks and we look forward to partnering with our Kuwaiti and regional allies to accomplish the mission."
"The 155th is now more prepared than ever to conduct decisive operations in a complex environment."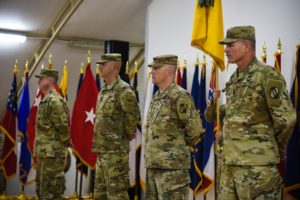 As the 155th ABCT began arriving in country, the 2/1 AD "Iron Brigade" passed on their best practices and tactics, techniques, and procedures to give the 155th a solid foundation for success. Nearly every Soldier in each unit had a counterpart to share information and ensure the mission would continue successfully.