After week 8 of college football, Ole Miss and Mississippi State have a lot to work on, while Southern Miss picked up a win in their homecoming matchup. Check out a recap of all three games below:
#22 Mississippi State: 3 #5 LSU: 19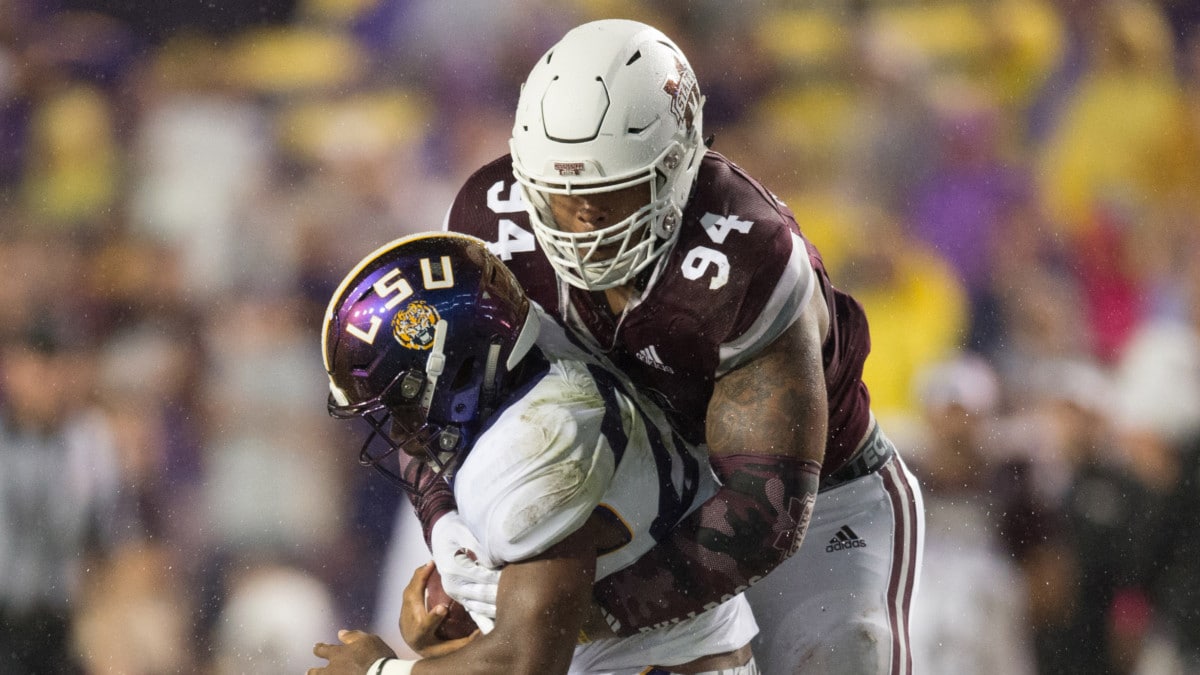 After Joe Moorhead accepted the head coaching job at Mississippi State, he texted QB Nick Fitzgerald to clear a spot on his mantle for a Heisman Trophy. After a dismal performance in a 19-3 loss to LSU, some are wondering if the senior QB should start moving forward. 
"At every position, we evaluate and see who gives us the best opportunity to win. So, we'll sit down and look at the tape and make decisions," Moorhead said after the game.
Fitzgerald threw an interception on the team's opening possession following two false starts as the crowd in Death Valley was a factor. Things would spiral from there for the offense as Fitzgerald would throw a total of 4 INTs and completed just 8 passes all game long. 
The first pick led to an LSU touchdown after they started the drive from the 2-yard line. That would be the only TD of the night for either team as the MSU defense held their own despite the offense's shortcomings. The Bulldogs held LSU to just 239 yards and kept the game close. Cameron Dantzler picked off LSU's Joe Burrow in the end zone to bail out the offense after Fitzgerald's second INT. 
As the game wore on, LSU was able to do just enough to get themselves into FG range and continued to extend their lead 3 points at a time. Trailing for the entire game, MSU was running well, but with no passing attack, they couldn't break through. 
With a 1st and goal down 7-0, MSU had a chance to tie things up, but three straight runs ended the drive with the Bulldogs' only 3 points of the game. Without the ability to throw the football, this offense looks nothing like it did early in the season, and Fitzgerald has regressed in the passing game. 
He did run well, leading the team with 131 yards and 23 carries. Fitzgerald has always been more dangerous on the ground, but with just 59 passing yards, there's no balance in the offense. After the game Moorhead said they'll need to find ways to get the passing game going. He made a similar statement after Fitzgerald passed for just 69 yards in their win over Auburn, but it remains to be seen how this gets fixed moving forward.

N. Fitzgerald: 8/24 59 yards 4 INT, 23 car. 131 yards
DL J. Simmons: 10 tackles
DE M. Sweat: 1 sack
The Bulldogs (4-3) head back home for a matchup with #17 Texas A&M (5-2) 
Auburn: 31 Ole Miss: 16
In three of their four SEC matchups, the Ole Miss offense has failed to resemble the explosive unit that Rebel fans have seen in non-conference matchups after a lackluster performance against Auburn. 
While Ole Miss put up 447 yards of total offense, they didn't score their first touchdown until the game was out of reach late in the 4th quarter. The yards came in between the 20s for the Rebels as they were unable to finish drives in the end zone all game long beginning with their very first drive that ended with a blocked FG. 
Auburn responded with a touchdown drive to take a 7-0 lead, and Ole Miss would move the ball right back down the field on their next possession. At the Auburn 14-yard line, the Rebels offense would stall again and they'd settle for a field goal to make it 7-3. 
From there on out, Auburn wouldn't allow Jordan Ta'amu to settle in and find a grove and the absence of D.K. Metcalf was felt by the Rebel offense. Settling for field goals and having promising drives stall was the story of the day, and head coach Matt Luke knows that. 
"The main story of the day is pretty obvious, when you get in the red zone you have got to find a way to score a touchdown. Also, I thought that our ability to run the football really hurt us at times," Luke said. 
The running game contributed just 123 yards on 39 total team carries after it provided a huge spark in last week's win over Arkansas. Scottie Phillips never found any room to maneuver, and neither did Ta'amu. 
With Metcalf out, Braylon Sanders' name was floated by Luke during the week as a guy who would need to step up, but he finished with just 3 catches and never made an impact. 
The first half was perhaps the best the Ole Miss defense has played all season as they held the Tigers to just 10 points and kept the Rebels in the game, but for once, it was the offense that couldn't get it done. In the second half, it appeared that the unit was gassed and the floodgates opened. The Tiger ground game began to find their footing and Auburn put up 21 points in the 3rd quarter.
"They kept battling and battling, and the dam just finally broke," Luke said about his defense. "They battled back in the fourth quarter, but the three scoring drives back-to-back were because of too many explosive plays. We cannot allow that to happen. I thought they kept us in the game long enough, but we were not able to put points up to win."
This effort feels like a giant step back for the Rebels as they head into their bye week after the team thought they found their stride in last week's win. Auburn came in having lost 2 straight, and they clearly looked like the team that wanted it more. 

J. Ta'amu: 27/46 324 1 TD, sacked 5 times
A.J. Brown: 10 rec. 155 yards 1 TD 
Auburn: 269 yards rushing, 3 TDs 
The Rebels (5-3) now get a bye week to regroup. 
UTSA: 17 Southern Miss: 27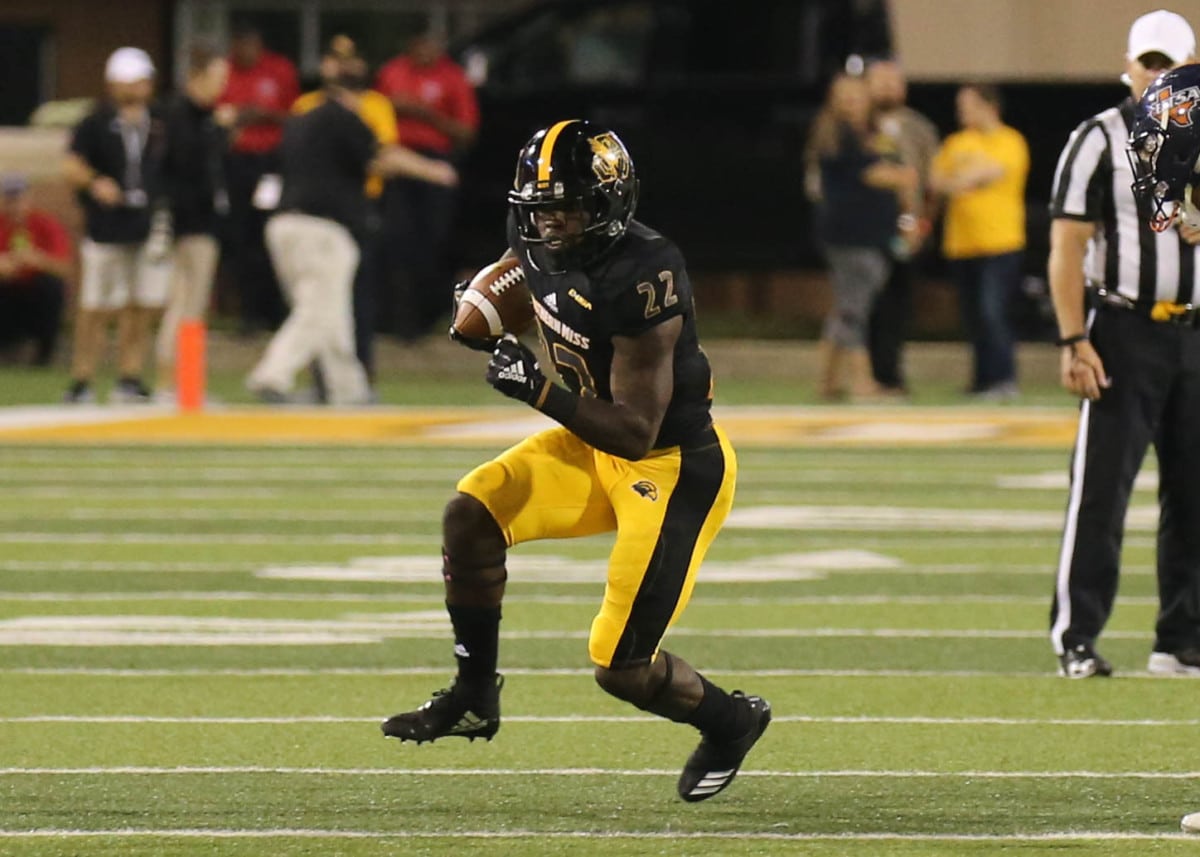 After dropping two games in a row, Southern Miss got back in the win column with a 27-17 victory over UTSA at home. 
Last week against North Texas, USM had just 50 yards rushing and it was clear that they wanted to shake things up this week. The Golden Eagles rushed for 218 yards, led by Trivenskey Mosley with 142 yards on 26 carries. 
After trading FGs early, USM was able to grab a 13-3 lead on the first touchdown of the game with a Steven Anderson TD run mid-way through the 2nd quarter. With just :4 seconds left in the first half, USM would strike again when QB Jack Abraham found Jordan Mitchell in the end zone to extend their lead to 20-3. 
They'd score right out of the gate in the 2nd half, and at 27-3, the Golden Eagles were able to coast the rest of the way, although, things got sloppy with 2 fumbles and a pick-6. Despite the mistakes, head coach Jay Hopson was proud of how his team responded after the losing streak. 
"Those guys keep plugging away," Hopson said. "We have a great group of guys. We have some youth out there so we knew that we would go on a little bit of a roller coaster ride early in the season. The great thing is when you hit mid-season and you see that youthfulness dying. You see guys getting some reps and hope that you can continue to be better each week. That's what I want to see out of this football team. I want to see a football team that continues to get better. I feel like we took a step in the right direction tonight."
Defensively, USM allowed just 174 yards to UTSA as they built their lead. 
"The defense played hard, they flew around, they were relentless, they played good assignment football," Hopson said. 
WR Quez Watkins did get hurt in the game, but Hopson said that he should be fine moving forward. 
QB J. Abraham: 28/33 269 yards 1 TD, 1 INT; 1 Rushing TD
WR T. Jones 7 rec. 107 yards 
USM Defense: 6 sacks
The Golden Eagles (3-3) travel to take on Charlotte (3-4) next week. 
Stay up to date with all of Mississippi's latest news by signing up for our free newsletter here. 
Copyright 2023 SuperTalk Mississippi Media. All rights reserved.