Staff and Friends of the Park gathered at Tishomingo State Park Saturday to decorate the entire park for fall and to landscape at the park lodge. 
This is a press release 
Brian Belue, President of the Friends of the Park organization, reports that "about two dozen Friends worked Saturday to install colorful fall decorations throughout the park and on a new landscaping project behind the lodge.   The park is looking great and we invite folks to visit the most beautiful state park in our state."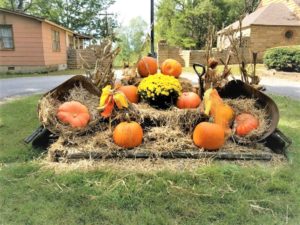 Nestled in the beautiful foothills of the Appalachians, Tishomingo State Park is a natural treasure and one of the most highly rated state parks in the USA.  Rated along with over 3,000 other state parks, Tishomingo State Park has received the following awards:
Top 100 Family Campgrounds;
Top 25 Canoeing Spots;
Top 25 Bird watching Spots;
Top 25 Educational & Historical Facilities;
Top 50 Fishing Spots;
Top 50 Hiking Trails;
Top 25 Kid Friendly Parks;
Top 25 Romantic Spots;
Top 50 Scenic Views;
Top 25 Tours and Events;
Top 25 Amazing Locations; and
Top 25 Unique Cabins.
In 2016, Tishomingo State Park was voted the most popular outdoor recreation destination in Mississippi.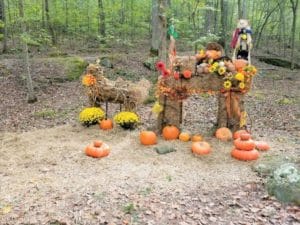 Tishomingo State Park is located south of the Town of Tishomingo in the northeast corner of Mississippi.    The park is also located on the Natchez Trace Parkway, a 440 mile scenic National Park Service parkway between Nashville, Tennessee, and Natchez, Mississippi.
For more information, call 662-438-6914, or e-mail terryh@mdwfp.state.ms.us orcharlottel@mdwfp.state.ms.us, or write Tishomingo State Park, P. O. Box 880, Tishomingo, Mississippi  38873.   Visit the web site at www.mdwfp.com/parks-destinations/ms-state-parks/tishomingo.aspx.