May 25, 2017
Since experiencing a fiery backlash from his suggestion to lynch Louisiana leadership over their success in removing Confederate statues from the city of New Orleans, Representative Karl Oliver has since apologized, deleted his Facebook account, and has been stripped of his vice-chairmanship of the state Forestry Commission. The Mississippi Legislative Black Caucus (among other groups) have called for the representative to resign from his seat in the House, but there is now a new call coming from Washington.
U.S. Representative Bennie Thompson is requesting a federal investigation into the Facebook post made by state Representative Karl Oliver this past weekend. In the congressman's statement, he calls Oliver's language "an immediate threat" and a "recommendation of violence.
Here is Congressman Thompson's full statement:
"The recent Facebook post made by Karl Oliver was dangerous and as an elected official in Mississippi he should have been aware of the harm that could result from the post," said Thompson. "His insistence that people who are opposed to symbols commemorating the treasonous acts of the Confederate State of America should be lynched is deeply disturbing. This type of hate speech is extremely perilous and could inspire others to commit criminal acts. We should be reminded that less than two years have passed since nine African-American church members were murdered by a radicalized individual who swore allegiance to the confederate flag and we are three years removed from a group of college students placing a noose and a confederate flag on a statue of civil rights icon James Meridith. These young people didn't learn to hate on their own. They were inspired by people, like Mr. Oliver, who seek to indoctrinate others with vile speech."
"I am requesting that Department of Justice officials review the comments made by Mr. Oliver to determine if his recommendation of violence constitutes an immediate threat to individuals who are committed to removing tributes to the Confederacy from our public spaces."
May 22, 2017
First-term state representative Karl Oliver has sparked a firestorm over his comments on Louisiana leadership after four Confederate monuments were taken down in the city of New Orleans.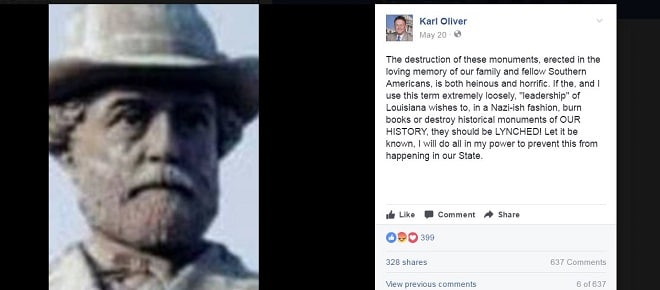 Rep. Oliver says in his post :
"The destruction of these monuments, erected in the loving memory of our family and fellow Southern Americans, is both heinous and horrific. If the, and I use this term extremely loosely, "leadership" of Louisiana wishes to, in a Nazi-ish fashion, burn books or destroy historical monuments of OUR HISTORY, they should be LYNCHED! Let it be known, I will do all in my power to prevent this from happening in our State."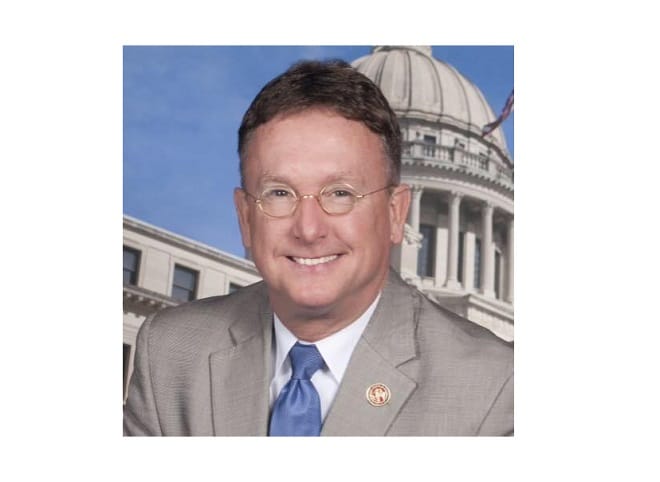 Oliver, a Republican, represents District 46, comprised of Carroll, Grenada, Leflore, Montgomery and Webster counties. It's important to note that Money, Mississippi falls under his constituency. Money is the town in which the brutal murder and lynching of 14 year-old Emmett Till occurred 62 years ago.
Mississippi Republican Party chairman Joe Nosef condemned the comments:
"Rep. Oliver's comments were offensive, do not represent the Mississippi Republican Party and have no place in our public discourse. I hope he will quickly clear up his remarks to make his point without these inappropriate comments."
The post has since been deleted.
According to Meg Annison, spokesperson for Speaker of the House Philip Gunn, Rep. Oliver has been stripped of his vice-chairmanship for the Forestry committee.
News Mississippi has reached out to Rep. Karl Oliver and is awaiting a response.
Stay up to date with all of Mississippi's latest news by signing up for our free newsletter here. 
Copyright 2023 SuperTalk Mississippi Media. All rights reserved.