The NFL Draft wrapped up on Saturday and a total of 11 prospects from Ole Miss and Mississippi State were taken – six Rebels and five Bulldogs. Below, you'll get a full recap of where each player was taken and a list of undrafted free agent signings.
Mississippi State: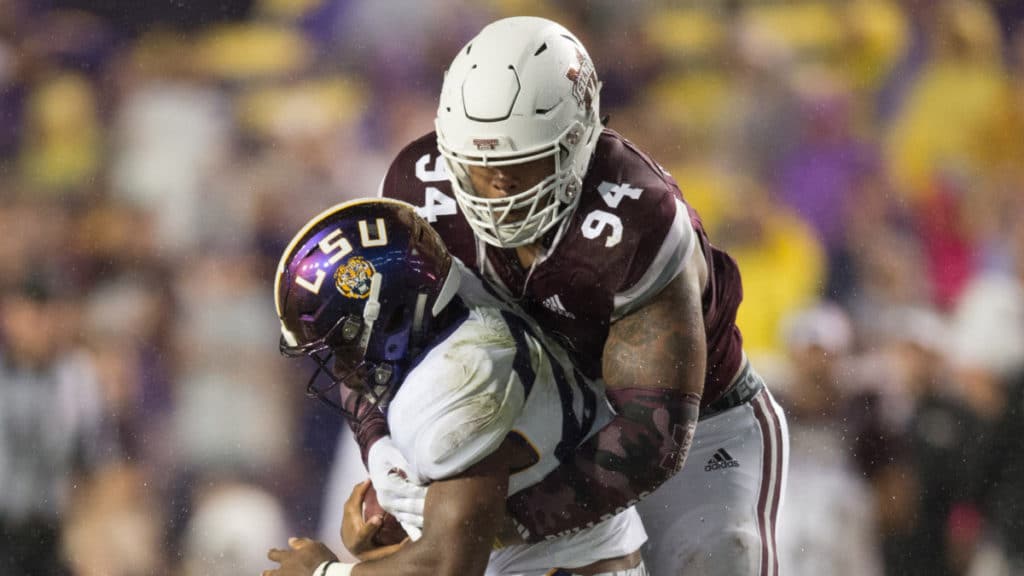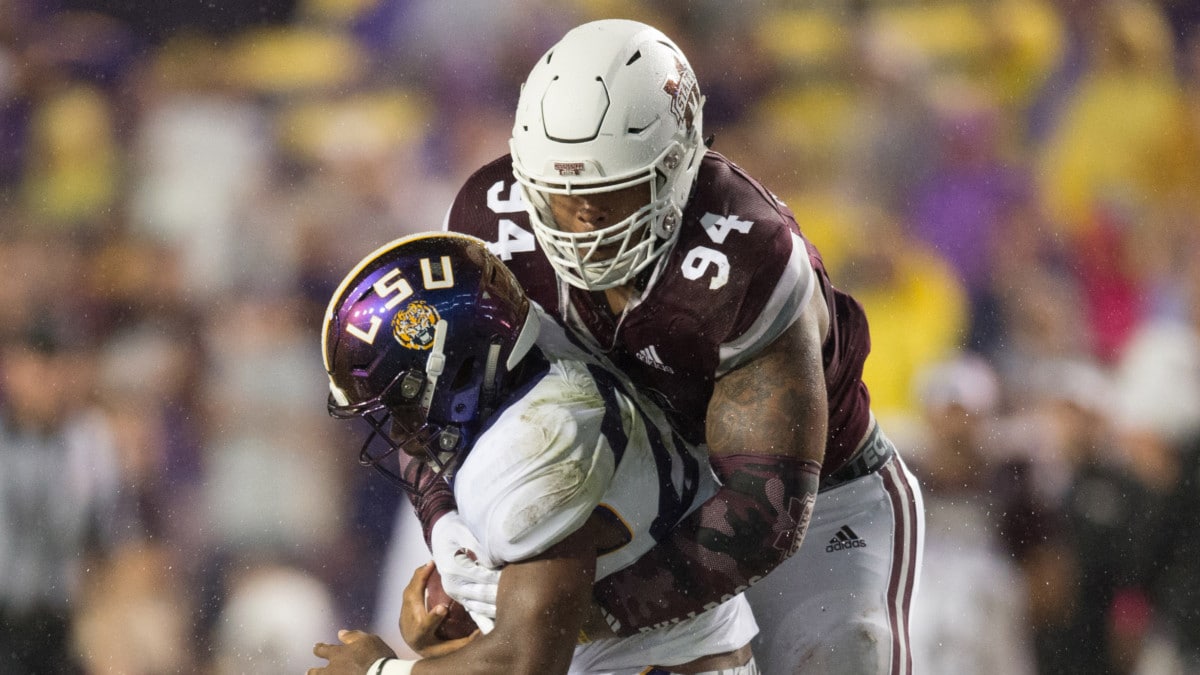 DT Jeffery Simmons – #19 Tennessee Titans
At #19 to the Tennessee Titans, DT Jeffery Simmons became the first Bulldog off the board despite tearing his ACL in February. According to the Titans, Simmons' rehab is going "great" and he should start running again in 2 to 3 weeks. Simmons said that he expects to play in 2019.
Simmons often fought through double teams during his Mississippi State career, but with his size and speed, he was able to amass 157 tackles, 7 sacks and 4 forced fumbles. Titans General Manager Jon Robinson spoke about the pick and said that they couldn't pass up a player with Simmons' skillset.
"I'm just really excited about the ability that he has. He has really good quickness, can really run for a big man. He is explosive, changes direction well. He finishes plays, and he is an aggressive player," he said.
The moment.

When Jeffery Simmons got the call from the @Titans.#HailState🐶 | #FromStateToSundays pic.twitter.com/b7zhKplVU1

— Mississippi State Football (@HailStateFB) April 26, 2019
Simmons' off-the-field past has also come into question throughout the pre-draft process after he pled guilty to a simple assault charge after he was seen on video striking a woman before enrolling at Mississippi State.
Simmons was extremely honest about this video and what led to it. The explanation was he was protecting his sister after a verbal assault that was as bad as can be imagined. It does not excuse anything. But teams felt comfortable with the player. https://t.co/gjuPhd4k1i

— Ian Rapoport (@RapSheet) April 26, 2019
DE Montez Sweat – #26 Washington Redskins
Next up was Montez Sweat at #26 to the Washington Redskins. Sweat's historic performance at the combine had him flying up draft boards, but reports of a heart condition may have dropped him back down a bit. Hours before the draft, however, new reports surfaced that Sweat may have been misdiagnosed.
From our NFL pre-draft coverage: #MSU pass-rusher Montez Sweat may have been misdiagnosed with hypertrophic cardiomyopathy. Two sources say the thickness of Sweat's heart wall is actually 1.5 cms, not nearly 2.0. I explain below why the risk could be much lower. pic.twitter.com/PUVsbO2tDw

— Ian Rapoport (@RapSheet) April 25, 2019
The Redskins had already drafted QB Dwayne Haskins at #15, and they traded back into the first round to grab Sweat, one of the premier pass rushers in the draft class.
For the last two seasons, the DE led the Bulldogs in sacks and was among the leaders in the SEC. In just two seasons with the Bulldogs after being dismissed from Michigan State, Sweat totaled 22.5 sacks. In his senior season, he earned multiple first-team All-America honors and was a semifinalist for the Bednarik Award, given annually to the nation's top defensive player.
S Johnathan Abram – #27 Oakland Raiders
With their third first-round pick of the night, the Raiders selected S Johnathan Abram. Before the draft, Abram called himself the best trash-talker in the class, and his new head coach Jon Gruden is the perfect coach for that as shown in a behind the scenes clip from the Raiders war room.
"I knew you were gonna call me. You know I wanna be a Raider."@JohnathanAbram1 is fired up to be headed west. pic.twitter.com/zb5i6rogMe

— Oakland Raiders (@Raiders) April 26, 2019
Abram started 13 games in 2018, leading the Bulldogs with 99 tackles, nine for loss, three sacks, two interceptions, five pass breakups and a forced fumble.
Abram joined Alabama RB Josh Jacobs and Clemson Clelin Ferrell in the Raiders first-round haul.
C Elgton Jenkins – #44 Green Bay Packers – Round 2 
After their historic first round, another Bulldog was taken on day two. C Elgton Jenkins was taken by the Green Bay Packers with the 44th pick.
On the team's website, the Packers said that they "may have found a true backup center as well as a prospect to compete at guard in 2019."
"We took him as a guard," college scout Charles Walls said. "But with a guy that size, that athletic, you watch the tape and you feel comfortable putting him anywhere you need him to be. Definitely, a light bulb goes off when a guy falls to you with that much value, that much versatility."
College scout Charles Walls talks with @kuhnj30 about the #Packers' second-round selection of G Elgton Jenkins.#PackersDraft #GoPackGo https://t.co/rWcXFD7m7x

— Green Bay Packers (@packers) April 27, 2019
Jenkins has a total of 34 starts to his credit – 26 of them at center. According to Pro Football Focus, he allowed only one sack over 762 pass-blocking snaps at center over the last two years.
DE Gerri Green – #199 Indianapolis Colts – Round 6
In his four years at Mississippi State, Green tallied 161 tackles, 20.5 tackles for loss, 8.5 sacks, three forced fumble and three interceptions. Green was named a captain for his senior season, and as a part of MSU' dominant defense, he was invited to the Senior Bowl and the NFL Combine.
Green said that he didn't know what to expect when draft time came, but he's ready to get to work.
"They came out and worked me, I had a pre-draft workout with them and I talked to them during that time," Green said of the Colts. "We kind of kept in contact between now and then. I didn't know, but I am happy to be a part of Colts Nation and ready to get to work. I come out ready to work every day, ready to work every game. My effort, I give my all every snap. It's just how I play, how I always play and how I plan to continue to play."
Green became the 5th Bulldog selected, which is the second-most in modern draft history for MSU.
QB Nick Fitzgerald – Tampa Bay Buccaneers
S Jamal Peters – Indianapolis Colts
CB Chris Rayford – Indianapolis Colts
RB Aeris Williams – Indianapolis Colts
DT Cory Thomas – Miami Dolphins
TE Justin Johnson – Seattle Seahawks
DB Mark McLaurin – New York Giants
OL Deion Calhoun – Miami Dolphins
DT Braxton Hoyett – Tennessee Titans
Ole Miss: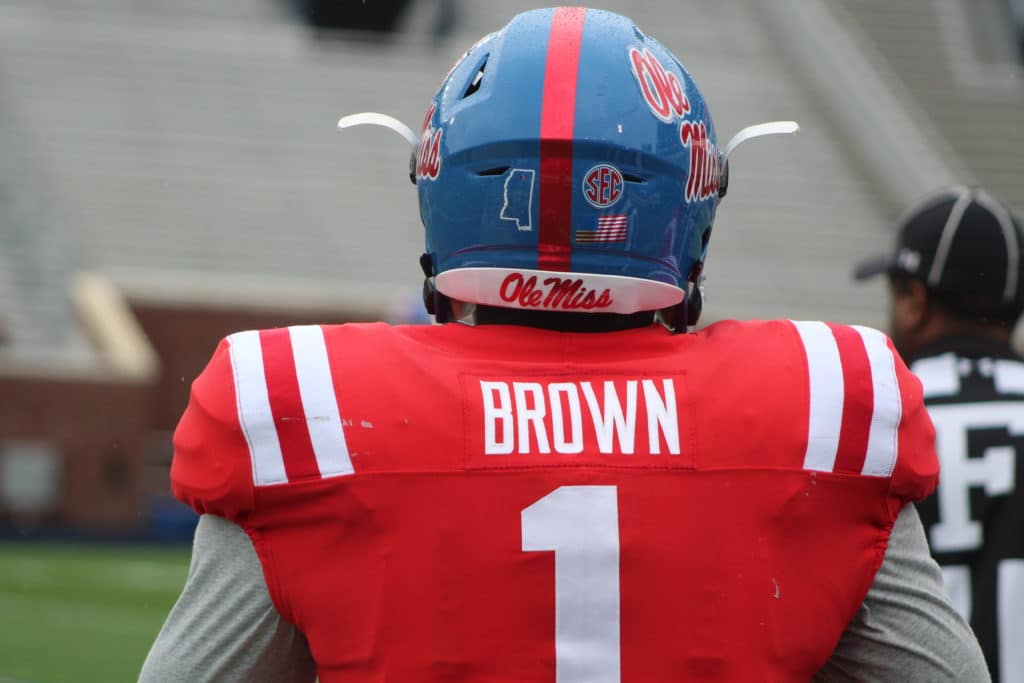 LT Greg Little – #37 Carolina Panthers – Round 2 
The first Rebel taken was LT Greg Little, who was selected by the Carolina Panthers with the 37th overall pick. At 6'5 315 pounds, the Panthers selected Little to protect QB Cam Newton, and Little says that he's up to the task.
"I'm going to keep him safe," Little said. "I want to show people that I'm the best left tackle in this draft and I'm going to be here for a long time," Little said. "I'm a true, franchise left tackle."
Marty's reaction after trading up for Little is priceless #PanthersDraft pic.twitter.com/gutdBwnR4C

— Carolina Panthers (@Panthers) April 27, 2019
Little allowed pressure on just 2.8 percent of his pass-blocking snaps since 2017, the fourth-best in the class among offensive tackles. He was named second-team All-America from the Sporting News, Walter Camp Foundation, FWAA and Phil Steele. He was also a first-team All-SEC selection by the Associated Press and the league coaches.
WR A.J. Brown – #51 Tennessee Titans – Round 2 
Next up was WR A.J. Brown. Brown was taken by the Tennessee Titans with the 51st overall pick. The all-time leading receiver in Ole Miss history will now look to become the go-to-guy for QB Marcus Mariota.
"I think Mariota is a real tough quarterback. … Me, as a rookie, I have to come in and build that trust with him. That's going to be big. He's going to get a complete receiver – anything he needs, I'm going to be there," Brown said.
New #Titans WR AJ Brown strongly dislikes defensive backs. 😎 pic.twitter.com/KJN0ELC29s

— Tennessee Titans (@Titans) April 27, 2019
Brown finished his Ole Miss career with 2,984 yards, and he also set the Ole Miss single-season receptions record with 85 catches this past season.
He will now join Mississippi State DT Jeffery Simmons, who was the Titans' first-round selection, in Nashville.
WR D.K. Metcalf – #64 Seattle Seahawks – Round 2 
Many expected Brown to be taken after teammate D.K. Metcalf, but Metcalf was taken with the final pick of the 2nd round by the Seattle Seahawks.
After running a 4.33 40-yard dash at the combine, the hype surrounding Metcalf skyrocketed, but he fell out of the first round. When he was selected by the Seahawks after sliding, the former Rebel was overcome with emotion.
Is it just us or is it getting dusty in here? @dkmetcalf14, we're so excited to have you. 💙#SeahawksDraft pic.twitter.com/Uh3H0sZ85P

— Seattle Seahawks (@Seahawks) April 27, 2019
The Seahawks drafted Metcalf on the same night that reports indicated that WR Doug Baldwin may retire.
In just 21 games at Ole Miss, Metcalf had 14 touchdowns. Injuries limited his playing time in Oxford, including a season-ending neck injury in 2018.
TE Dawson Knox – #96 Buffalo Bills – Round 3 
The final Rebel drafted on night two of the draft was TE Dawson Knox, who was taken by the Buffalo Bills with the 96th pick.
Time to get to work 😎 #BillsMafia https://t.co/9XqRB2ALHA

— Dawson Knox (@dawson_knox) April 27, 2019
Knox wasn't featured in the Ole Miss offense much in 2018, finishing the season with just 15 catches, but at 6'4 255 pounds, many believe he has a skill set that will translate to the NFL.
"Outstanding combination of measurables and traits, but he's much more moldable clay than game-ready prospect at this point. Knox lacks early speed and short-area quickness which could limit his ability to uncover underneath but he's much more dangerous when allowed to roam the middle of the field as a more linear route-worker. His pass-catching production may never match up with the testing numbers, but his aggressiveness and talent as a run-blocker could provide him work as a combo tight end for years to come," NFL.com's Lance Zierlein said.
Knox walked on as a QB at Ole Miss before making the switch to TE.
C Javon Patterson – #246 Indianapolis Colts – Round 7
Patterson has been a reliable piece of the Ole Miss offensive line, starting every game for the Rebels over the last three seasons. Patterson helped anchor an Ole Miss offense that ranked ninth in the country in total offense and fifth in passing yards per game during the 2018 season.
After he was drafted, Patterson took to Twitter to thank the Colts.
Man I serve a mighty God, he sat me down and told me "It's your time‼️"… Beyond blessed to be joining the Colts Organization. 🔵⚪️ pic.twitter.com/IksdmNIep9

— Javon Patterson (@JPatterson__8) April 28, 2019
DB Ken Webster – #252 New England Patriots – Round 7
Webster appeared in 47 career games, tallying 125 total tackles and three interceptions during his Ole Miss career. Webster battled injuries during his time on Oxford, including a season-ending knee injury in the opener of the 2016 season.
I thank god !!!! It's a blessing pic.twitter.com/g2ez2OicYk

— Ken Webster (@Duece_KD) April 28, 2019
In total, six Rebels were selected during the 2019 NFL Draft, the most since 1971.
QB Jordan Ta'amu – Oakland Raiders
WR DaMarkus Lodge – Tampa Bay Buccaneers
DB Javien Hamilton – Green Bay Packers
DB Zedrick Woods – Jacksonville Jaguars
Southern Miss:
DB Picasso Nelson Jr. signed as a UDFA with the Jacksonville Jaguars
And the dream continues.. 🖋🤝

Congratulations, @cassojr_! #SMTTT pic.twitter.com/dbxCK1x3Rm

— Southern Miss FB (@SouthernMissFB) April 28, 2019
Stay up to date with all of Mississippi's latest news by signing up for our free newsletter here. 
Copyright 2023 SuperTalk Mississippi Media. All rights reserved.