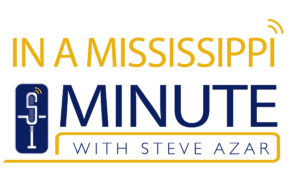 Thursdays & Fridays, 1-2 p.m
Sundays, 10 a.m.
Spend five minutes with Steve Azar and you'll see why he is the Music and Culture Ambassador of Mississippi. His love and passion for the Magnolia State are clear in everything he does.
This modern-day Renaissance man is a hit songwriter, recording artist, music producer, golfer, philanthropist and now – radio host.
As Steve's song "Mississippi Minute" says, "Life goes by so fast that if you blink, you'll miss it… but in a Mississippi minute you can take your sweet time." Each Thursday and Friday (with an encore presentation on Sundays) you can spend a "Mississippi minute" with Steve and his friends from the music, TV, film and sports worlds.
In a Mississippi Minute: On Demand