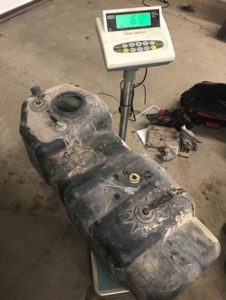 Rankin County Sheriff Bryan Bailey said that around 1:15 a.m. on March 8th, 2018, Rankin County Interdiction Deputy Robbie Sanders conducted a traffic stop on a Green Ford SUV for careless driving on Interstate 20 in Rankin County.
The driver was identified as Jose Manuel Chavez, and the passenger (vehicle owner) was identified as Angel Rafael Martinez. During the roadside interview, Deputy Sanders said that he noticed several inconsistencies with Chavez and Martinez's stories.
Sanders got consent to search the vehicle and then narcotics canine, "Astra", alerted on the vehicle.
They then transported the vehicle to the Rankin County Sheriff's Office Shop where an inspection of the vehicle revealed a false compartment in the fuel tank and approximately 19 gallons of liquid methamphetamine was located inside the compartment.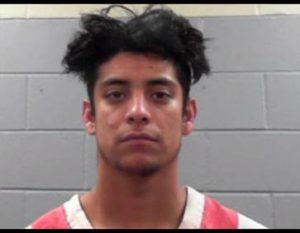 Both the driver and the passenger were arrested for aggravated trafficking of methamphetamine and transported to the Rankin County Jail.
The retail value of the methamphetamine is over one million dollars.
Both suspects will appear before District Attorney Michael Guest and Rankin County Court Judge Kent McDaniel for an initial appearance. No bond has been set at this time.
The methamphetamine originated from Mexico and was intended to be delivered to the Atlanta Georgia area. Both Chavez and Martinez are U.S. Citizens.
Photos are courtesy of the Rankin County Sheriff's Office.