Photo courtesy of Aaron Cornia/MSU Athletics
#5 Mississippi State rolled over #11 Ole Miss for a 3-game sweep in Oxford this weekend. SportsTalk Mississippi's Brian Hadad and Brian Scott Rippee were in attendance, and below, you'll get a look at the series and what it means moving forward from both a Bulldog and a Rebel perspective.
Bulldogs Break Out The Brooms, Sweep Ole Miss in Oxford With 11-5 Victory
By MSU Beat Reporter Brian Hadad
Mississippi State swept Ole Miss in Oxford on their last trip to Lafayette County in 2017, and the Bulldogs found the brooms exactly where they left them two seasons ago. Peyton Plumlee tossed 7.2 strong innings, and the Diamond Dawgs put up nine runs in the 4th inning to run away with the series finale 11-5. State improves to 42-10, 18-9 in the SEC, and find themselves only one game out of first in the SEC West after this weekend's action.
PLUM PITCHING PERFORMANCE
Peyton Plumlee has pitched a season-high seven innings and retired 10 of the last 11 batters he's faced.#HailState🐶 | @Peytonplum1 pic.twitter.com/Ukuv5vGj8E

— Mississippi State Baseball ⚾️ (@HailStateBB) May 12, 2019
It's been the emergence of Peyton Plumlee as the third weekend starter that has elevated this Mississippi State team into the realm of true national championship contender. Plumlee's Sunday performance might have been his best of the year, keeping the Rebels off balance all day, and coming up with clutch outs when he was challenged. With Ethan Small, JT Ginn, and Plumlee, the Bulldogs appear to be a formidable opponent for anybody in postseason play.
ONE LAST TWIST OF THE KNIFE
Since that was (likely) his last game against Ole Miss, here's Jake Mangum's career stats against the Rebels:

14 wins, 2 losses
28-for-68 (.411)
9 doubles, 1 homer
16 runs scored
3 walks, all of them intentional

— Brett Hudson (@Brett_Hudson) May 12, 2019
There may be no player across the entire athletic history of Mississippi State that has dominated the Bulldogs' in-state rival like Jake Mangum has. You see his hitting totals above, and today's win gave him a 14-2 career mark against the Rebels. For one last statement, Mangum doubled in a run in his final at-bat in Oxford to push the Bulldog lead to 11-5. No question the red and blue faithful will be excited to see Mangum finally out of the lineup card when this season ends.
WHAT'S NEXT?
Back-to-back JACKS!

Matulia drives the first pitch he sees DEEP DEEP DEEP over the wall in right, and the floodgates have opened!

🔝 | 2
🐶 | 8
Bottom 5th pic.twitter.com/33kh3JDUQb

— Diamond Dogs (@LATechBSB) May 12, 2019
Mississippi State will take on Louisiana Tech on Tuesday, making up an earlier weather canceled game against Nebraska from the Frisco Classic in early March. Coach Chris Lemonis said he didn't have any idea on the pitching rotation for that game or the upcoming series against South Carolina, which will come on a short week.
We will have plenty to talk about on the Thunder & Lightning Podcast and of course, on SportsTalk Mississippi.
Rebels swept by Mississippi State in a weekend that damaged both NCAA résumé and program perception
By Ole Miss Beat Reporter Brian Scott Rippee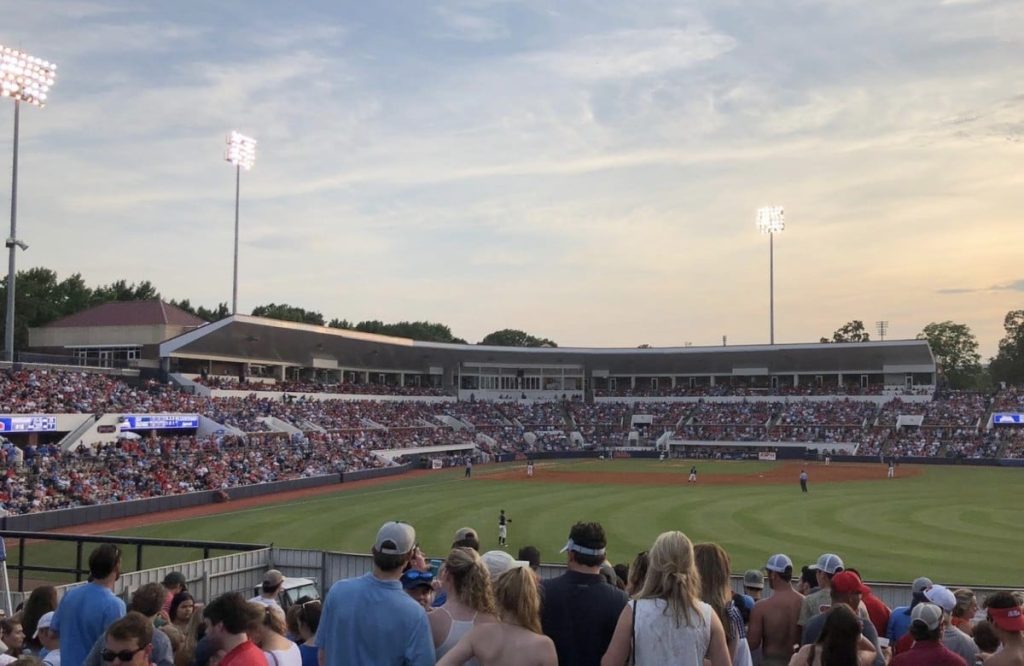 The end result was an 11-5 Ole Miss loss to Mississippi State to cap a Bulldog sweep. The consequences will linger beyond that. 
This was the single most damaging weekend Ole Miss has endured in a 2018 season that has had a number of peaks and valleys. Mississippi State has now won 14 of the last 16 meetings, including sweeps in its last two trips to Oxford. 
"It was a really bad weekend for us," head coach Mike Bianco said. "Just a same with so much riding on the weekend, playing against your arch rival and you really play awful."
The repercussions from a weekend like this are layered. It's a perception issue as much as it is damaging to Ole Miss' NCAA Tournament resume. But let's start with the latter. The Rebels' RPI plunged seven spots to No. 24 after the first two losses of this series. It dropped to 27 as of this writing after the loss on Sunday. Given the RPI pitfalls this team has suffered in its non-conference slate with losses to the likes of Tulane, Wright State and North Alabama, at least 18 SEC wins are required for this team to have a legitimate case to host a regional. Sitting at 15-12, the Rebels will have to go on the road next weekend and sweep a Tennessee team fighting for its NCAA Tournament life. That doesn't seem realistic, much less getting two games in Knoxville.
Wrapped inside of all this is what this weekend once again underscored about this team: Ole Miss' lack of bullpen depth glared in this lopsided defeat. On Saturday, Parker Caracci and Austin Miller unwound six inning of handiwork from Doug Nikhazy by surrendering a six-run seventh inning that turned the game. Ole Miss entered the inning leading 4-2 and left trailing 8-4 with nine outs to work with. On Sunday, it was a similar story. Gunnar Hoglund somehow survived 3.2 innings with only two runs allowed despite the Bulldogs peppering the freshman for eight hits. Hoglund gave the ball to Zack Phillips with the bases loaded and two outs in a 2-2 game. Phillips walked in two runs and was pulled in favor of Max Cioffi, who gave up two singles and two doubles as the game spiraled out of control. Mississippi State scored nine runs with two outs. Ten consecutive hitters reached base.  Hoglund was charged with five runs given up in total.
"That has been our kryptonite this weekend is that big inning," Cooper Johnson said. "It is about caring more and competing. There are moments when a game is one and lost. It is a couple of pitches, a couple of at-bats that are detrimental to the game, whether you win or lose. Not a lot of people in the stands see it, but there are moments where you have to make pitches, and if you don't make pitches in those moments you will lose the game."
Even if you want to chalk up Miller and Caracci's struggles as an anomaly, the more pressing issue is who Biancocan  rely on after them. Cioffi has retired a total of two hitters since April 20, Phillips has been sufficient as a starter for the last five weeks, but has struggled coming out of the bullpen, particular when he inherits runners. Tyler Myers hasn't posted a scoreless outing since April 9. Houston Roth has been good in his last seven appearances, which is a good sign for Ole Miss after his early season struggles. But Roth's services alone are not enough. The lack of depth puts increased pressure on Will Ethridge and Nikhazy to go deep into games, and with Hoglund's struggles on Sundays, the Rebels simply need the bullpen to be good and need more guys in the bullpen to consistently get outs. 
It sounds simplistic, but this weekend once again highlighted how thin the margin for error is for Ole Miss on the mound. Ole Miss gave up a combined 15 runs in two innings in its latter two losses — a six-run seventh inning on Saturday and a nine-run fourth inning on Sunday. Mississippi State didn't exactly play a clean series defensively, but it was able to get off the field when the Rebels had opportunities. Ole Miss was not able to do that.
"I think a lot of it this weekend is mentality," Johnson said. "It is believing that you are better than them. Believing that you are going to make a pitch."
Beyond all of that is perception. As mentioned earlier, the Bulldogs have 14-of-16 in this series. Mississippi State has all of the components for a deep run in Omaha and is one of the handful of teams in the discussion of who could win a national title. Ole Miss, meanwhile, will likely be playing June baseball outside the state of Mississippi in a season in which hosting a regional was a baseline expectation. Johnson spoke of mentality being an issue with regards to the Rebels being unable to make pitches to get off the field. There is an argument to be made that it goes beyond that. Mississippi State plays this series with a different mentality. It's impossible to quantify with minute statistics outside of a win-loss record, but it is visibly evident.
"When you put these colors on and you run between those loses are playing for your state, it doesn't matter who the opponent is, but it sure makes it sweeter when it is Ole Miss," Bulldog starting pitcher Peyton Plumlee said. Plumlee threw a season-high 7.2 innings against the Rebels, missing his career high by an out. 
 The Bulldogs have been to three consecutive super regionals and are coming off a College World Series appearance in 2018 that required them to win a road regional and super regional. Mississippi State has three Omaha appearances in the last 12 years and looks primed for a fourth. Ole Miss hasn't made it out of its last two home regionals and has been to one super regional since 2009 — the 2014 Lafayette super regional that stands as the lone trip to the College World Series in the Mike Bianco era. Ole Miss has never won a road regional under Bianco. Outside of the Bulldogs dominating the Rebels recently, the lack of postseason success by Ole Miss while State maximizes postseason opportunity only damages the perception of the Rebels' program by comparison. Couple that with the fact that Ole Miss' 2016 top-ranked recruiting class is in its third season — and likely final season for the core of the class — it heightens both the pressure and the scrutiny. 
All is not yet lost. A good weekend in Knoxville could put Ole Miss back in the hosting discussion. But this weekend was damaging in layers. It exposed the holes this team has on the mound and harmed the program's overall perception given the opponent. 
How does Ole Miss rebound from this?
"That is a tough question right now," Johnson said. "It is part of baseball. You have to move inning-to-inning and game-to-game." 
Rankings according to d1baseball.com
Stay up to date with all of Mississippi's latest news by signing up for our free newsletter here. 
Copyright 2023 SuperTalk Mississippi Media. All rights reserved.