Every Mississippi Highway Patrol officer was out on the roadways over the Memorial Day weekend as part of their "Drive to Survive" safety initiative.
According to the MHP, the enforcement period, which began on Friday and ended on Monday at midnight, resulted in nearly 6,000 citations being written and 109 DUI arrests. In addition to the tickets written, the MHP also investigated 156 crashes including one death.
The fatal crash occurred on Monday at the intersection of MS 25 and Sturgis Rd and resulted in the death of 79-year-old Ida White. The MHP released the following details of the crash which remains under investigation.
"On Monday, May 28, 2018, at approximately 12:13p.m., the Mississippi Highway Patrol responded to a two-vehicle crash at the intersection of MS 25 and Sturgis Rd. A 2004 maroon Mercury Grand Marquis driven by 79-year-old Ida White of Louisville entered the crossover of MS 25 at Sturgis road attempting to travel east onto Sturgis Road. As the Mercury entered the northbound lanes of MS 25, a white 2011 Chevrolet Malibu driven by 40-year-old Jones McArthur of Monroe LA collided into the passenger side of the Mercury. Mr. McArthur was transported to OCH in stable condition. Ms. White died while being transported to Winston Medical."
This year's enforcement period showed a dramatic increase in the number of seatbelt and child restraint citations from a year ago. In 2017, just 145 seatbelt tickets and 45 child restraint tickets were handed out compared to the 717 seatbelt citations and 104 child restraint tickets issued in 2018.
The MHP included a breakdown of tickets by each troop over the weekend on all federal and state highways.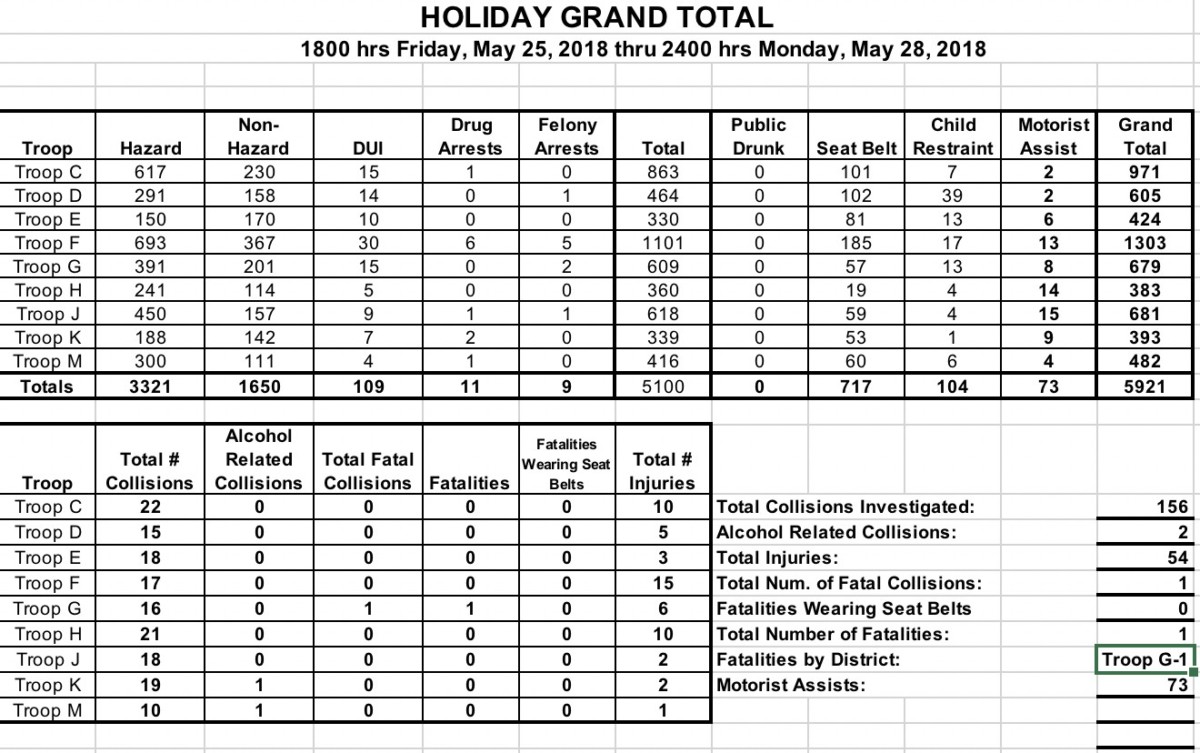 Stay up to date with all of Mississippi's latest news by signing up for our free newsletter here. 
Copyright 2023 SuperTalk Mississippi Media. All rights reserved.