Photo by Keith Warren/MHSAA
The Pearl Pirates won the girls 6A state basketball title last Saturday, but their coach was thousands of miles away.
While head coach Lacey Kennedy coached the first two games of the season, she was deployed to Kuwait with the Army Reserves in November after joining several years ago. At 2-0, Lacey's husband, Jason, took over as the interim coach after serving on the staff alongside his wife. 
"I helped last year and we went 30-3, and then we found out that she was going to be deployed, and I was as nervous as a cat on a hot tin roof because this is her squad, and I just didn't want to mess it up," Jason said as he thought back to what it was like when he first took over.
Pearl AD Richard Smithhart said that Lacey knew that she may be deployed, and it was her idea to bring Jason on to hold her place. 
"Lacey planned it out. She was going to make sure those girls were taken care of," he said. "She felt in her heart that Jason was the one to do it, and it turned out she was right, as usual."
When the time came for Lacey to leave, Jason recalled that there "wasn't a dry eye in the house", but through the emotion of the moment, the Pirates made a promise to their coach that they would win a Gold Ball for her. 
Jason said that while the team was down for about two days after Lacey left, they knew that it was time to get back to work if they wanted to turn their championship dreams into reality.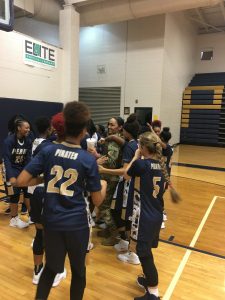 "They made her a promise, and they wanted to hold true to that rather than walking around with their heads down. They told her 'we are going to have a Gold Ball waiting for you when you get back'," Jason said. "The girls bought in 100%. They had a goal in their mind, and they were not going to be deterred."
Through the ups and downs of a long season, Jason said that the team, the school and the community rallied together to bring a gold ball to Pearl. Jason and Lacey would talk as often as they could, and her impact was felt all the way from Kuwait.
"She did a good job of keeping up with everything and sending them messages when they needed it," Jason said. "If we had a girl that had a down day in practice, I'd tell Lacey about it and she would send them a text trying to pick their chin up. So, she's doing it from thousands of miles away."
When the clock struck :00 at the Mississippi Coliseum, Lacey was watching as the Pirates beat Terry 59-48 to win the 6A state title. She joined the team's celebration via FaceTime, but when Jason walked over to the team, he was drenched with water and the speaker of his phone went out. 
"You couldn't hear, but you could see her. The players were screaming and yelling 'we love you coach' and they were holding the gold ball up for her," Jason said. "She had tears rolling down her face, and she was trying to talk, but when she realized we couldn't hear her, she just made the heart sign with her hands. To me, that sums it up, you don't need words to say I love you."
Jason will run the offseason program, but when Lacey returns in August, it'll be back to business for the head coach who has always dreamed of celebrating on the court after a championship win. 
"She'll push even harder now," Jason said. "We're going to have a celebration when she gets back with that Gold Ball, but for her to win one, and hoist the gold ball on the court, that's going to drive her more than anything now."
Pearl will lose three starters from this year's team, but Jason stated that they've got players that will step in and fill the void as they prepare for another championship run next season. 
Stay up to date with all of Mississippi's latest news by signing up for our free newsletter here. 
Copyright 2023 SuperTalk Mississippi Media. All rights reserved.