High school students across the state are beginning to look ahead to prom season, and several state agencies and organizations are partnering to ensure that while students are thinking of what to wear, they'll also think of making it home safely. 
The Mississippi Department of Rehabilitation Services, the Mississippi Highway Patrol and Families First of Mississippi are partnering for a prom season safety initiative, which is aptly named "PROM", and it stands for "Please Return on Monday in the same condition you left".
Representatives from each organization, along with several individuals who have been left paralyzed from car crashes, will travel across the state to speak to high school students about the importance of prom night safety. 
The campaign urges prom-bound students to make good choices, such as buckling up, no texting and driving and no drinking and driving. According to the National Highway Traffic Safety Administration, over 1,000 students die each year while celebrating their proms and graduations. 
MHP Captain Johnny Poulos knows that students are going to be excited about the big night, but he wants them to look beyond prom night to ensure they make the right choices. 
"We try to hit from a standpoint of 'There's good things down the road for you, but to get down the road, you have to make good decisions now. We want you to enjoy the prom season, but again, responsible decisions will ensure that'," he explained.
Poulos went on to say that the MHP will have an increased presence on the roadways when prom season begins.
Chris Howard, Executive Director for the Mississippi Department of Rehabilitation Services, has seen countless accident survivors live the rest of their lives with a disability and wants students to know how dangerous the wrong choices can be. 
"This campaign is focused on showing teens the full circle of consequences of their choices to text and drive, drink and drive, and of not wearing a seatbelt," said Chris Howard, Executive Director for the Mississippi Department of Rehabilitation Services.  "While Troopers are the ones having to knock on doors with the grim news that a loved one will not be coming home ever again, we see the side where individuals may be left with a disability– because automobile accidents are a leading cause of traumatic brain injuries and spinal cord injuries"
Dwight Owens was hit by a drunk driver while working as a teacher in 2005, and he is now paralyzed from the waist down. Owens will join the partnership to see to it that students don't put themselves or others in harm's way this prom season. 
"I want them to value their lives. When you value your life, then you won't put yourself in those type of predicaments," he said.
Families First for Mississippi has a presence in every county across the state, and they'll have a chance to speak with parents and students ahead of prom night to share their message. 
"Prom and graduation celebrations should be among the most exciting and memorable events of a student's high school career," Co-Director Dr. Nancy said. "All too often we hear of a bad choice that instantly turns great memories into unimaginable nightmares. We're excited to partner in the P.R.O.M. campaign in conjunction with Healthy Teens for a Better Mississippi. It's exciting to see our teen council members promoting this message to their peers. It's a reminder that safety is a shared responsibility."
The initiative was announced during a press conference this morning at the MHP headquarters.
State troopers, representatives from MDRS and Families First will be bringing special events to students around the state during prom season, primarily March and April.  These events will include testimonials by individuals whose lives have been permanently altered following accidents involving drinking and driving, texting and driving and/or not buckling up. 
Some quick tips for prom night safety are:
Never drink and drive or ride with someone who has been drinking
Don't text and drive
Wear your seatbelt
Have a transportation plan ahead of time
Stay with your group
Posters like the one below will be posted in high schools across the state.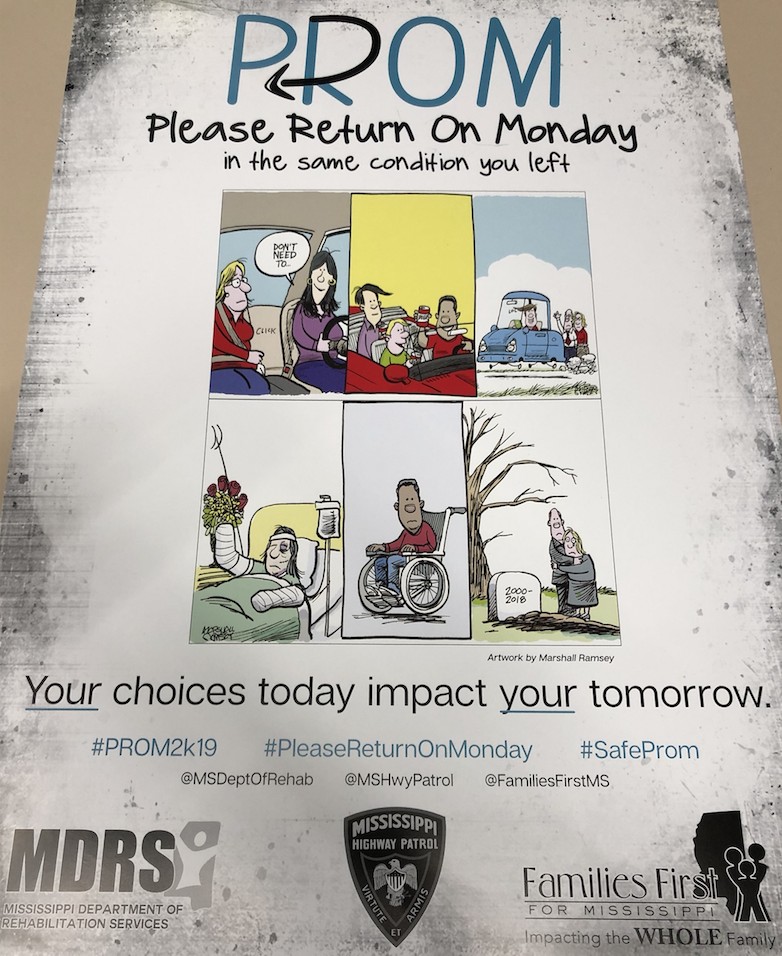 Stay up to date with all of Mississippi's latest news by signing up for our free newsletter here. 
Copyright 2023 SuperTalk Mississippi Media. All rights reserved.