Photo courtesy of Senator Cindy Hyde-Smith/Twitter
Ahead of November's special election to permanently fill Thad Cochran's seat in the U.S. Senate, President Trump has endorsed Senator Cindy Hyde-Smith. 
Since she was appointed by Governor Bryant, Hyde-Smith has continued to voice her support for the President and his agenda, and it has now resulted in receiving his endorsement. 
Like the rest of the country, Senator Hyde-Smith found out on Twitter. 
"I got the tweet like everyone else, and I was sitting on the Senate floor because we had three votes this afternoon," Hyde-Smith said. "We're all smiles today and just absolutely delighted that the President has placed this kind of confidence in me."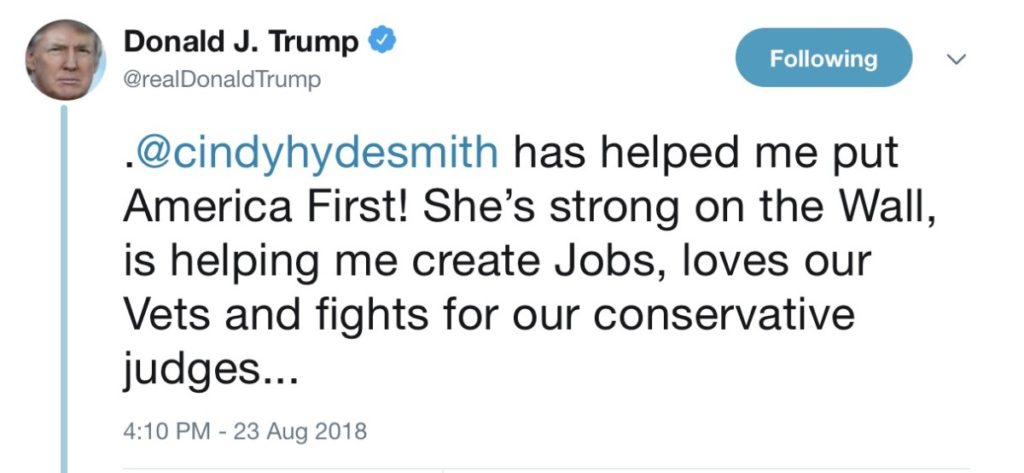 Hyde-Smith stated that the President's agenda has been easy to align with as it reflects what Mississippians want. Hyde-Smith mentioned that she will continue to push for the loosening of "burdensome" regulations on American farmers and workers, the border wall, taking care of veterans and the confirmation of Judge Brett Kavanaugh to the Supreme Court. 
"We're rowing this boat in the same direction," Hyde-Smith said of her support for President Trump. "I'm so grateful for the endorsement and that he sees that we're pulling in the same direction for the betterment of Mississippi and the entire country."
When it comes to the midterm elections, Hyde-Smith knows how crucial it is for Republicans to keep the majority in both the House and the Senate. 
"There's such a slim margin there, and it is critical that we keep that majority," she said.
While she was elated to receive the endorsement of the President, Hyde-Smith is keeping her focus on her responsibilities to the state that she serves.
"It's not about the endorsements, it's not about the hype. It's all about serving the people of Mississippi. I'm honored to be here to do that, and this moment is not wasted on me, I assure you," Hyde-Smith said.
Hyde-Smith also was also recently endorsed by the NRA after introducing and co-sponsoring several pro-second amendment bills.
In the race which will conclude on November 6th, Hyde-Smith faces State Senator Chris McDaniel (R), former Congressman Mike Espy (D) and Gautier resident Tobey Bartee (D).
Stay up to date with all of Mississippi's latest news by signing up for our free newsletter here. 
Copyright 2023 SuperTalk Mississippi Media. All rights reserved.