Governor Phil Bryant recently went on a trade mission to Uzbekistan along with representatives from both the public and private sectors in the hopes of attracting investments and jobs to Mississippi. The trip marked the first time that a sitting Governor from the U.S. has visited Uzbekistan.
Uzbekistan is one of five central Asia states and has a combined population of over 75 million people. During the trade mission, Bryant focused on meeting with individuals regarding agriculture, education, and defense.
"They were formerly a part of the old Soviet Union, and now there is a new reformist, President Mirziyoyev who is doing a remarkable job so the United State has a particular interest in that country which is a new free market particularly in Agriculture," Bryant said.
Bryant added that were able to visit the USAID, which is an independent agency within the United States federal government that helps expand agriculture in foreign countries. Agriculture Commissioner Andy Gipson, Mississippi Development Authority Executive Director Glenn McCullough Jr., and representatives from Mississippi State University and Alcorn University were also present as they discussed developing partnerships with Mississippi's universities and Uzbekistan's research institutions to share innovative practices in agriculture advancement.
 "We have a farmer just now from the Mississippi Delta that is farming 5,000 acres of cotton in Uzbekistan," said Bryant. "We will continue to expand that aid."
Adjutant General Janson Boyles of the Mississippi National Guard went with the delegation and discussed the partnerships with the U.S. and Mississippi National Guard as the MSNG and the Uzbekistan military have trained together for six years as part of the state partnership program.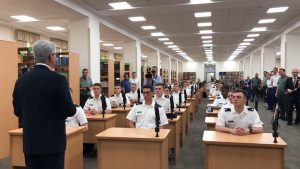 Among other things discussed were ways to enhance national security through military collaboration, strategic location for defense against terrorism, and an initiative to encourage the purchase of US military equipment rather than Russian and Chinese equipment.
"This has been going on for six years with our training of military forces," said Bryant. "So this is a strong relationship that is developing. I had a wonderful meeting with the President, Minister of Defense, Minister of Agriculture, and the Minister of Foreign Affairs. They like Mississippi in Uzbekistan."
While the trade mission to Uzbekistan is only one of a number of recent trips abroad for Bryant, he says they have been paying off with great dividends.
"Mississippi is an international corporation that has a huge export opportunity," Bryant said. "We have grown over 200% in exports in the last 10 years, but I think it also raises the level of awareness about Mississippi. We are not just some little backwater state as some would have you believe, but we are an International entity that does business around the world."
Stay up to date with all of Mississippi's latest news by signing up for our free newsletter here. 
Copyright 2023 SuperTalk Mississippi Media. All rights reserved.