Mississippi politicians from across the state gathered to take part in Hobnob 2018 at the Mississippi Coliseum. The event took place just days before  Mississippians will vote in the midterm elections and was a final opportunity for U.S. Senate candidates to speak to business leaders and ask for their vote.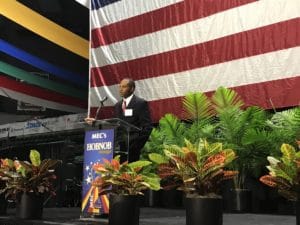 Democrat candidate Toby Bartee is a former Navy intelligence officer and was the first of the Senate candidates to speak. Bartee spoke about bipartisanship and said that any vote he would cast in Congress would hinge upon two factors, whether the needs of Mississippians have been addressed and if the decision would be in the best interest of the country.
"They are concerned because they see a lack of leadership in all sectors, in all areas of government and the private sector and in our individual communities. They hunger for us to step forward and we must. I know the strength of our people, all three million here in this state. I know that we can build a Mississippi that is inviting and inclusive and one that is ready and prepared for the challenges of the 21st century, but for us to be able to do that we must realize two things, no one individual and no one sector is going to be able to see us through this. It will require a partnership between all of us. We all have to step forward and accept that responsibility. We have to talk across the divide and we have to look at the future. Our decision that we make must be guided by this one simple understanding. The investments that we make today will create the opportunities of tomorrow."
Rebpulican Chris McDaniel is another candidate in the four-way race to take over Cochran's seat and spoke to the crowd saying that he became interested in politics as a young boy watching President Ronald Reagan and continues to fight for liberty and self-government.
"For 100 years, the same power structure, the same machines, the same good ole boys have run our economic system," McDaniel said. "More centralized than not, more based in favoritism than not, more based in cronyism than not. Satisfy the donor class but leaving regular Mississippians out of the fight. Those days have to come to an end. I am tired of being last if we know the answer if we know the solution return to those days. Ignore the backroom deals, ignore the politics, as usual, we don't need that in this state to succeed, what we need is for you to be liberated from the old system."
Senate candidate David Baria is running against incumbent Senator Roger Wicker and spoke to the crowd saying that Mississippi is lagging behind and the state's leaders are to blame.
"Our state needs leadership," Baria said. "We need leadership that understands and respects decency and appreciates the beautiful differences of all of our people. We need someone in Washington who reflects the values of all Mississippians. Unfortunately, we are currently represented in Washington by folks who vote for the best interest of corporate America over the best interest of small communities around Mississippi. Corporate America has plenty of influence in Washington. I am running for the United State Senate because I think it is way past time that regular Mississippians had some. I believe that Mississippi will only be successful when the least among us have the same opportunities to succeed."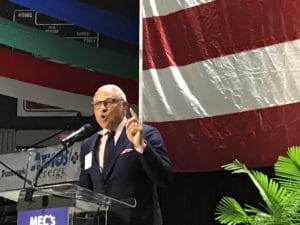 Mike Espy is a former Secretary of the United States Department of Agriculture and a former U.S. Representative from the 2nd District of Mississippi who has said that he wants to return to Washington in the hopes of improving Mississippi.
"There are some in this race who seem to be really proud of voting 100% with their party and with the president," Espy said. "Now think about this, if you are going to vote 100% all the time, then you are going to feel less inclined to read a bill, you are less inclined to think about a bill, you are less inclined to gather any facts before you make a judgment. You just can't say ok to everything. So I promise you that I am going to be an independent voice for Mississippi. A thoughtful presence in the Senate working with you to make things better. I will be a strong voice and not a weak echo."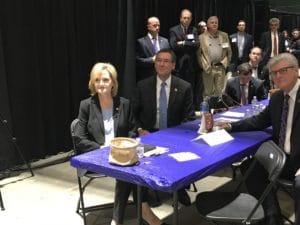 Incumbent Senator Cindy Hyde-Smith touted the accomplishments that she has worked toward during her short time in office. Hyde-Smith was appointed to the position by Governor Phil Bryant after Senator Thad Cochran retired back in April.
"When we talk about being strong on border security and supporting our law enforcement, these are more than just words, these are wins for you, your family and your businesses and those successes would not have happened under the hands of the Democrats," Hyde-Smith said. "I am here to say that right now. How do we know that? You just turn on the news. "Democrats are for open borders, Medicare for all, handouts to every American, abolishing ICE, taxing more and spending more, redistributing wealth, that just doesn't sound like a very good plan for me. We are going to take care of the people in Mississippi who need taking care of… Especially for all the business leaders in the room today, I think you like the results that our economy has experienced over the last two years, I think you like the regulatory reforms that we have made and the tax certainty that we have put in place so that you can make better business plans and create more jobs."
Senator Roger Wicker was one of the final speakers at the event and focused on his record during his 11 years of service to the state of Mississippi as a Senator.
"What a legislator does is we listen to the people who are in charge of programs and then we gut up a bill or two and try to get it passed," Wicker said. 'I am glad to run on a record of accomplishment that includes making our armed services stronger like with my Ship Act… We have lifted the tax burden off of job creators. This election November 6th is not at all complicated, it is a question of whether we build on the successes or whether we turn back and turn the House of Representatives over to Nancy Pelosi and turn the U.S. Senate over to Chuck Schumer. That is the choice that the people of Mississippi have on November 6th and it is the choice that the people of America have on November 6th. If we want to build on the success we have had in job creation, if we want to build on this low unemployment rate, then we need to reject the idea of turning the Senate over to Chuck Schumer and I stand for building on the progress that we have already made."
Watch the full speeches from the event below.
The order of the speakers is listed below.
Agriculture & Commerce Commissioner Andy Gibson
Insurance Commissioner Mike Chaney
U.S. Senate Candidate Toby Bartee
State Auditor Shad White
U.S. Senate Candidate Chris McDaniel
State Treasurer Lynn Fitch
U.S. Senate Candidate David Baria
Attorney General Jim Hood
U.S. Senate Candidate Mike Espy
Secretary of State Delbert Hosemann
Chair of MEC Dan Rollins
Governor Phil Bryant
Congressman Gregg Harper
U.S. Senate Candidate, U.S. Senator Cindy Hyde-Smith
Speaker of the House Philip Gunn
U.S. Senate Candidate, U.S. Senator Roger Wicker
Lieutenant Governor Tate Reeves