The slow-moving Cindy is now technically over land near the Texas/Louisiana border, but heavy storms and plenty of rain are still in store for the Magnolia state.
North Mississippi waking up after long, sustained rain storms overnight. You can expect rain all day, with thunderstorms embedded thruout your Thursday. Today's high in the mid 80s. You can also expect plenty of misty fog to develop this morning. Tonight will be a little quieter: you'll see much-reduced rain, but it'll crank up again tomorrow as Cindy begins to twist north and east toward Memphis.
Tornadoes are still a major threat today. A tornado watch has been issued for the southern half of the state until 1pm Thursday.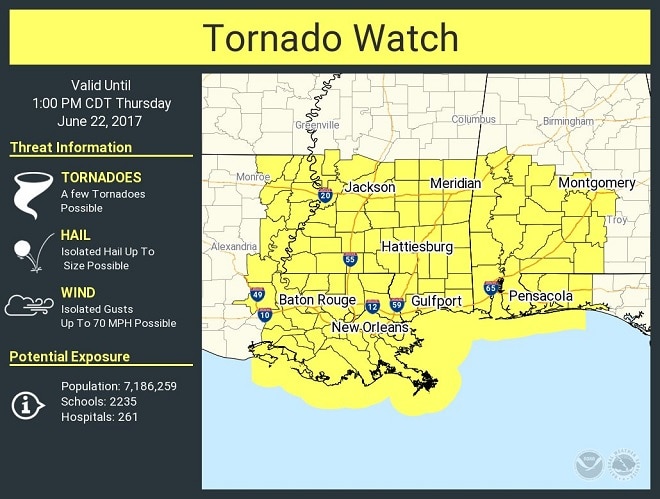 Central Mississippi getting pelted with all-night rain as well. A line of thunderstorms is running from the coast to the east-central part of the state: one of the remaining eastern bands that Cindy threw out. Saturated ground will weaken trees, and even light winds will be enough to knock some over today.
South Mississippi you're not out of the woods just yet, either: rain, thunderstorms and local flooding are still in store for you clear thru the weekend.
Stay up to date with all of Mississippi's latest news by signing up for our free newsletter here. 
Copyright 2023 SuperTalk Mississippi Media. All rights reserved.