Beaches on the Coast in Harrison County will be getting a new look. Governor Phil Bryant unveiled architectural designs recently for the first phase of beach storm water outfalls that will be placed on the beach in Biloxi.
The construction of three beach storm water outfalls will be built over existing outfall pipes along the sand beach in an effort to help reduce the number of pipes along the beach in Biloxi and Harrison County which officials are saying will dramatically improve the visual aesthetic along the beaches.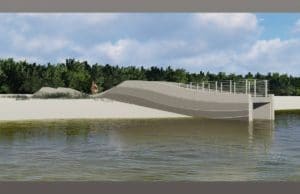 Biloxi's Mayor Andrew "FoFo" Gilich, who has been an advocate of improvements along the front beach, was among the local leaders present at the announcement, which involves locations on the Biloxi beach.
"This is a great project, and I'm delighted to see Governor Bryant moving it forward," Gilich said. "The city has focused a lot of attention and discussion to the waterfront, with boardwalks and waterfront parks, projects where the governor has played a key role. This announcement today ties right into waterfront engagement and public enjoyment of our waterfront. Thank you, Governor."
Work on Phase I will begin after the bid process is completed and the project is awarded. The beach storm water outfalls will be constructed using funds received through the Gulf of Mexico Energy Security Act, also referred to as "GOMESA."
"These new water outfalls along the Mississippi Gulf Coast will dramatically improve the visual aesthetic along our beaches and reduce sand erosion that is common," Bryant said. "Phase I of this project will see three of the water outfalls built on the Biloxi beaches, and I'm excited to see the final product come to fruition."
With assistance from the Mississippi Department of Marine Resources, the Mississippi Department of Environmental Quality and the Mississippi Development Authority, the project will provide a greater appeal to the beach in Harrison County and help eliminate a large number of outfall pipes, which carry rainwater.
"The Department of Marine Resources will oversee Phase I of the beach storm water outfalls project and it will soon go out for bid," MDMR Executive Director Joe Spraggins said. "The Mississippi Gulf Coast boasts 26 miles of wonderful beaches, and I know this will be a great addition to them."