Counterfeit Oxycodone tablets that actually contain Fentanyl have been found in Gulfport.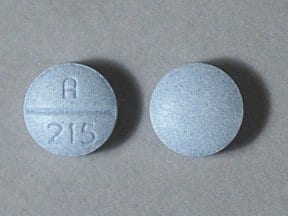 The Gulfport Police Department said over the past several weeks Gulfport Narcotics Detectives have seized multiple blue pilled market with "A215" which indicates that the pills are Oxycodone. However, when the pills were analyzed at the DEA Laboratory, they were found to contain Fentanyl with no Oxycodone present.
Gulfport Police Chief Leonard Papania said he wants to make the public aware of these counterfeit Fentanyl tablets.
"Individuals illicitly purchasing tablets believed to be Oxycodone may actually be receiving a fatal Fentanyl dose," Papania said. "Drug dealers will many times sell these pills that are not what they claim, resulting in drug users being unaware of what they are actually purchasing.  This type of counterfeit pill activity makes the illegal drug trade especially dangerous."
Papania added that although the counterfeit pill market is nothing new, it becomes life and death when Fentanyl is involved.
"This seizure was the first for us in Mississippi for these counterfeit pills," said Derryle Smith, Assistant Special Agent in Charge of the DEA in Mississippi. "They are being made in clandestine places, somebody's basement, somebody's garage. People get pill presses, they get the dyes and make them look like the real thing, but they're counterfeit."
The Gulfport Police Department and the U.S. Drug Enforcement Administration said that they do not have any knowledge as to how many of the pills are in circulation, or how many people have been affected by the counterfeit drugs but are working diligently to find the source.
"The DEA and our state and local partners are being proactive in investigating these cases," Smith said. "These type of heroin and fentanyl-related compounds are drugs manufactured specifically to meet the demand of opioid addicts. Fentanyl is deadly at the microgram level.  Make no mistake, misuse of fentanyl will kill you!"
Smith said that Fentanyl is known to be 50 times stronger than heroin, and 100 times stronger than morphine.