The annual Delta Council meeting happened this morning at the Bologna Performing Arts Center at Delta State University in Cleveland.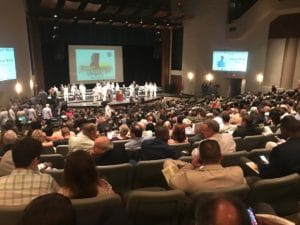 The Delta Council is a regional economic development agency representing 18 delta counties in Northwest Mississippi. It is like any chamber of commerce, an organization comprised of men and women throughout the region who work on policies that impact the delta's infrastructure and growth.
Frank Howell, a Delta Council staff member, said the  meeting is a really  good way to celebrate a lot of their achievements and accomplishments in the Delta region, as well as underscore some of the challenges that they face.
"This is a good celebration to show what living in the Delta is all about," said Howell.
Some of these accomplishments include their progress in farm policy, industrial recruitment, workforce preparedness, flood protection and highway and transportation improvements.
"While we have certainly made progress in those areas, there's still a lot of work to be done to reach the end goal," said Howell.
He said they are pleased to have Administrator Scott Pruitt as the keynote speaker. Pruitt was joined by Senator Roger Wicker, Governor Phil Bryant, Lieutenant Governor Tate Reeves and Senator Cindy Hyde-Smith as well as many other statewide elected officials.
"The Delta Council's annual meeting is always a very good time to celebrate our strengths in the Delta and to assess how to take on challenges to agriculture and job creation," said Hyde-Smith. "It was great to have EPA Administrator Pruitt here.  He was attentive to us, and I agree with his belief that job creation and environmental protection can go hand-in-hand."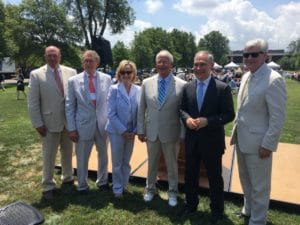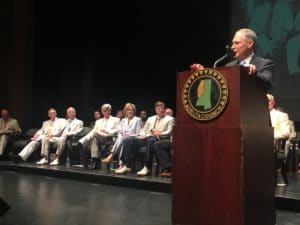 "Administrator Pruitt joins a long list of prominent people who have spoken at our meeting in the past and he is certainly going to receive a positive reception here in Mississippi," said Howell.
The meeting is followed by a catfish luncheon and they will also honor over 140 honor graduates from all public, private and parochial schools in the Delta. The top honor graduate will receive a scholarship to the school of their choice.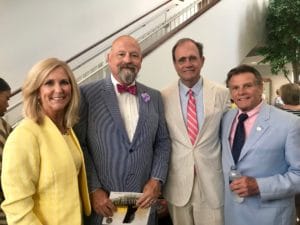 Commissioner of Agriculture and Commerce, Andy Gipson, said he is looking forward to coming back mid-June to visit Delta Farms.
"Delta Council plays such a tremendous role in promoting Mississippi's diverse agriculture in the Delta, providing food and fiber here and around the world," said Gipson. "Attending this years event has given me a desire to learn even more about the Delta's agriculture and production."
Governor Bryant made a statement on his Facebook page that read, "Delta Council's Annual Meeting had a special guest this year. Thanks to my friend U.S. EPA Administrator Scott Pruitt for returning to Mississippi to highlight everything the EPA is doing to protect natural resources while allowing agriculture to flourish."
Lt. Governor Reeves also made a statement on his Twitter page that read,"I thank EPA Scott Pruitt for updating Delta Council on the work his agency is doing to encourage job creation and growth."
Courtesy of Tate Reeves