Determining the extent of tornado damage to farms in Monroe County will take weeks, but video shot from flying drones will speed up the process.
Mississippi State University Extension Service personnel have been assisting in relief efforts since the morning after an EF-2 tornado on April 13 damaged more than 140 homes in Hamilton, claiming one life and injuring 19 others.
At the same time, Extension personnel are conducting agricultural damage assessments and assisting producers who suffered property damage from the storm. They will then relay this information to the Mississippi Emergency Management Agency.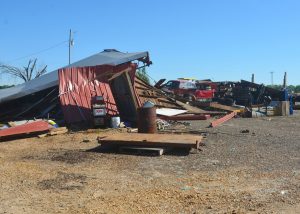 One component of these assessments relies on unmanned aerial vehicles, also known as drones, to survey affected areas and gather aerial footage of damaged cropland and structures. Louis Wasson, senior Extension associate with the MSU Geosystems Research Institute, oversees the Extension flyovers.
"Before each flyover, we overlay a satellite map of the county we'll be in with the path of the tornado, which we get from the National Weather Service," said Wasson. "This helps us determine the altitude and the path the aircraft will take. From the ground level, you are walking around a structure and seeing a limited distance. From the air, you can see the damage to the entire structure, and you can also see the extent of where the tornado took all the debris."
MSU Extension agronomist Charlie Stokes estimated 20 farms were affected in southern Monroe County. Damage includes trees toppled onto fences and sheds, as well as widespread debris littering cropland. Several structures in the tornado's direct path were destroyed.
"We conducted an assessment April 15 going from farm to farm, but getting this aerial view will help us get more detailed information," Stokes said. "We have only two-row crop farms with heavier damage, but a lot of small farms, cattle farms, and horse farms have fences down and so forth. Fortunately, we haven't had any loss of life with animals."
Lifelong farmer Danny Holloway's property was among the hardest hit in Hamilton. His home sustained severe damage; most of its roof was destroyed and is now fortified by blue tarps. Flying debris hit Holloway's farm equipment.
"The front and side windows are gone in one of the combines, and I noticed the back of it is busted," Holloway said. "A board went through one of the cotton pickers. I've got two tractors that it blew the windows out of and another tractor it busted the window out of the back of it."
Randall Nevins, an MSU Extension coordinator in Monroe County, helped organize a 20-person cleaning crew to remove debris from 190 acres of Holloway's fields.
"Just looking at the eight or 10 farm-related structures in the line of the tornado, I'd say you have some total losses there," Nevins said. "You're going to have to take it all out and put up new structures because those buildings are gone. It's pretty severe in certain areas. Our farmers are going to have to pick up the pieces, and we're going to help them try to do that as we move on into the next few weeks."
Members of the Extension service are also assisting other residents who lost their homes or suffered property loss by staffing the supply distribution points with people coming to get supplies.
"We will staff volunteer service centers. It'll be a lot of helping neighbors clean up," said Stokes. "In the weeks to come, we will still be very involved."
Stay up to date with all of Mississippi's latest news by signing up for our free newsletter here. 
Copyright 2023 SuperTalk Mississippi Media. All rights reserved.