Fred Shanks has officially won the House District 60 seat in Rankin County. Shanks faced off against Bob Morrow in a special election runoff to replace former House Education Chair John Moore who resigned back in December following multiple sexual harassment complaints.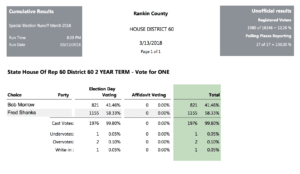 The unofficial voting results from Rankin County show that Shanks received over 58% of the vote with Morrow getting a little over 41% of the vote.
Shanks is a former Brandon alderman and while Mississippi special election candidates forgo party labels, Shanks said that he would caucus with Republicans.
Congratulations to Representative-elect Fred Shanks, who will represent House District 60. pic.twitter.com/m4EbpgjeNl

— Philip Gunn (@PhilipGunnMS) March 14, 2018