According to a report from Fox News, Democrat Senate Candidate Mike Espy accepted $750,000 in 2011 after lobbying for Laurent Gbagbo, then President of the Ivory Coast in Africa. Espy previously stated that he only accepted a portion of the funds, however, documents have been discovered stating otherwise.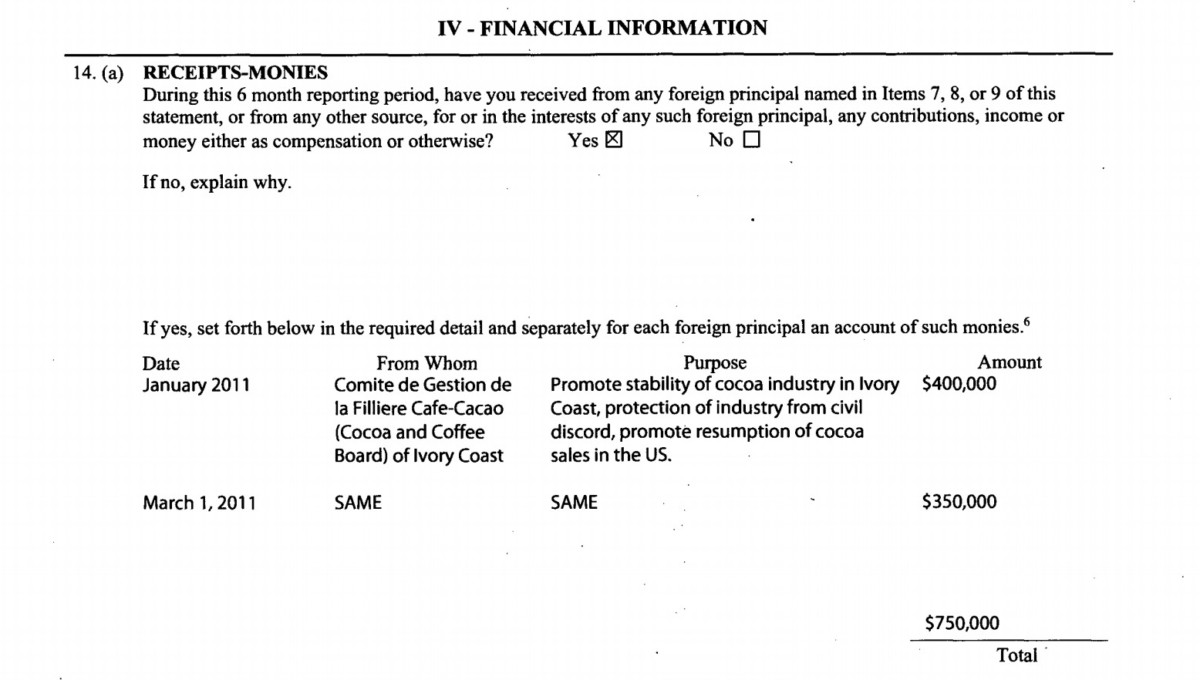 In 2011, Espy told The Hill that he dropped the contract because "Events are spiraling rapidly." Espy said he only worked on the contract for a little more than a month before suspending it in early February 2011.
However, according to the documents, he ended the contract 15 days before it was supposed to end.
Gbagbo lost the 2010 election but refused to concede to his opponent at the time. The U.S. State Department reported that he unleashed extrajudicial killings, torture, and rape of his political opponents.  Gbagbo is currently on trial with the International Criminal Court for crimes against humanity.
Espy is in a runoff election with Republican U.S. Senator Cindy Hyde-Smith who was appointed by Governor Phil Bryant to the position after Senator Thad Cochran retired.
"It's incredible but true that Mike Espy was paid three-quarters of a million dollars as a registered foreign agent to lobby on behalf of a brutal dictator of the Ivory Coast," said Melissa Scallan, communications director for Senator Cindy Hyde-Smith's campaign. "Espy lied about how much he was paid, and he represented someone now charged with crimes against humanity. Mike Espy is clearly the most liberal candidate for U.S. Senate in Mississippi's history because of his far-left voting records and stances on key issues, but now, he's proving himself to be even more radical than ever."
Last week, a video went viral where Senator Hyde-Smith made a comment about being on the front row of a public hanging. Hyde-Smith responded to the public saying it was an "exaggerated expression of regard."
"In a comment on Nov. 2, I referred to accepting an invitation to a speaking engagement. In referencing the one who invited me, I used an exaggerated expression of regard, and any attempt to turn this into a negative connotation is ridiculous."
RELATED: Hyde-Smith, Espy respond to public hanging comment
"Cindy Hyde-Smith had a chance to admit she was wrong, and instead of apologizing, she doubled down," said Mike Espy's Campaign Spokesman Danny Blanton. "Since that hasn't worked, she's trying to change the subject with a smear campaign against Mike."
In a post on social media, Governor Phil Bryant called for Espy to explain himself.
"Espy must explain this crime on humanity to our bipartisan state media. Seeing as how it took a national news outlet to break the story, I'm sure they'll have plenty of questions to ask."
Where is the outrage from the Mississippi media and Democrats? #doublestandard #bloodmoney https://t.co/vcWnOB3uxM
— Phil Bryant (@PhilBryantMS) November 15, 2018
State Auditor Shad White said while he hasn't been in politics long it's not a great political look.
"You don't want to be caught in a contradiction of telling something that is not the truth," White said. "I hope really for the voters' sake that he will come out and explain to us why he said what he said, and why he took this money and where it is. The other big question in my mind is if you took three-quarters of a million dollars from a government that was run by a brutal murderer and somebody who allowed a modern form of slavery in their country then what did you do with the money and can you give it to a charity. If you can't, then where is it?"
Stay up to date with all of Mississippi's latest news by signing up for our free newsletter here. 
Copyright 2023 SuperTalk Mississippi Media. All rights reserved.