JACKSON, Miss.–Officers who died in the line of duty from all branches of law enforcement, state-wide, were honored Tuesday with a candlelight ceremony. The vigil, which included prayer and song and the laying of a wreath, happened at the memorial for fallen law enforcement between the State Supreme Court and the Walter Sillers Building, near the capitol in Jackson.
Three names were added to that memorial wall: former George County Sheriff John Nelson, from Dec. 21, 1947; Deputy Sheriff Edgar Allen Harrell, from June 2, 1997 in Marion County and Det. Michael John Walter, from May 1, 2012, from the Pearl Police Dept., who was shot to death as he and fellow officers cornered a murder suspect.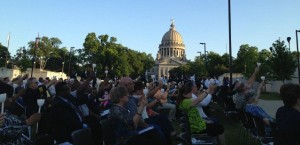 Ken Winter, executive director of the Miss. Assoc. of Police Chiefs, used the occasion to call for lawmakers on local and state levels to fund armor for officers. He pointed out that 47 officers died in the line of duty in 2012.
"Of that 47, 43 were killed by firearms," he said. "Of that 43, 23 were not wearing any body armor. This would be an appropriate time for us in the law enforcement community to not only make it an issue, but to make it a priority for every officer that goes on duty each and every day in our country."
It was a time of emotion for the family of slain and fallen law enforcement and there were tears from both the audience and Tunica Chief Richard Veazy, who serves as President of the Police Chief's Assoc.
"This is an especially emotional time for me because there are several names on that wall of officers I knew personally," he said as his voice quivered. "They were mourned, they are missed and they will be remembered. These are the names of some of Mississippi's finest, who made the ultimate sacrifice. We must continue to attend these gatherings and keep their memory alive, not just the memory of the person or their name, but the memory of their duty and service to and sacrifice for the great State of Mississippi and her citizens. They must be remembered. We owe them that much."
"Many of us in law enforcement and those that work with law enforcement don't like to show emotion," said Atty. Gen. Jim Hood. "I want us to also remember there are those here who are living."
Hood thanked the families of current officers who he said sacrifice every day because they send out family members not knowing if they will return.
Hood also mention Enterprise Chief Randy Boykin, who died in March after being hit by a car while directing traffic, and Jackson Det. Eric Smith, gunned down at police headquarters by a murder suspect, who shot himself in the same interrogation room.
The ceremony was part of a week-long national memorial for law officers who have fallen in the line of duty and memorials are happening all across the U.S. The Dept. of Public Safety was set to conduct a ceremony for fallen Highway Patrol officers Wednesday.