Nellie Neal, also known as Garden Mama, said now that February is over, it's time to put the pedal to the metal in preparing for the spring garden.
Her first tip is to mow the weeds in your lawn before they have the opportunity to set seed.
"Anything else that you do will be assisted by that," Neal said. "Some people will do spot control with a weed killer and some people will wait a little bit and do a weed and feed process on there."
Her next tip for caring for potted ferns in the spring, summer, and fall is to put them in a five-gallon bucket once a week to hydrate them properly with a little fertilizer. If you have a potted fern that doesn't look terrific right now, put it in a bucket of warm water with fertilizer in it. She said to trim the old stuff and keep it away from freezing temperatures, but still keep it in the sunlight.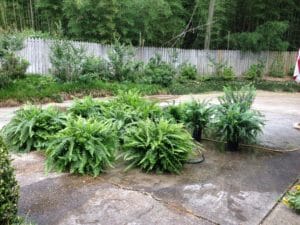 "Ferns have much more life in them than we give them credit for, that's why the best collections of ferns come from people who drive around and pick up the ones that you threw away," said Neal. "Don't throw them away, let's try and rehabilitate them."
She also said that a potted fern is a beautiful thing, and two of them on a porch can make a statement all by themselves without another plant anywhere in sight, so we need to take care of those ferns right now.
Buddy Slowik, or Handy Man, also has some tips on how to prepare your house for the spring.
He said the most important advice he can give is to clean out your gutters.
"Gutters are very useful things but most of them are clogged with leaves and debris," Slowik said. "You can go on the internet and look up gutter cleaning tools and there will be very many tools that work very well from ground level, and that's very important."
He also said another thing that's very important is to get your AC unit checked out now before the season really hits us hard.
"Have maintenance done on it, get it cleaned, and it may need freon," said Slowik. "It's a good time of year to get this done because a lot of the air conditioning companies right around this time are giving discounts for doing the services early in the year, so that's a very important thing."
Lastly, he focused on how to keep insects out of your house.
"Any time you put down new pine straw or new mulch, always try to leave it at least 8-12 inches away from the house, and control water," said Slowik. "Get rid of any standing water that you may have because that's nothing but a breeding ground for insects and you don't need that around your home."
He stated that treatment by an insect company twice each year is a good thing, but the best way to keep insects out is to make sure all of your areas of infiltration are taken care of and are sealed properly, which can be done with steel wool and spray foam.