Governor Phil Bryant has announced that he has appointed Brig. Gen. Joe Spraggins as the executive director of the Mississippi Department of Marine Resources. Spraggins is not new to the department as he has served as the DMR's chief operations officer since 2013.
Spraggins will replace Jamie Miller, who left the position to join the Mississippi Development Authority as the deputy director for governmental affairs and chief innovation officer. In a statement, Governor Bryant thanked Miller for serving the DRM and looks forward to Spraggins stepping in.
"Jamie has served the people of Mississippi well at DMR," Gov. Phil Bryant said. "I know he will continue to improve our state at MDA. DMR is in good hands with Gen. Spraggins assuming leadership, and I am pleased he has accepted this appointment."
Miller has 20 years of public and private-sector experience working in both South Mississippi and Washington, D.C.  His professional career has focused on legislative affairs, natural resource management and community and economic development.
At DMR, Miller worked with the Mississippi Legislature to pass the DMR Reorganization and Accountability Act, which required annual agency audits, authorized an Office of Restoration and Resiliency and three key agency positions including; chief scientific officer, chief financial officer and marine patrol chief.
Miller worked to enhance the Coast's natural resources, including a focus on Mississippi's oyster reefs. He played a key role in the Governor's Oyster Council on Restoration and Resiliency to expand public oyster growing areas and initiating oyster aquaculture to restore natural reefs and increase commercial production.
Miller served as chief of staff for Cong. Steven Palazzo in Washington D.C., and as a policy advisor to Gov. Haley Barbour's Office of Recovery and Renewal following Hurricane Katrina. In that role, Miller helped develop Community Development Block Grant programs, including the expansion of the Port of Gulfport.
In his new role at MDA, Miller will focus primarily on local, state, federal and international governmental relations. With prior experience in the Governor's Office of Disaster Recovery, he will serve as disaster recovery administrator and oversee state-owned ports. Miller will coordinate with all Mississippi military installations on behalf of MDA, monitor all Base Realignment and Closure activity and work with the Mississippi Military Communities Council. He will also coordinate all university and federal research center relations on behalf of MDA, serve as liaison to the Delta Regional Authority and Appalachian Regional Commission, oversee statewide benchmarks and project performance initiatives, in addition to other administrative and strategic initiatives as assigned.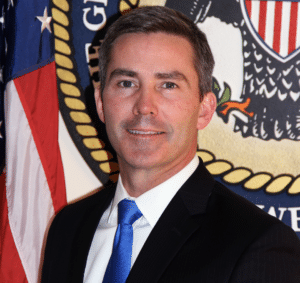 He graduated from Mississippi Gulf Coast Community College and received his B.S. in environmental biology with a minor in chemistry from the University of Southern Mississippi. Miller discussed what his five years in the position meant and what his future holds with the MDA.
"I look forward to joining Director Glenn McCullough and his team at the Mississippi Development Authority," Miller said. "I share the passion Glenn, and Governor Bryant have for Mississippi and hope to build on the agency's success. It has been an absolute privilege to lead the Mississippi Department of Marine Resources and its employees for nearly five years. I leave knowing the positive initiatives we implemented will continue to benefit the agency in the future. My role at MDA gives me an even greater opportunity to promote the entire state as a premier business and tourism destination."
Spraggins grew up in Alexander City, Ala., and graduated from Troy University with a bachelor's degree in resource management. He served 34 years in the military and attained the rank of brigadier general. He retired from the U.S. Air Force in 2006.
Prior to joining DMR, he served as commander of the Combat Readiness Training Center in Gulfport and chief of staff of the Joint Force Headquarters in the Tennessee National Guard. Spraggins was appointed as the director of emergency management, homeland security and the E-911 Commission for Harrison County. He began work days before Hurricane Katrina made landfall on Aug. 29, 2005. Spraggins worked alongside Miller, and says that he will build off of what Miller has done.
"I am honored that Governor Bryant chose me to be the executive director for the Mississippi Department of Marine Resources," Spraggins said. "I have worked alongside Jamie Miller for the past four years, and his leadership has been outstanding. I look forward to continuing the work that he has done to make this agency one of the best in the state."
Miller will officially join MDA on Dec. 20. Spraggins will assume leadership of DMR the same day.