Courtney Brown was in a vehicle with her 1-year old daughter and her boyfriend when they saw a police officer in his vehicle stopped in the middle of an intersection, even though the light was green. Moments later, a large van came through the intersection and crashed into the officer's car. The van turned out to be stolen, and the driver was arrested on the spot.
Officer Luis Garcia with the Gulfport PD was hospitalized as a result of the crash. After the incident, Brown posted the following message on Facebook thanking Officer Garcia for his heroic actions.
"So tonight a Gulfport police officer saved my daughters and boyfriends life as well as many others, the light was green, and he sat in the middle of the road as a big van came running through a red light, from a car chase. The van was going at least 75, or 80 miles per hour, as Garcia just sat there waiting for the van to run through the red light. We were going to drive through the green light, after Garcia drove through the light, but if it wasn't for Officer Garcia jumping in the way and blocking the intersection, my daughter and boyfriend would have been the ones to get hit and possibly die. I am beyond thankful that Officer Luis Garcia of Gulfport Police Department, saved our lives. I hope he's okay. They took him to Memorial hospital but he's truly a hero."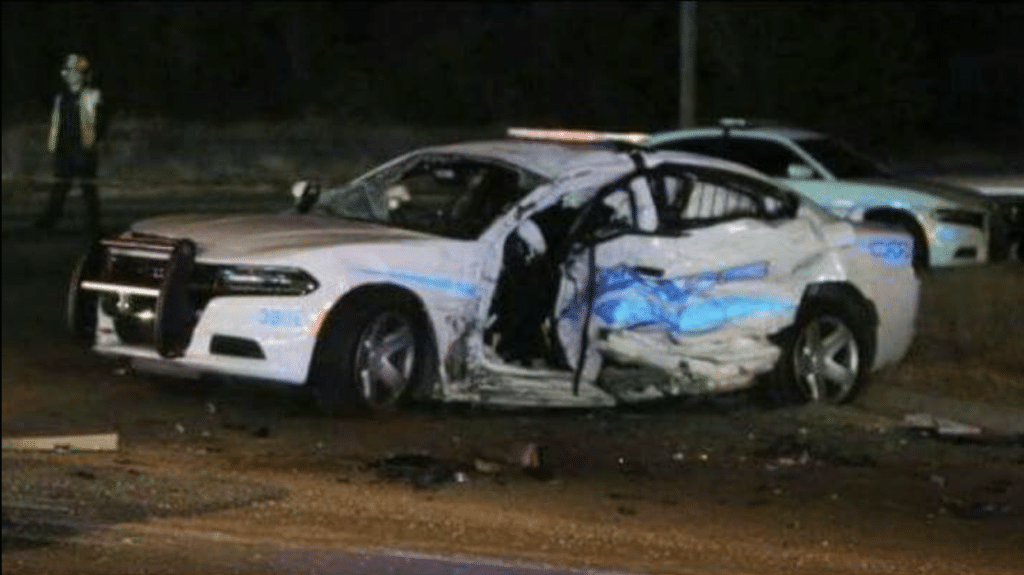 A 10-year veteran, Officer Garcia remains hospitalized, but during a press conference, Chief Leonard Papania said that it appears he will make a full recovery.
"While he has a challenging road ahead his future looks very very promising."
Following the crash, Brown remembers wondering if Officer Garcia was alive. She is able to reflect on the incident and has sent a message to Officer Garcia as remains in the hospital.
"I was just sitting there hoping and praying that he was going to survive because as hard as he was hit, I didn't know what was going to happen," Brown recalled. "I'm extremely thankful for him. He's a hero. He saved my daughter and my boyfriend's lives, and it's something that was the most amazing thing I've ever witnessed."
The man in the stolen van has been identified by police as 18-year-old Eli Daniel Bosworth, who was arrested and charged with one count of Motor Vehicle Theft and one count of Felony Fleeing and Eluding. Bosworth's bond has been set a $100,000.
For information on how to donate to Officer Garcia and his family, visit the Gulfport PD's Facebook page. – click here
Stay up to date with all of Mississippi's latest news by signing up for our free newsletter here. 
Copyright 2023 SuperTalk Mississippi Media. All rights reserved.