Tuition rates are rising in Mississippi.
The Board of Trustees for the Institutional of Higher Learning "approved for first reading tuition increases for the state's eight public universities" earlier this week. The proposed increase averages just over $300 per year at each school.
The IHL has released a comprehensive list of each school and the net increase that students could see if these increases are approved and implemented.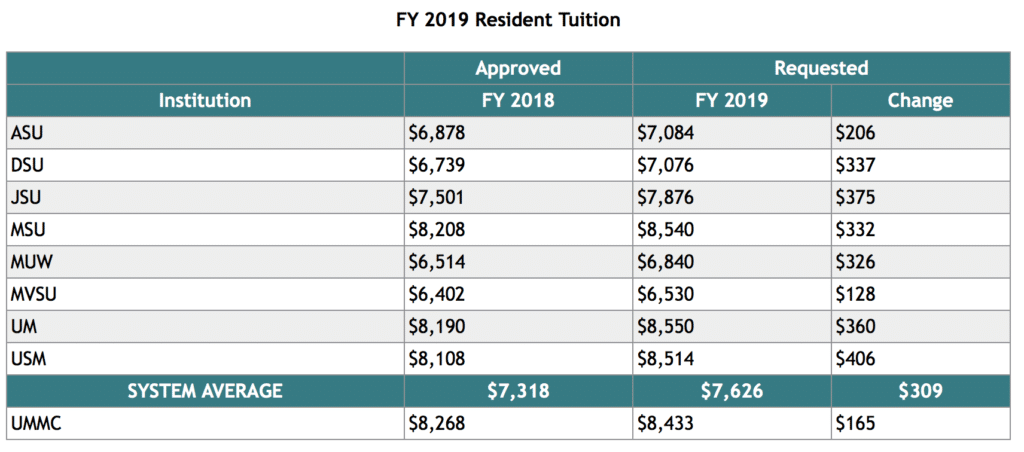 According to the IHL, tuition represents 67% of university budgets, while state appropriations account for 24%. Dr. Glenn Boyce, Commissioner of Higher Education, says that the tuition increases are a result of lagging state revenue and that the gap must be made up.
"We greatly appreciate our legislature and state leaders for providing a small increase in our appropriations," Boyce said. "The proposed tuition increases will be used to help fill the gap left by reductions sustained by the universities over the past several years as state revenue has lagged. Universities are exploring all avenues for reducing costs, while maintaining the quality of education students receive."
A news release from the IHL says that universities have continued to find ways to decrease spending including outsourcing some services, merging academic departments and schools, reducing travel, implementing energy efficiency measures, not filling unfilled positions and analyzing facility usage.
With the increase, the IHL says that Mississippi students will still pay less than students in surrounding states.
Alabama: $9,201
Arkansas: $7,596
Louisiana: $8,102
Tennessee: $8,806
[Source: IPEDS FY 2017 In-State Tuition]
Another potential reason for the hike was included in the IHL's release, stating that universities are serving more students than ever before with enrollment reaching nearly 100,000 state-wide.
"Students come to Mississippi Public Universities with expectations of receiving a quality education that will prepare them well for the future," Boyce said. "It is incumbent upon us to ensure that the appropriate measures are taken to meet those expectations. Universities must have the resources necessary to provide quality programs, faculty, services and facilities."
The matter will be brought back to the Board for second reading, and possible final approval, at the Board Meeting in May.