Yesterday 18 year-old Frances Anne Fortner was killed in  a car crash on Ridgewood Road near Venetian Way in Jackson.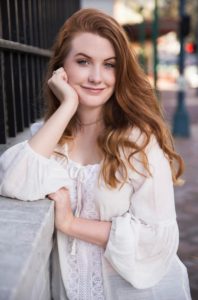 Frances was on her way to graduation practice when she hit an uncovered manhole and flipped her convertible. She was set to graduate today from Jackson Academy.
She was taken to a local hospital where she later died and the investigation is still ongoing.
Jackson Academy said in a statement, "It is with great sadness that we share the tragic news of the loss of one of our Jackson Academy Senior Students, Frances Anne Fortner, who was in an automobile accident this afternoon. This breaks our hearts, and out entire community of students, educators, and families is grieving alongside her family at this terrible loss. "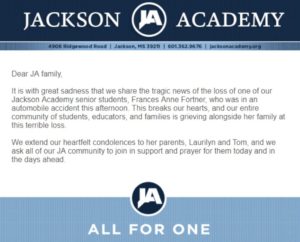 Jackson Mayor Chokwe Antar Lumumba says, "This tragedy continues to weigh heavily on our hearts. I would like to again extend my sincere condolences to each person that Miss Frances Fortner's life has touched. I want to reassure our citizens that we are actively investigating this accident and will provide more information as soon as it becomes available"
Governor Phil Bryant also made a statement on his Facebook page that read, "Deborah and I are saddened by the loss of this beautiful young lady. We pray the Lord will hold her family close during these times of sorrow."
*Photo Courtesy of Sharon Coker Photography