The Jackson Police Department are investigating several crimes that have happened over the last few weeks.  
Terry Road Burglary
They currently need help identifying a suspect that was seen on a surveillance video burglarizing the Metro PCS that is located on Terry Road. The burglary happened on October 12, 2017. Anyone who might know who this individual is should call the JPD or Crime Stoppers 601-355-TIPS.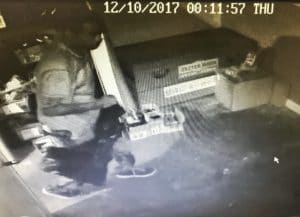 University Boulevard Burglary
Officers are looking for the suspect in another burglary on University Boulevard on October 14, 2017. The crime happened at the Academy of Hair Design and the suspect was caught on surveillance video. If you can identify that person please contact the JPD or Crime Stoppers with any information.
Stabbing on Marcus L. Butler Drive
There was a stabbing in the 200 block of Marcus L. Butler Drive over the weekend. Officers were investigating a domestic disturbance call just before 2:30 p.m. when they found a man who had been stabbed in the hand.
The fight started between the man and his girlfriend. The victim was taken to the hospital and treated for his injuries and the girlfriend has been taken in for questioning but no arrests have been made at this time.
The investigation is ongoing.
Shooting on Jones Avenue
On Friday there was a shooting on Jones Avenue, near Cleveland Avenue just after 3:30 p.m. Officials arrived on the scene to find a 21 year old man who was lying in the corner and suffering from multiple gunshot wounds.
The suspect had been driving a blue vehicle and pulled up to the victim, a few words were exchanged before shots were fired and the victim was hit.
He was transported to the hospital and treated for his injuries. The suspect is still at large and his identity unknown. If you have any information contact the Jackson Police Department.
 Stabbing on Westhaven Drive
Officers responded to a stabbing just after 9:00 on Friday night in the 1000 block of E. Westhaven Drive. They found a 48 year old male with multiple stab wounds.
Officers were able to gather a limited amount of information from the victim who said he picked up two unknown black men from another location and brought them to his house. Sometime after that he said the two men tried to rob him and a fight ensued. The man suffered stab wounds to his chest and arm.
The victim was taken to the hospital and treated for his injures, but his condition is unknown. The suspects fled and their identities are unknown. If you have any information please contact JPD.
Stay up to date with all of Mississippi's latest news by signing up for our free newsletter here. 
Copyright 2023 SuperTalk Mississippi Media. All rights reserved.