Jackson State University will soon offer free tuition to eligible Mississippi Army and Air National Guard members attending the University.
JSU President William B. Bynum Jr. and Major General Janson D. Boyles have signed a Memorandum of Understanding in the rotunda of the College of Business to establish the Tiger Free Tuition Program (FTP).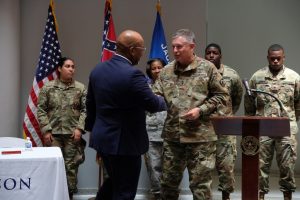 The program aims to increase ranks and promotions in the National Guard, produce higher retention rates throughout the force and bolster the National Guard student population at JSU.
Before introducing key players in the agreement, JSU's associate vice president of Enrollment Management Warren B. Johnson hailed the signing as an opportunity to support military personnel.
"These individuals are charged with the protection and security of our state and also have to be ready to be called upon, if needed, to mobilize into federal service," said Johnson.
He noted Mississippi National Guard's historic, distinguished and overwhelming contributions to Operation Desert Shield/Desert Storm, Persian Gulf Crisis, Saudi Arabia, Operation Iraqi Freedom, and others.
Bynum described the pact as an opportunity to enhance the leadership of troops through academics. He said he's "extremely proud" of JSU's military-friendly status and for being the home of the Army ROTC and Air Force ROTC programs.
"There are a number of things that are very special about the men and women who serve and give of themselves and their lives to this country," said Bynum, emphasizing that a record 18 JSU cadets will commission as a second lieutenant during a commissioning ceremony this spring.
As for the MOU, Boyles concurred with Bynum and referred to it as a pivotal moment.
"Having young men and women go to college and get an education improves our readiness and adds to the leadership," said Boyles.
Boyles said he envisions the arrangement helping the National Guard's recruitment efforts by offering free tuition to young men and women to attend JSU.
"The men and women of the National Guard will bring the lessons that they learn while wearing the uniform to the student population and will help enhance the university," said Boyles.
The Mississippi National Guard has more than 12,000 Army and Air National Guard members in its ranks and actively seeks opportunities to improve men's and women's abilities to solve complex problems at home and abroad.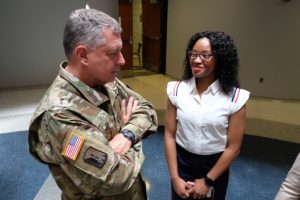 One of those who is aiming to join the ranks is 22-year-old Bridget Jones from Utica. She plans to be among the first to take advantage of the Tiger Free Tuition Program. After recently earning her associate's degree from Hinds Community College, she has applied to JSU and expects to start this summer and enroll in the Army ROTC program.
Jones, who plans to study biology, said she heard about the free-tuition program on Facebook and immediately contacted JSU's Veterans and Military Center, which invited her to the signing to get more information.
"This agreement is a great opportunity to avoid student loans and allows me to focus on becoming a medical officer," Jones said.
Among the qualifications required by service members to participate in JSU's Tiger Free Tuition Program:
Must be enrolled currently as full-time undergraduates
Must maintain at least a 2.0 GPA
Must not be within a year of expiration of term of service or mandatory removal date
Must complete FAFSA and state aid applications in a timely manner
JSU has ranked among the top Military Friendly Schools by Viqtory and is featured in G.I. Jobs magazine for providing enhanced support services for student veterans, service members and their dependents.
Stay up to date with all of Mississippi's latest news by signing up for our free newsletter here. 
Copyright 2023 SuperTalk Mississippi Media. All rights reserved.