In a day and time where everything is immediate and fleeting, two Mississippi couples are proving that love and marriage get better with age.  The two Attala County couples each celebrated their 70th wedding anniversaries during the past month and their stories of youthful love never growing old are inspiring.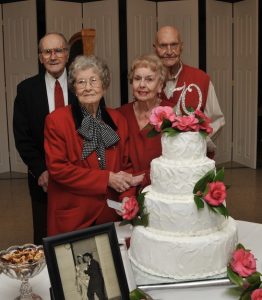 The four 92-year-olds, Mr. and Mrs. Howard Ellison and Mr. and Mrs. Ramon Jackson were recently honored with a joint reception at Kosciusko First Presbyterian Church, celebrating their 70 years of marriage with their church family and friends.
"He's always there for me," said Lyndol. "Like this morning. I can't put on my earrings well, so he puts my jewelry on when I come to church, we help dress each other and we just work together."
Howard echoes Lyndol's words saying they don't always have a picture perfect married life.
"We have our disagreements every once in a while, but it's worked out," he said. "I don't know how, but it's worked out."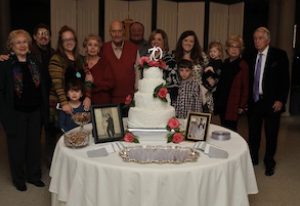 Both teachers, the two were married in a small ceremony at the teacherage in Stover, a small delta town where Lyndol was teaching at the time. The Ellison's waited 13 years before they adopted a child and Lyndol stopped teaching to stay at home with their daughter.
She soon became pregnant with their second child, a son. Howard and Lyndol have three granddaughters and four great-grandchildren.
"It's a give and take," says Lyndol.
Howard quickly follows up with a play on lyrics from Kenny Rogers' popular song The Gambler.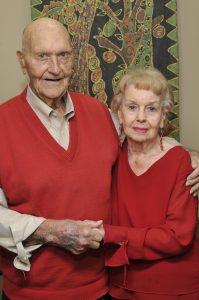 "Know when to hold your tongue, know when to fold your opinions," he says.
However, the Ellison's marriage almost didn't happen.
"I was engaged to be married to someone else in two weeks," said Lyndol. "Howard said if we don't get married now, it's all over. I said alright! So, it wasn't a kissy-huggy ordeal, we just made up our minds."
Unlike the Ellison's quick courtship, the Jackson's have known each other since they were 15 years old.
When asked what he loves most about his wife, Ramon's reply is simple. "Her sweetness. The first thing she does every morning is say 'I love you'."
"He tells me all the time that he loves me because I love him too and he's just always there for me," adds Sarah Frances who goes by the nickname 'Snooks'.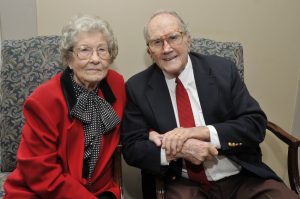 The Jackson's started dating in high school when Snooks was in the 9th grade and Ramon was in the 10th. The two met during a hayride at a friends birthday party and while Snooks says Ramon's initial approach at wooing her won't work for everybody it was original.
"I threw marshmallows at her on that hayride and I have loved her ever since," he says with a reminiscing smile. "We've been together ever since then. "All through four years of college and everything."
However, their courtship wasn't always easy. Their relationship continued through college where long distance made it difficult for the two to see each other.
"Honey that was a day when boys didn't have cars," Snooks says. "Kids today can't believe it, but he had to hitchhike home every weekend from Mississippi State University."
"I would get about three different rides trying to get to her from Starkville," Ramon adds.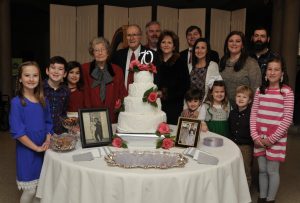 When asked about what has made their marriage last for the past 70 years, Snooks attributes it to hard work. "And love, adds Ramon."
"Everybody is going to disagree but you have to talk it over and pray about it," she said.
The Jackson's advice to young married people is to start out by going to church and be involved with the Gospel daily.
"Through it all you've got to be friends," Snooks said. "Go together, work together, love and live life together."
The two have two children, four grandchildren, and 11 great-grandchildren.
One last word of advice was given.
"Never get married on Christmas," Snooks adds with a laugh. "Because you will only ever get one present."
*Photos courtesy of Lewis Sims
Stay up to date with all of Mississippi's latest news by signing up for our free newsletter here. 
Copyright 2023 SuperTalk Mississippi Media. All rights reserved.