UPDATE: The House has passed the teacher pay raise bill and it will now head to the Governor's desk to be signed into law. The House voted in favor of the pay raise with 88 Yeas and 27 Nays.
Lawmakers have agreed to give teachers a $1,500-a-year pay raise. The decision came late Wednesday night when House and Senate budget negotiators filed a conference report bringing the speculation of how much teachers might receive to an end. The proposal of $1,500 is not a phase in and would be implemented starting on July 1 of 2019.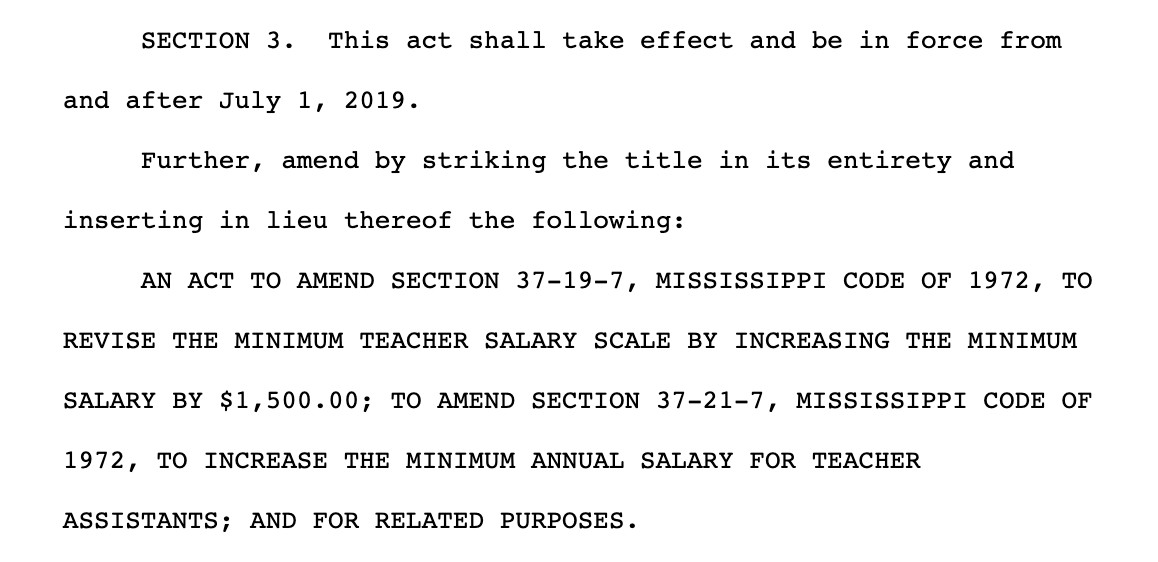 Early in the session, Republican leadership in the Senate proposed $500 pay raises to be phased in over two years. An amendment was later passed in the House to increase the raise to $4,000 over two years time.
During debate on the Senate floor Thursday morning, Senator Willie Simmons advocated for a greater pay raise saying they needed to find the money in the budget for the House's proposed $4,000 raise. However, Appropriations Chairman Senator Buck Clarke asked what they want to cut to make that raise possible.
"What would you be willing to cut," said Clarke. "There is no money left out there on the table. Everything has been spent I can assure you. We are trying to give our state employees pay raises and they are not getting anywhere near what the teachers are getting I can tell you that. A lot of them aren't getting anything mainly because they got realigned maybe in the last two or three years, but I just want to hear, we need to have frank discussions. If we are going to advocate ramping up spending in some areas where would the money come from? Where do we need to cut, where are we spending too much money? I need to know that."
The pay raise was reportedly made possible due to a calculation error with how much money was required for the teacher pay raise. Originally estimates showed that $51 million was needed to increase teacher pay by $1,000. New calculations showed only $38 million would be needed for the $1,000 raise.
Representative Jay Hughes, who has been a strong supporter of teachers says the issue along the way has been "Capitol math".
"The most frustrating thing I have seen during my time in the Capitol has been the use of Capitol math and spin to discount the value of public education and those who educate the children that are the future of Mississippi."
The Senate adopted the conference report with 46 Yeas and 2 Nays.  Senator Willie Simmons and Senator Sollie Norwood, both Democrats voted Nay. The House will go into session at 10:00 and will likely take up discussion on the conference immediately.
The Mississippi Association of Educators responded with a statement after the conference report was signed expressing their disappointment with the pay raise amount.
"After days of delay, after refusing to share who was on the committee, and after a closed-door debate, the teacher pay raise has come in at $1500.That raise would see teachers receive an extra $4 a day. That is not a meaningful teacher pay raise. To say we're disappointed is an understatement.

While we continue to fight over scraps, meeting the Southeastern average keeps moving further out of our grasp. This pay raise won't help us fight the teacher shortage crisis. It won't help recruit a Mississippi student to the education field. It won't prevent a veteran teacher from leaving the classroom to pursue a more lucrative career. It won't keep us from losing Mississippi-trained educators to neighboring states where they're paid a salary reflective of their worth, and it sure won't help an educator afford to quit their second job."
Stay up to date with all of Mississippi's latest news by signing up for our free newsletter here. 
Copyright 2023 SuperTalk Mississippi Media. All rights reserved.