Longtime Ole Miss Head Coach Homer E. "Billy" Brewer has passed away at the age of 83.
Ole Miss media has confirmed that Brewer died late Saturday afternoon at Tresevant Manor in Memphis, Tennessee, following what has been described as "a brief illness."
Brewer coached the Rebels for 11 seasons, making him the second-longest tenured coach in Ole Miss football history. The Columbus, Mississippi native was named "Coach of the Year" three times during his time as the head coach of the Rebels from 1982-1993. Brewer took the Rebels to three bowl wins, and with 67 victories, he is second in school history in wins; behind only Johnny Vaught. When Brewer took over, Ole Miss football had fallen out of the national spotlight, and he largely is credited with returning the Rebels to prominence.
Brewer's Rebels were able to pick up their first win over Alabama in Tuscaloosa, a win at LSU for the first time since 1968 and a win in Little Rock over Arkansas for the first time since 1960.
Brewer is also remembered for his relationship with Rebel legend, Chucky Mullins, who was left paralyzed after a hit in the 1989 Homecoming game against Vanderbilt. After Mullins died in 1991, Brewer delivered the eulogy at his funeral service. Brewer also paved the way for the creation of the Chucky Mullins Courage Award, which allows a senior defensive leader to wear the #38 to honor Mullins' legacy.
After Brewer's departure from Ole Miss, his stamp on the program persisted and continues to this day as he is the man behind the "Walk of Champions", which takes place through the Grove before every home game.
"As a coach and player, Billy Brewer shared a love for Ole Miss that was unparalleled," said current Ole Miss head coach Matt Luke. "He was greatly admired by his players and his teammates and will forever be engrained in the history of Rebel Football. Our prayers go out to the Brewer family and all of Rebel Nation during this time."
Brewer was also a noteworthy player for the Rebels as a quarterback/defensive back from 1958-1960. He would go on to play for the Washington Redskins in 1961. His play also earned him a spot on the Ole Miss "Team of the Century" in 1993.
Brewer, who was retired and living in Oxford, was married to the late Kay Gunter of Columbus, Mississippi.  They are the parents of two sons – Brett (Susan) of Memphis, Tennessee and Gunter (Rhonda) of Chapel Hill, North Carolina. They also have five grandchildren — Keaton, Lauren, Blaine, Bailey Katherine and Brogan.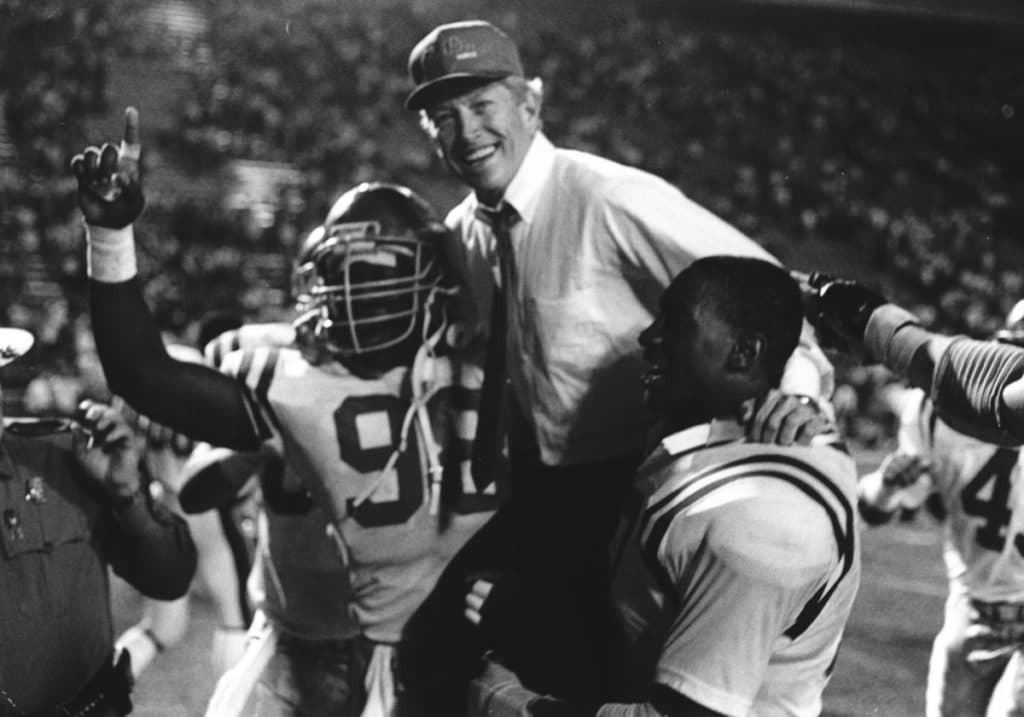 He will be inducted posthumously into the Mississippi Sports Hall of Fame on July 28, 2018.
* Photo Caption – Chucky Mullins (38) prepares to lead Ole Miss onto the field. Standing next to him is head coach Billy Brewer/Ole Miss File Photo.