A new piece of high-tech imaging equipment has been added to the crime-fighting arsenal of the Mississippi Department of Public Safety. The HBI-120 Handheld X-Ray Imager was awarded to the Mississippi Bureau of Narcotics by the High Intensity Drug Trafficking (H.I.D.T.A.) program.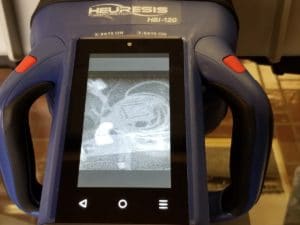 Officials said the unique design of the x-ray imager allows law enforcement to quickly and cost-effectively find narcotics, cash, and bulk explosives, as well as, other contraband and concealed threats in motor vehicles, ships, watercraft, aircraft, steel drums, HVAC ducts, and countless other locations.
DPS Commissioner Marshall Fisher said that law enforcement officers will be able to move the imager over objects and receive a real-time scanned x-ray image on the touchscreen, while simultaneously saving the image in the instrument's memory.
"The hand-held imager will allow officers to be more proficient in their job while providing a safety measure that was not previously available on the scene," said Commissioner Marshall Fisher. "As today's threats become more dangerous and technology-driven, we are thankful to H.I.D.T.A.'s dedication and assistance in helping keep our officers and citizens of Mississippi safer."
The new imager will be used by Highway Patrol Criminal Patrol Team Troopers who are assigned to the MBN Mobile Deployment Team.
*Photos courtesy of the Department of Public Safety