The Mississippi Department of Education has released the high school graduation rates for the 2016-17 school year, which show that the state's graduation rate has reached an all-time high of 83 percent. Mississippi's rate is just one point shy of the national graduation rate of 84 percent.
The graduation rate for students with disabilities also increased, to 36.4 percent from 34.7 percent the previous school year.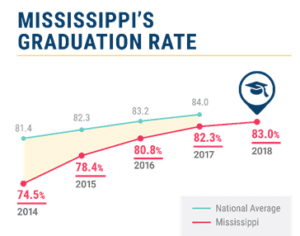 Dr. Carey Wright, the state superintendent of education, said school districts have implemented multiple ways for students to earn a diploma, and that parents, teachers, and administrators should be proud of the class of 2017's significant achievement.
"I congratulate our school districts for ensuring that students are completing high school successfully, so they can pursue their goals in college, postsecondary training, the military or workforce," Wright said. "A diploma is key to success in life after high school."
The drop-out rate dipped for the fourth consecutive year to 10.6 percent from 13.9 percent in 2014 percent as school districts worked to help students to stay in school.
The Mississippi State Board of Education (SBE) approved new diploma options that will go into effect in the 2018-19 school year that will give students the opportunity to earn an endorsement with their high school diploma and will provide the majority of students with disabilities an opportunity to earn a traditional diploma.
The new diploma options include a traditional diploma for all students and an alternate diploma option for students with Significant Cognitive Disabilities. Students will also have the opportunity to earn additional requirements to qualify for a traditional diploma with a Career and Technical Education (CTE) endorsement, an academic endorsement or a distinguished academic endorsement. Students can earn more than one endorsement.
Stay up to date with all of Mississippi's latest news by signing up for our free newsletter here. 
Copyright 2023 SuperTalk Mississippi Media. All rights reserved.