JACKSON- The city of Jackson prepares for a water shut down and the Mississippi Emergency Management Agency announces their contingency plan in the event they are required to offer support. 
Today at MEMA in Pearl Director Lee Smithson with Hinds County Emergency Management and Fire Chief Brandon Falcon said that there was a plan in place in the event MEMA had to step in to help the city.
"If it becomes too much for the county to handle either fiscally or for other resources then the county will come in and say it has exceed their capabilities," said Smithson. "Then I go to the governor he signs the state of emergency declaration and then we can leverage state assets to go in and help."
At this time only Hinds County has issued a state of emergency for the upcoming outage.
While MEMA will be on hold to offer assistance to the county they are responsible for keeping an eye on state buildings if they are affected by the shut off.
The city and county are operating under a state of emergency. It will not go to a state level until there is proof that those entities are not capable of handling the crisis. Smithson and Falcon said at this time they believe that the city will be able to handle the crisis.
MEMA will only provide additional resources if they are needed.
They still predict that 40,000 customers will be affected with the shut off.
Falcon said firefighters will be using Central Fire Station as the command post. While it is located on South and West Street Falcon said they did not experience any issues during the Feb. 10 shut off, and don't expect to experience any this time.
Emergency management agencies will be handing out water to people who need it. So far $24,000 has been spent to purchase water.
Originally Smithson gave a projection of $91,000 per day to support the cities need for water, but has retracted based on community support. Based on what churches, volunteer organizations, and the city have already done, it seems they have met the threshold of the amount of water that will be needed.
Smithson put to rest a rumor that the Mississippi State Health Department was requiring all restaurants to shut their doors.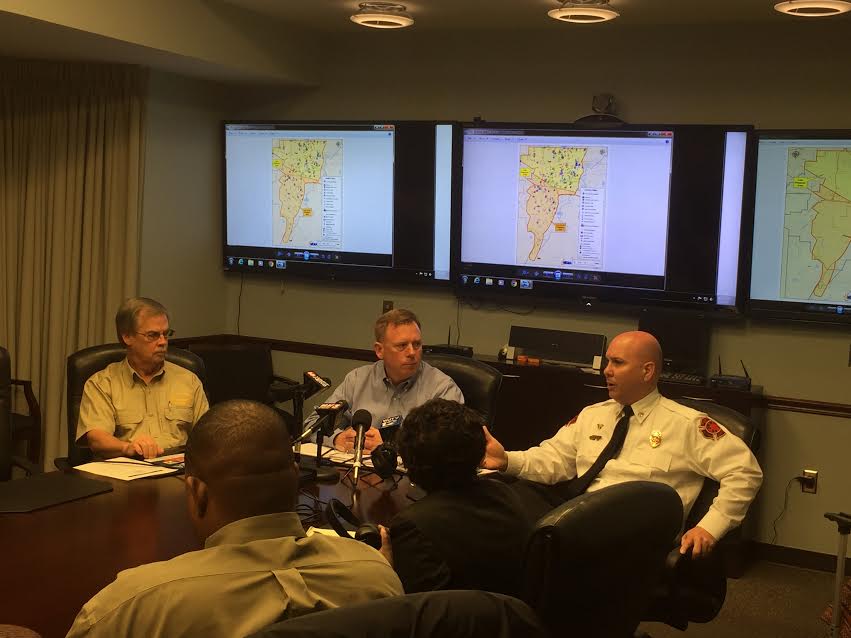 The truth is, any business in the affected area is subject to a visit from the health department and they will require those restaurants without water provide bathroom facilities for guests and bulk water to take care of operations. These resources are at the expense of the establishment.
"We are asking that every restaurant in Jackson is just prepared," said Smithson.
The shut off is expected to last 12-30 hours. There are a lot of unknowns because the extent of the damage is not visible. Falcon said while the three breaks are repaired there could be smaller leaks found along the way.
"What we like to say in the emergency management is 'the first 72 are on you,'"said Smithson. "But, there is no indication that this will last for more than 30 hours."
If things don't go as planned MEMA and the governor will step in to assist the city and county.
"Our communities come together better than any other state during a time of crisis. What we are asking everyone to do is everyone come together and help your neighbor out," said Smithson.
For more information on where to pick up water click HERE .
Stay up to date with all of Mississippi's latest news by signing up for our free newsletter here. 
Copyright 2023 SuperTalk Mississippi Media. All rights reserved.