The Mississippi Department of Public Safety honored fallen Mississippi Highway Patrol troopers and Bureau of Narcotics agents who have made the ultimate sacrifice in the line of duty during their annual Fallen Officers' Memorial Ceremony on Tuesday as part of National Police Week.
View the full ceremony below: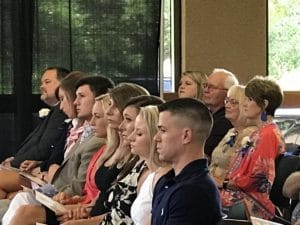 "This day is about the families," said Col. Chris Gillard. "I encourage the families to remember not just how they died but how they lived. This time of year it is almost like pulling a scab off of a sore each year when we have these services for the families, so we always try to bring the words of comfort, strength, and encouragement for them."
The ceremony took place at DPS headquarters with Governor Phil Bryant serving as the keynote speaker where he spoke of his own time serving as a deputy sheriff in Hinds County.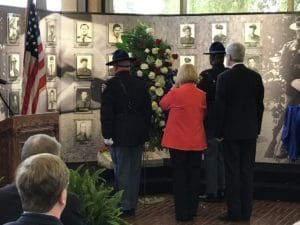 "It's a difficult thing to explain to people," Bryant said. "Normally, your instincts would be to shy away from a dangerous situation. Most normal people and I would advise them to get away from an active shooter, to not go into the heat of the battle or harms way, but a law enforcement officer does just the opposite. We oftentimes go with blue lights glaring and sirens blazing into that environment."
Bryant added that flags were being flown at half-staff to honor the memories of those killed in the line of duty.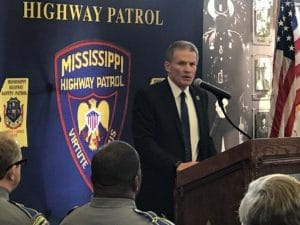 "I think its one of the most important things that we can do," said DPS Commissioner Marshall Fisher. "I think its incumbent among those the living to never forget the sacrifices of the men and the women in law enforcement and most importantly not to forget the sacrifices of their families. We remember them once a year at these ceremonies, but their families wake up and miss them every single day."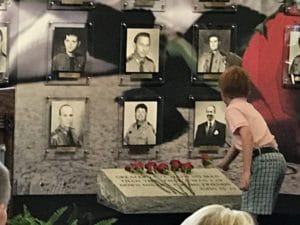 A large gathering of state and local law enforcement was present at the event, as well as, a number of state and local officials and family members of the fallen officers.
During the ceremony, the names of the 28 Mississippi Highway Patrolmen and five Bureau of Narcotics agents were read aloud and family members placed a single rose at the memorial wall in their honor.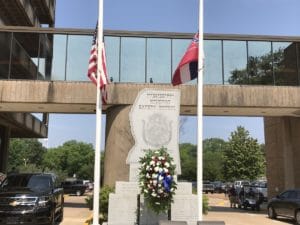 "This is going to be a week that you will hear the bagpipes played, you will hear the verse saying, 'greater love hath no man than that he lay down his life for his friend,' and we need to remember that the freedoms we experience every day, they are not free," Col. Gillard said. "We need to remember that lives have been paid, that sacrifices have been made for us to enjoy these freedoms."
Stay up to date with all of Mississippi's latest news by signing up for our free newsletter here. 
Copyright 2023 SuperTalk Mississippi Media. All rights reserved.