Mississippi hospitals have announced a proposal to help cover the nearly 300,000 Mississippi adults in Mississippi without health insurance who are not eligible for Medicaid.
The proposed plan, Mississippi Cares, would be a public-private partnership between the State of Mississippi, Mississippi hospitals, insurance provider Mississippi True, and its plan members. 
The Mississippi Hospital Association says they are doing this in an effort to create a healthier and more productive Mississippi, to sustain access to hospital care for Mississippi communities, to reform the Medicaid payment and delivery models, and to stimulate Mississippi's economy.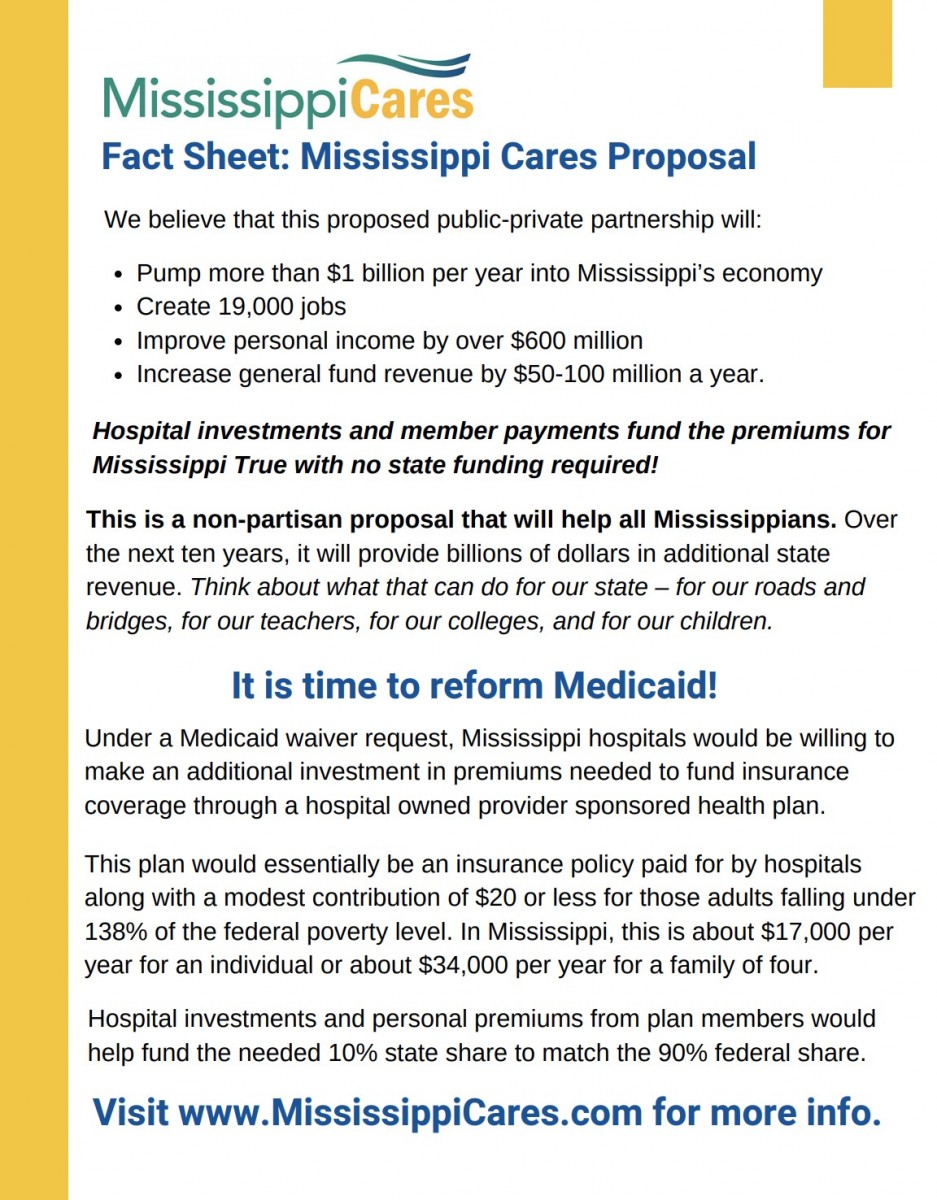 Mississippi Cares would cover non-disabled adults age 19-64 earning up to 138% of the federal poverty level (currently approximately $17,000 for an individual or $35,000 for a family of four). Due to the foresight of Republicans passing the Restore Hope Act in 2017, Mississippi already has a process in place to ensure compliance with these income standards. This proposal emphasizes personal responsibility and healthcare consumerism.
Plan participants would contribute $20/month in premium payments, with a $100 co-pay for non-emergency use of a hospital emergency department if there is a federally qualified health center, rural health clinic, or urgent care center within 20 miles of the hospital. Other co-pays and plan benefits will mirror traditional fee-for-service Medicaid, with the exception of non-emergency transportation services. Dental and vision benefits will also be included. Non-employed plan members must enroll in a job training, education, or volunteer program, with certain exceptions.
"Uncompensated care costs in Mississippi are exceeding $600 million annually," said Timothy Moore, President of the Mississippi Hospital Association. "Mississippi is among the highest in the country in medical debt.  Not because our costs are too high – we rank in the bottom third in the country for health care expenditures per person – but because our need for healthcare is so great and our means to pay for that needed care is so low."
Under a special Medicaid waiver request, Mississippi hospitals would make an additional investment in the premiums needed to fund insurance coverage through a hospital-owned provider-sponsored health plan, Mississippi True. Due to hospital and participant investment, this plan will not cost the state any additional dollars. Hospital investments and personal premiums from plan members would fund the needed 10% state share to match the 90% federal share.
"Healthcare is a quality of life issue," said Moore. "Many working adults have no health insurance coverage in our state. If Mississippi is going to improve the quality of life for our citizens, we can't continue to do the same thing the same way and expect a different result.  Plain and simple, what we're doing, particularly in our Medicaid program, isn't working. We need Medicaid reform."
In 2015, the Mississippi legislature overwhelmingly passed Senate Bill 2441 to create Mississippi True with overwhelming Republican support. The bill recognized that provider-sponsored health plans are a vehicle for improving the delivery of Medicaid in our state, currently monopolized by out-of-state, for-profit companies. Mississippi True has already obtained a license from the Mississippi Department of Insurance. Well-established provider-led plans have demonstrated that they can improve health outcomes and spend less on their own administrative costs.
MHA says the plan is expected to pump more than $1 billion dollars each year into Mississippi's economy, create 19,000 jobs, improve personal income by over $600 million, and increase general fund revenue by $50-100 million.
"This proposal is a win-win situation for the state of Mississippi," said a statement from MHA. "It reduces uncompensated care costs for hospitals, helps Mississippians access the healthcare they need when they need it, and sustains access to hospital care, particularly in our rural communities. Most importantly, this proposal will result in a healthier and more productive workforce in our state."
Stay up to date with all of Mississippi's latest news by signing up for our free newsletter here. 
Copyright 2023 SuperTalk Mississippi Media. All rights reserved.