A single mosquito bite can change everything in a matter of days as former MSU football player Paul Lacoste learned in 2012.
The bite led to a diagnosis of West Nile Virus which has stuck with him ever since. Lacoste operates his own training company, where he spends a lot of time outside. Because he works outdoors, his mother warned him of mosquito bites, but he recalls not worrying about the little insects at the time.
"I told her 'If the mosquito bites me, it's going to die,' but that's not what happened," he said.
After the initial infection, the virus can persist over the years with fatigue as the most prevalent symptom. Lacoste says that he now wakes up each day not knowing how his day will go; if he will feel the effects of the virus, and how much he'll be able to handle.
As he continues to deal with West Nile, he says that the time is now for everyone to educate themselves and their loved ones about the potential dangers associated with the virus.
"Here I am someone that's been a health freak my whole life, loved working out, loved exercise and eating clean, and if it's affected me the way it did, it can do this to anyone," Lacoste said. "Our community, our state and our country need to be aware of this, and we need to do everything we can to protect our children, ourselves, our family and friends."
According to the CDC, Most people (8 out of 10) infected with West Nile virus do not develop any symptoms, but when symptoms do occur they can be severe. Dr. Arthur Leis, neuromuscular neurologist at Methodist Rehab Center, says that this is why it is important for doctors to continue to push for testing of West Nile Virus.
"The misconception is that it doesn't matter. It does matter because [doctors] aren't checking for West Nile Virus in the spinal fluid or the blood in patients like Paul who came in with meningitis-like symptoms. 2/3 of people are not checked for the virus even in the midst of an epidemic," Leis said.
The state of Mississippi saw 43 cases of West Nile Virus in 2016 with two deaths. A map shows that Mississippi is in the higher range of cases throughout the country.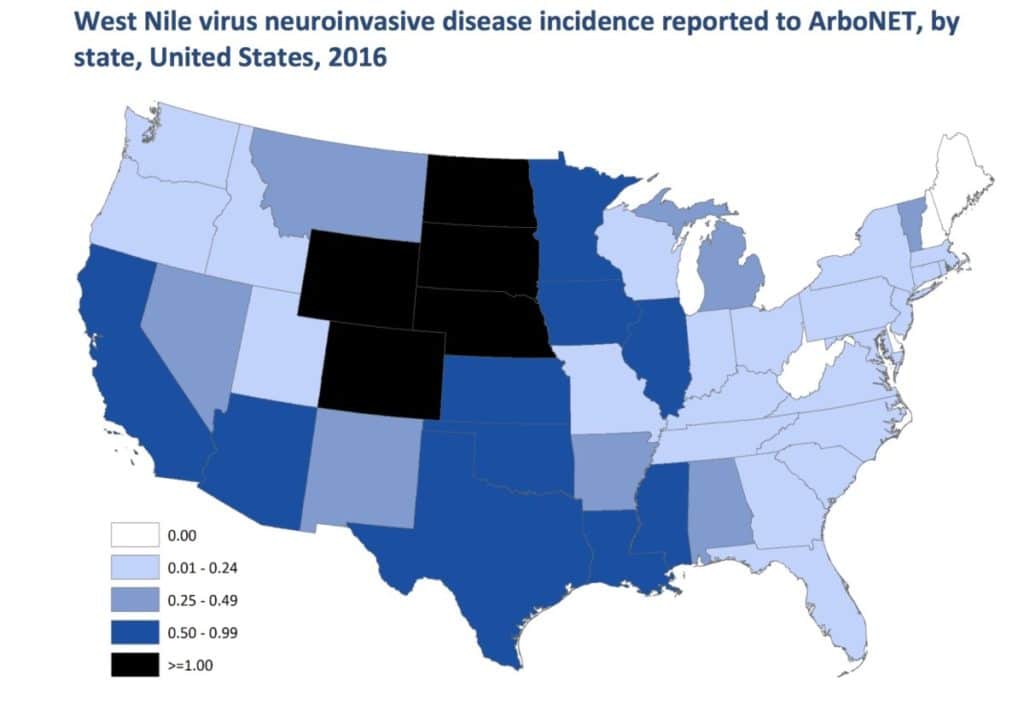 The 43 cases in 2016 are significantly less than the 247 total cases in 2012, the year Lacoste was infected, but the numbers can fluctuate.
Leis says that it's too early to tell if there may be a West Nile epidemic this year, but peak season for the virus hits around July-November. He mentioned that around three days after a bite from an infected mosquito, symptoms may begin to show, and they're similar to flu symptoms.
While most cases are eradicated by the body, the virus and its lasting effects can lead to kidney problems and increase the risk of several cancers, as Lacoste learned firsthand.
Prevention methods include using bug spray, covering your arms and legs while outside, but the most important prevention method is keeping the mosquitos from growing in your own yard around your home.
"Get rid of the darn standing water. In the summer months, it's going to have mosquito larvae," Leis said.
The mosquitos then bite infected birds and can transfer the virus to humans. West Nile is not contagious from person to person which makes humans "dead-end hosts."
Currently, no vaccine or specific treatment exists for West Nile Virus.