Week 8 of college football has arrived. Mississippi State is on the road in search of another upset, Ole Miss is hoping to make it two SEC wins in a row, and Southern Miss is trying to snap a 2-game slide.
#22 Mississippi State @ #5 LSU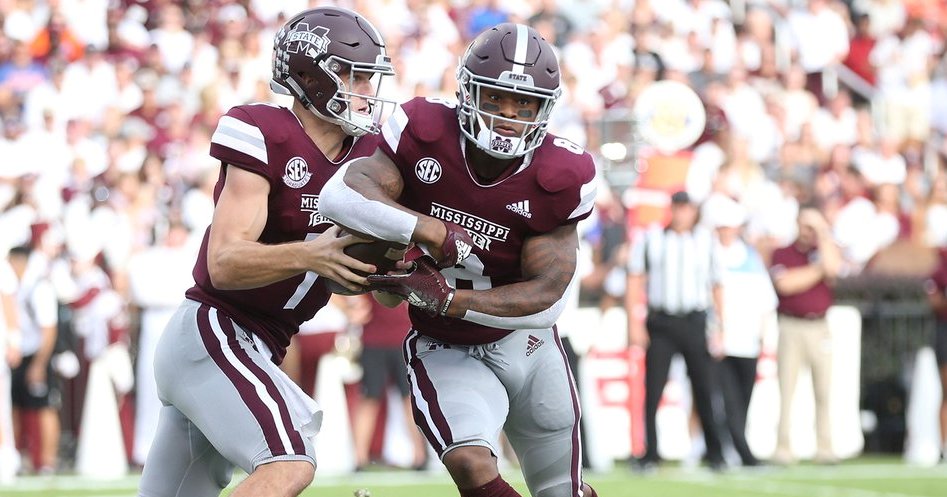 The last time we saw MSU, they upset #8 Auburn heading into their bye week. Now, they'll try to pull a major upset on the road in Baton Rouge as they take on #5 LSU.
The Tigers are coming off a big win of their own after a dominant 36-13 win over #2 Georgia. The LSU defense was able to stifle UGA's Jake Fromm, but their running game did find mild success before they had to abandon it due to the large deficit.
In their win over Auburn, MSU used a heavy dose of the run, and they'll most likely lean on Nick Fitzgerald's legs once again as they've been unable to find a rhythm in the air this season.
The Bulldog defense has been one of the best in the country all season, and DE Montez Sweat continues to prove that he can be a disruptive force on every play. Sweat had three sacks against Auburn, and a similar effort on Saturday could be the key to an MSU win.
LSU's Joe Burrow has been solid but not spectacular this season, and this will be one of the better units he's faced. He's not a particularly mobile QB and if MSU can pressure Burrow and force him out of his comfort zone, they'll be in a position to pounce.
When playing in Death Valley at night, there's always the noise factor to deal with, and head coach Joe Moorhead is well aware of that.
"We are going to need to be able to control the controllable, which is our attitude, our effort and our execution. We are expecting a lot of crowd noise and we will be working on that this week. It is tough to simulate, but we are going to do our best. It is going to be their homecoming and all of those circumstances that are going to force a tremendous amount of focus from us," he said.
Kick off from Tiger Stadium is set for 6:00 p.m.
Auburn @ Ole Miss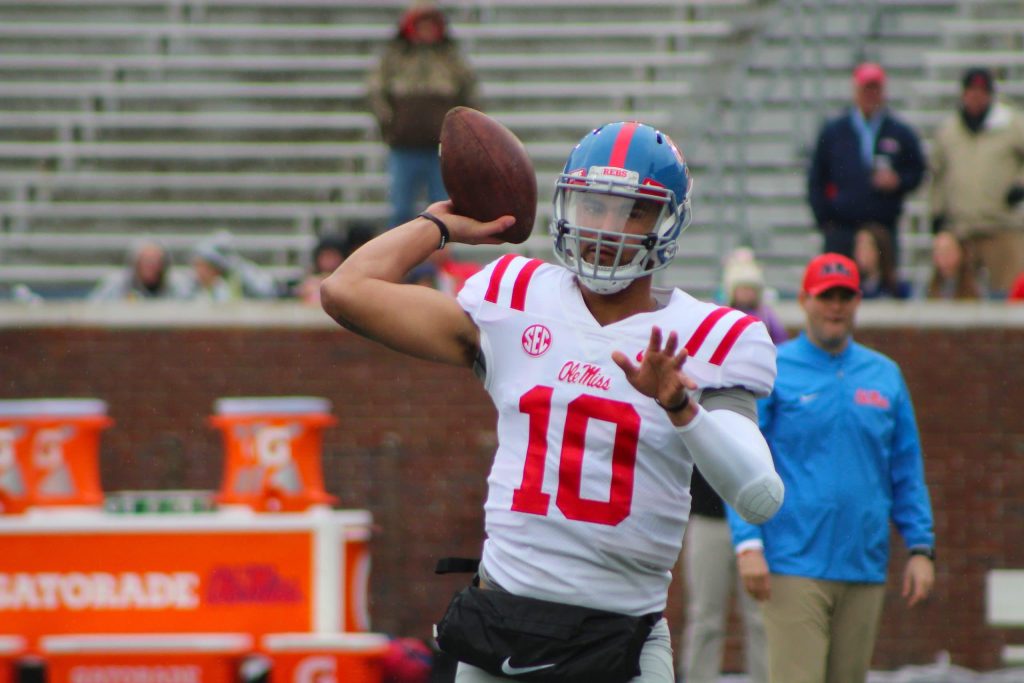 Ole Miss gets an Auburn team coming off of a shocking loss to Tennessee at home, and they'll try to make it two SEC wins in a row after their come from behind win over Arkansas last week.
Last week, Ole Miss's offense was clicking on all cylinders for the first time in an SEC matchup as they racked up 611 total yards. The Rebels added a new element to their scheme last week as they got QB Jordan Ta'amu more involved on the ground through designed runs. While they'd like to limit the hits that he takes, getting another defender in the box will open up more opportunities on the outside against an Auburn secondary that was torched by Tennessee last week.
This will be their first game following the loss of WR D.K. Metcalf, so it remains to be seen who'll step up in his absence. With A.J. Brown and DeMarkus Lodge still atop the depth chart, there's no major cause for concern, but head coach Matt Luke said that Braylon Sanders and Elijah Moore are the ones that will likely see more reps in Metcalf's absence. The threat of a tight end has been missing in the offense over the last two years, but with big catches from Octavious Cooley and Dawson Knox last week, that may change.
The defense continues to be a work in progress, but in the second half against Arkansas, they allowed just 6 points after giving up 27 in the first half. The challenge will be shutting down Auburn early and allowing the offense to build a lead. With the Auburn offense struggling in weeks past, Luke is looking to make sure that his team doesn't overlook how good they can be when they put it all together.
"I do think they are good at running back. JaTarvious Whitlow is a very physical runner. He's really good. Very impressed with him. Then they have Malik Miller and Kam Martin behind him. I do think they're good. They're going to come in here and run the football. That's what they're going to do. They're going to get back to basics," Luke said. They're going to come in here and run the football and then throw play actions. We're going to have our work cut out for us."
Coming off of an SEC win, the Rebels will hope to have a good crowd despite an early kick at 11:00 a.m.
UTSA @ Southern Miss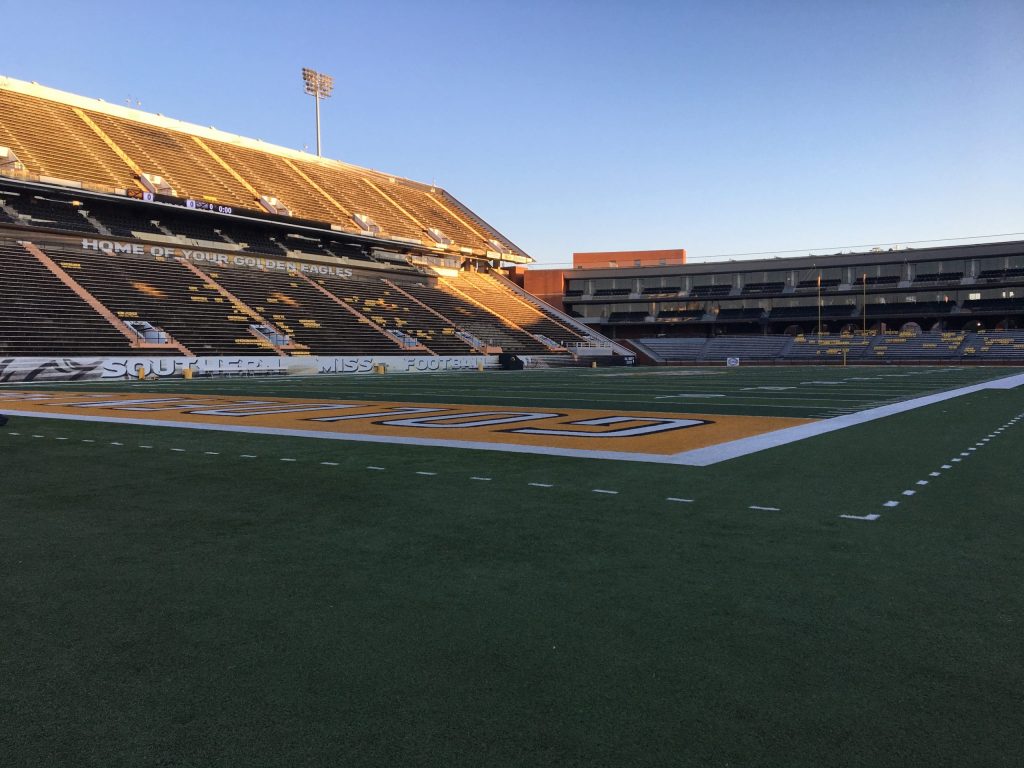 It's homecoming week in Hattiesburg as Southern Miss welcomes UTSA to M.M. Roberts Stadium. 
In last week's loss to North Texas, the USM offense was able to move the ball at times, but drives would stall and they couldn't finish them with points as they scored just one touchdown. Even with the return of Kwadra Griggs, head coach has stuck with Jack Abraham at QB and says he's happy with his development while there is room to grow. 
"Jack's a very smart quarterback. He's very cerebral and throws the ball extremely well. Jack will be the first to admit when he makes his mistakes. He knows some things he's got to get better at, but Jack is developing at a great rate," Hopson said. "You're seeing it every week that he's coming out better, but there are certainly a lot of things we've got to correct from Saturday. We need Jack to continue on that progression and he's throwing the ball really well. North Texas is one of the best defenses in the league and we're moving the ball up and down the field, but the object of football is to score."
Abraham had over 300 yards in the air, but the offense became one dimensional as USM had just 50 rushing yards on the day. Look for them to force feed their backs and try to establish themselves on the ground. 
UTSA had their 3-game winning streak snapped last week in a 31-3 loss to Louisiana Tech. Heading into the conference matchup with both teams coming off of a loss, Hopson said they've got to put last week behind them and move on. 
"They have our utmost respect and we know it's always a battle. When you play Conference USA football, every weekend's a war. That's just the way it is. They're a talented football team and they're a well-coached football team."
Kick off is set for 6:00 p.m. 
Stay up to date with all of Mississippi's latest news by signing up for our free newsletter here. 
Copyright 2023 SuperTalk Mississippi Media. All rights reserved.