Photo courtesy of Kelly Donoho/MSU Athletics
Week two of the college football season in Mississippi didn't disappoint. Mississippi State flexed their muscle as they hit the road. Ole Miss struggled to slow down their FCS opponent, but their offense took center stage. USM went down to wire, but couldn't quite complete their comeback effort. Below you'll find a recap of each matchup.
 Mississippi State: 31 @ Kansas State: 10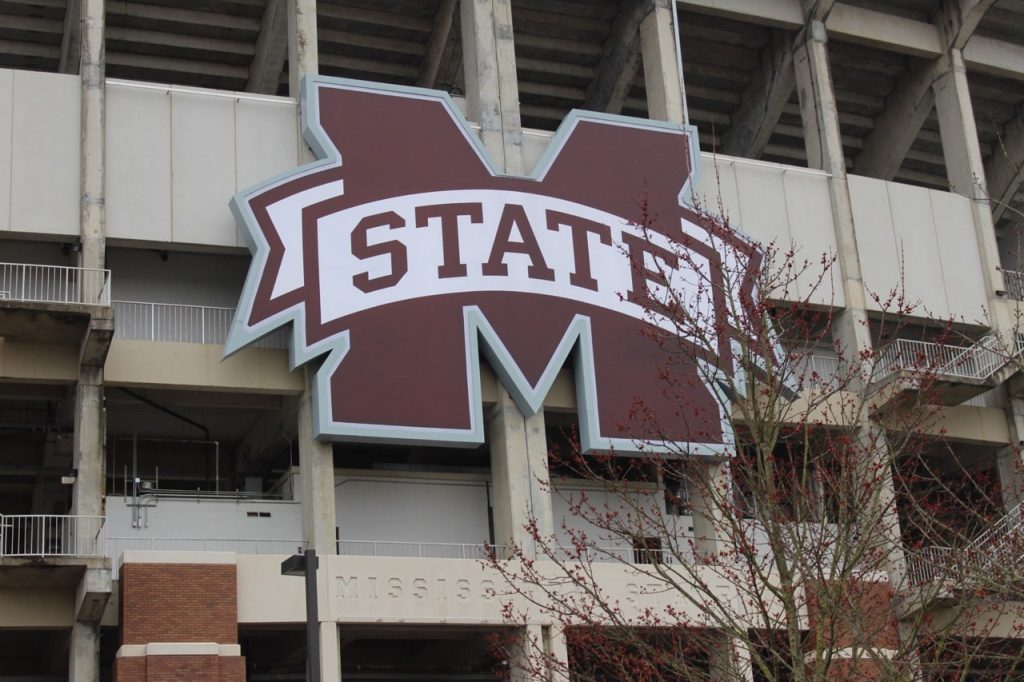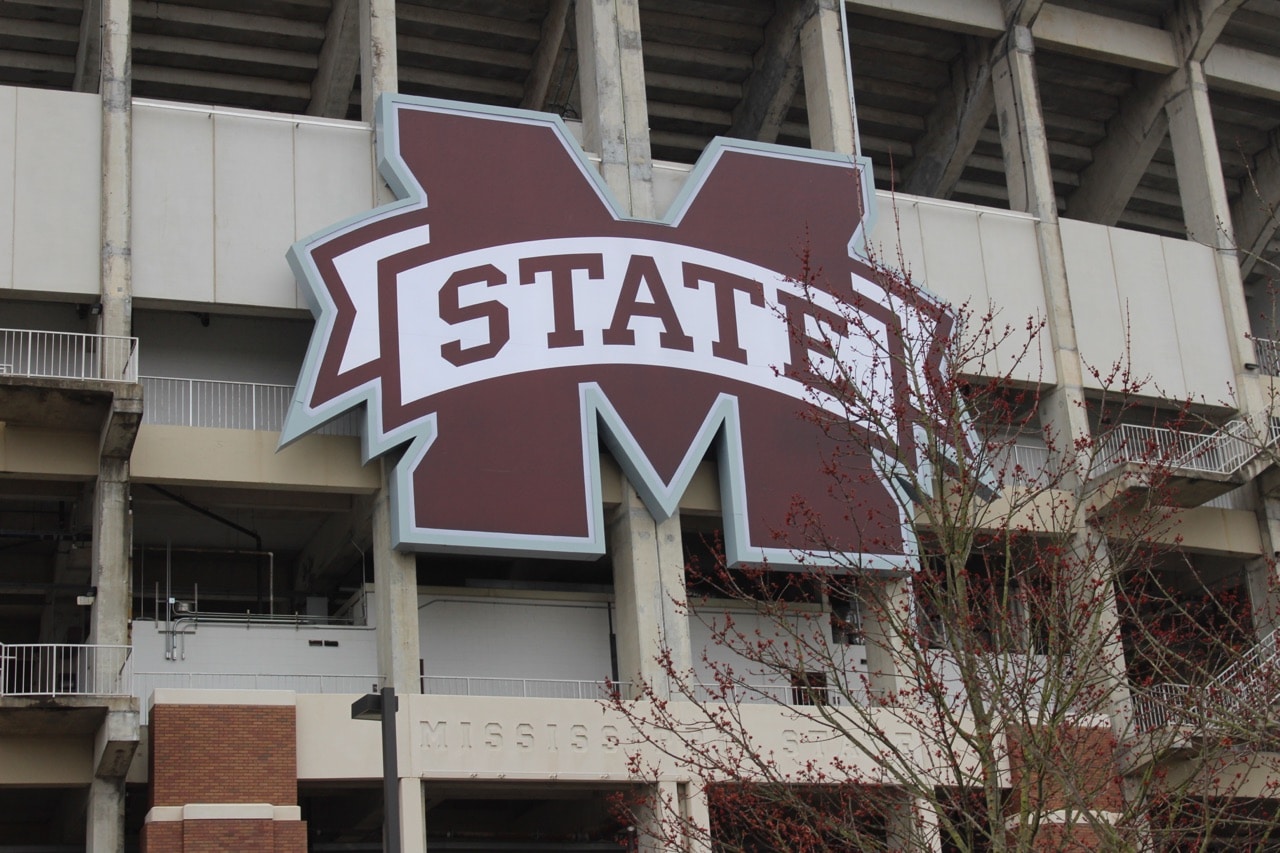 Two weeks into the 2018 season, and Mississippi State's defense is already putting the rest of the SEC on notice that they may have one of the top units. In their 31-10 win over Kansas State, the Bulldog defensive lineman made themselves comfortable in the KSU backfield and put constant pressure on the pair of QBs – Skylar Thompson and Alex Delton. 
The Bulldogs had 8 TFL, 4 sacks, and disrupted the Wildcats' rhythm all game long. Even when they didn't get a sack, Bulldog defenders were able to constantly move the QBs off of their spot and get a hit on them. The Wildcats were only able to amass 213 total yards during the game. 
Heading into the season, the focus for MSU was on offense with the signing of head coach Joe Moorhead. This week, the Bulldogs got to see Nick Fitzgerald operate in Moorhead's offense for the first time after he served his one-game suspension. While he struggled at times in the air, the ground game was firing on all cylinders.
Fitzgerald took 19 carries for 159 yards, but he wasn't the main attraction on Saturday morning. Sophomore RB Kylin Hill rushed 17 times for 215 yards with 2 TDs. After winning the job over Areis Williams the offseason, Hill is quickly proving that to be the right call. Hill's two TDs in the 2nd quarter proved to be backbreakers for KSU stretching the MSU lead to 17-3. 

In the air, Fitzgerald missed a few throws and finished with a stat line of 11 for 27 with 2 TDs and one interception that led to KSU's only score. After the game, Fitzgerald spoke about his performance and said that he'll continue to work on fine-tuning his game. 
"They did a good job covering. I just have to put the ball in better places and hit some of the deep shots that I overthrew. That is just going to come with more working with my teammates and we are going to get that going. We are going to get that accuracy going," Fitzgerald said. 
The Bulldogs did have 11 penalties, which they'll aim to clean up as the season moves along. 
MSU will have a matchup against Louisiana next week before they begin conference play on the road against Kentucky in week four. 
Quick Stats:
RB Kylin Hill: 17 carries 215 yards 2 TDs, 1 rec. 16 yards 1 TD
DB J. Abram 8 tackles
Team: 4 sacks

 

Montex Sweat: 2 TFL, 1 sack
Southern Illinois: 41 vs. Ole Miss: 76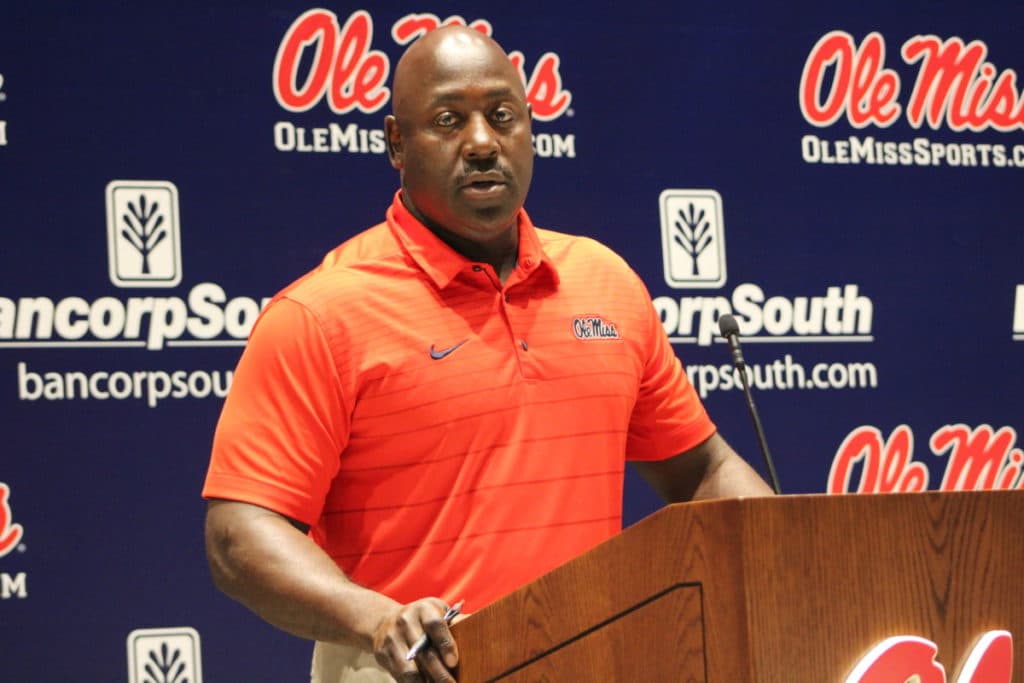 On a day where the offense scored 76 points, you would think Ole Miss left this game feeling pretty good, however, with a week 3 matchup with Alabama looming, the Rebels have a lot of work to do. 
On the opposite end of the defensive spectrum from MSU, Ole Miss was given all they could handle by the Southern Illinois Salukis in their home opener. 
At halftime, the Rebels trailed 38-35 and had given up nearly 400 yards of offense, but things did improve drastically in the second half. Wesley McGriff's defense was able to hold the Salukis to just 3 points in the second half, and returned an INT and a fumble for touchdowns to seal the deal and bring the Rebels to 2-0. 
The first half saw poor tackling and a lack of energy for the defense. On SIU's opening drive, they moved the ball as if Ole Miss was the FCS school. Unable to slow the Salukis down in the first half, they moved the ball at will. The eventual righting of the ship in the second half is a positive to take away, but Alabama presents a much higher level of competition. Things could get out of hand if the Rebels start next week's game with a similar effort. 
McGriff said after the game that while there were technical issues to work out, the poor first half was more about a lack of focus. 
They ran guys across formations. You have to have good eye discipline when you play against a team like SIU. We didn't have that. When you don't have it, then you are going to have guys running free amongst the defense. It didn't surprise me. What surprised me is that we didn't go out and play focused," McGriff said. 
On the flip side, the Ole Miss offense is the real deal. Jordan Ta'amu's accuracy and consistency have been front and center in the first two weeks of the season. With plenty of weapons to work with, Ta'amu and the receivers made a mockery of SIU's man coverage and beat them deep throughout the day. Without Demarkus Lodge (concussion) out, Braylon Sanders, Elijah Moore and others stepped up alongside D.K. Metcalf and A.J. Brown.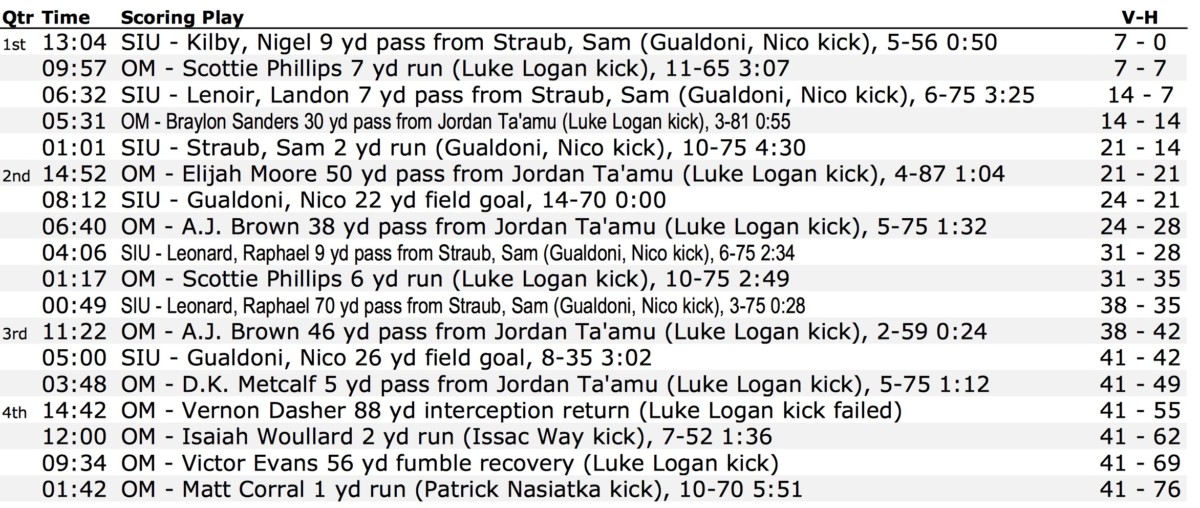 While spreading the ball to six different receivers, Ta'amu threw for 448 yards and 5 TDs in the winning effort. Next week will be Ta'amu's first time facing the Tide, so this game should help him carry over some confidence. 
Quick Stats: 
QB Ta'amu: 22/33 448 yards 5 TDs
WR Brown: 8 rec. 158 yards 2 TDs 
Defense: allowed 629 yards 
RB Scottie Phillips: 15 carries 110 yards 2 TDs 
Louisiana Monroe: 21 vs. Southern Miss: 20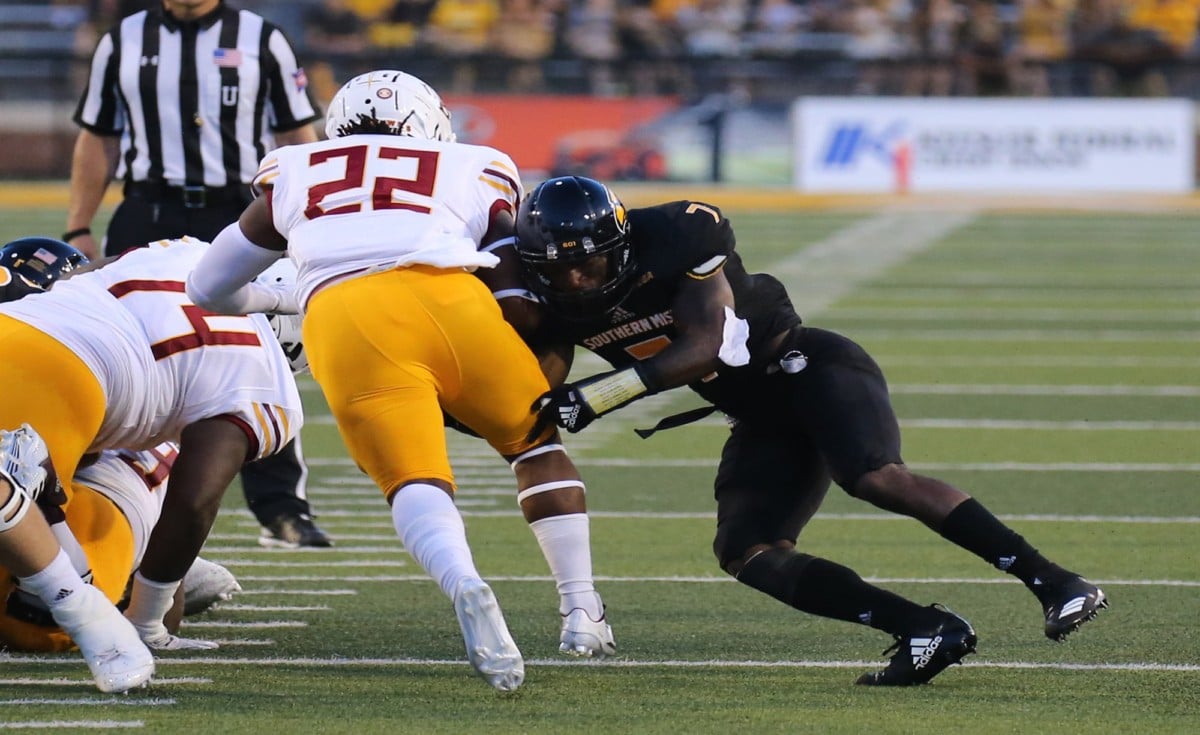 After scoring 55 points in their season opener against Jackson State, USM couldn't keep the good times rolling as they fell 21-20 to Louisiana Monroe. 
Driving with :22 seconds left in the game, USM's Jack Abraham didn't see a ULM linebacker and threw his second pick of the game to drop the Golden Eagles to 1-1 on the season. Abraham, in his second start, had an up and down evening. The ups included a 75-yard TD pass on the first play of the game to Jaylond Adams. The downs included two picks and fumble in the end zone, which was picked up for a ULM touchdown.  
While Abraham may have had a night to forget at times, head coach Jay Hopson made sure to note that a win or a loss never falls on one player's shoulders. 
"It's always a combination," Hopson said. "He's starting to have his best game, and offensively, he got hit from behind. He got sacked a couple times and the bottom line, is it's never one man's fault," Hopson said. "The quarterback always gets too much of the glory and too much of the blame."
Hopson also mentioned USM's struggles in the running game as a factor in the loss. The Golden Eagles only totaled 58 yards on the ground on 34 attempts. 
Quez Watkins caught his 4th TD pass of the season as USM took a 17-14 lead into the half. ULM was able to reclaim the lead with a 3rd quarter TD while USM could only manage a Parker Shaunfield FG in the second half. His lone made FG came with 6:51 left in the 3rd, but he would also miss two in the game – a 53-yarder and a 49-yarder. 

Defensively, USM held their own and forced three turnovers, but it wasn't enough to make up for the offensive blunders. 
USM will attempt to rebound from this loss next week as they travel to Appalachian State.
Quick Stats:
QB Abraham: 31/46 378 yards 2 TDs 2 INTs
WR J. Adams: 9 rec. 158 yards
Defense: 4 sacks
Stay up to date with all of Mississippi's latest news by signing up for our free newsletter here. 
Copyright 2023 SuperTalk Mississippi Media. All rights reserved.