Photo courtesy of Kelly Donoho/MSU Athletics
Week four of college football saw 7 top-25 teams fall, and Mississippi State was one of them as they were upset by Kentucky. Ole Miss wasn't perfect, but they got a bounce-back win over Kent State. Southern Miss began conference play with a convincing win over Rice. Below you'll find a recap of all three games.
#14 Mississippi State: 7 Kentucky: 28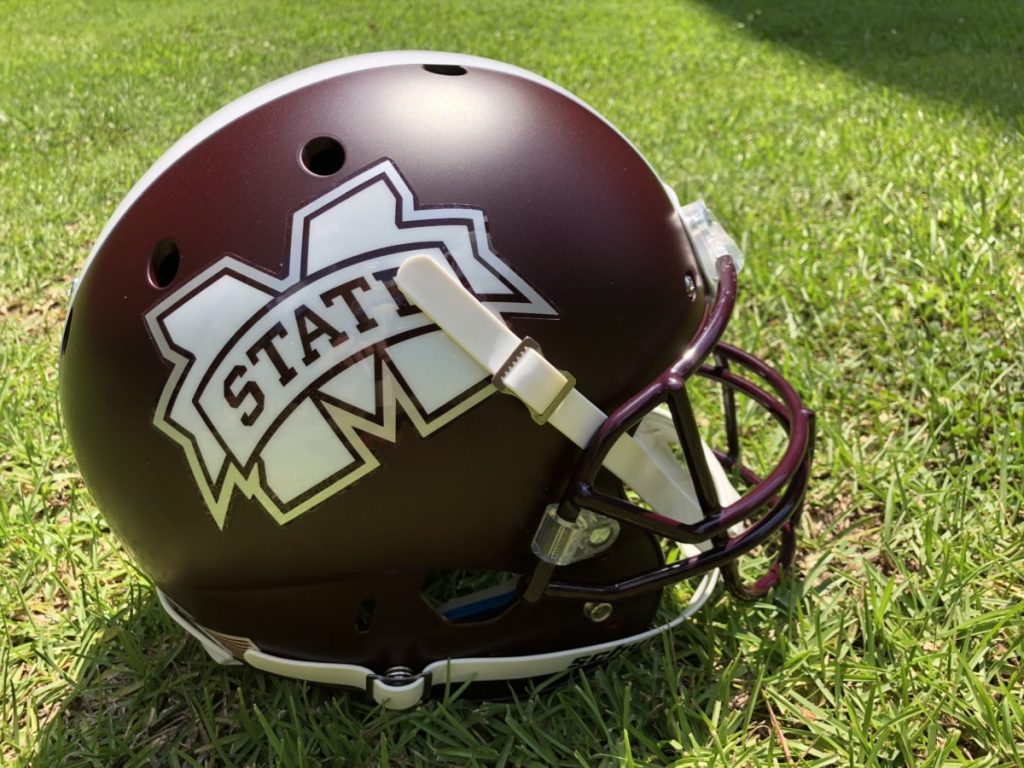 Earlier this week, Kentucky RB Benny Snell stated that he can run against any defense as he and the UK offense prepared to face Mississippi State's dominant defensive front. Snell backed that up as he ran with something to prove on Saturday night. The senior rushed for 165 yards and 4 touchdowns against an MSU defense that hadn't allowed more than 10 points all season long.
21 of the Wildcats' points came in the second half, and may have been a byproduct of a tired defensive unit for the Bulldogs after shouldering much of the load in the game. Despite a strong first half by the defense, the offense couldn't take advantage and the teams went into halftime tied at 7-7.
In the second half, Kentucky's first drive went 92 yards on 11 plays to grab a 14-7 lead. From that point on, outside of one turnover from UK, it was all Wildcats as they scored two more times to seal the Bulldogs' fate.
Joe Moorhead's offense shined in the first three weeks of the season against inferior opponents, but it's now time to prove they can make the proper adjustments against SEC defenses. MSU totaled just 201 yards of total offense, and QB Nick Fitzgerald was shaky while completing just 50% of his passes.
Perhaps the most crucial sequence for MSU came in the 4th quarter trailing 14-7. After starting with good field position near Kentucky territory, a sack led to a 3rd and 14. On the next play, Fitzgerald overthrew his receiver and was picked off. It took just one play for Kentucky to capitalize with a 36-yard TD run by Snell, and the Wildcats seized the momentum.
MSU has been led by their running game this season, but UK shut that down all game long. Fitzgerald, Aeris Williams and Kylin Hill combined for just 56 yards on the ground as Josh Allen and UK front never let up.
As the entire offense struggled, Moorhead said that each there were plenty of areas that they need to clean up moving forward.
"For us to operate our best offensively we need to run the ball successfully and we wouldn't necessarily be able to do that and struggle a little bit with protection. Had some drops, had some misfires, just a combination of things that leads to the outcome we saw today," Moorhead said.
16 penalties is also an alarming stat that must be corrected. SEC teams are good enough without being gifted extra plays and free yards.
Scoring summary:

Quick Stats:
N. Fitzgerald – 16/32 145 yards 1 INT
K. Hill 4 car. 14 yards
Kentucky: 229 rushing yards
Up next: 
Up next for MSU is a matchup that they've been looking forward to since the offseason. Dan Mullen and his Florida Gators will ride into Starkville in a battle of "who won the break-up?".
Kent State: 17  Ole Miss: 38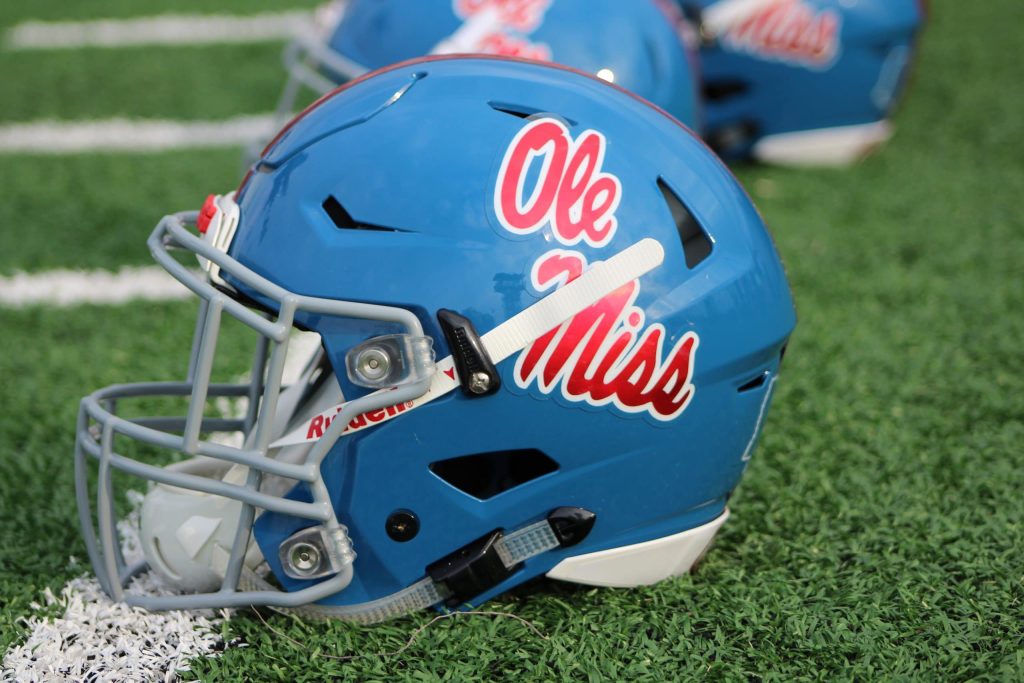 Ole Miss and Kent State kicked off at 11:00, and nearly 6 hours later, the game was over. Thanks to two separate weather delays, the flow of this game was thrown for a loop. Also out of sync for a while on Saturday afternoon was the Rebel offense.
After starting quickly on their first drive, Jordan Ta'amu and the Rebels wouldn't score again for the entirety of the first half. Albeit against a lesser opponent, the opening drive signaled an improvement from last week's debacle against Alabama. 
Against the Tide, the game plan was a lot of deep shots with little regard for rhythm. This week, the opening drive saw Ta'amu go 5-5 while finding A.J. Brown 3 times, and it ended with a screen pass that RB Scottie Phillips took to the house. 
This rhythm would be broken as dropped passes and poor execution led to a lackluster first half for both offenses and they took a 7-7 tie into the half.
The second half is where the Rebels would find their stride on offense as they put up 17 points in the 3rd quarter and 14 in the 4th. Ta'amu had a slight shoulder injury in the first half and may have felt better as the game progressed. There were no signs of the injury when Ta'amu found D.K. Metcalf for a TD in the 3rd quarter on a ball that Metcalf grabbed with one hand. 
By the time the game was over, the Rebels ended up putting up the type of numbers we saw in weeks one and two with 650 yards. 442 of those yards came in the air, and Phillips led the way on the ground with 117 yards with a score. 
"I did think we finished well in the second half and looked more like It was supposed to look," head coach Matt Luke said. "Guys started to make some plays. Again, overall, I am pleased we were able to go get a big win and a bounce-back win getting off the mat. I am pleased that we are 3-1."
While most were confident that the offense would bounce back, questions remained about the defense. While there were quite a few missed tackles and missed chances to get off the field on 3rd and 4th downs, the unit played well. Coming into the game, Ole Miss had just two sacks on the season, and they racked up seven in this one. Markel Winters and Charles Wiley led the way from the DL, and pressured Kent State's QB Woody Barrett the entire game. 
Scoring summary:

Quick Stats: 
J. Ta'amu – 28/38 442 yards 2 TDs 1 INT
D.K. Metcalf: 5 rec. 105 yards 1 TD
Defense: 7 sacks 
Up next:
The Rebels will have to play their best game of the season on both sides of the ball next week when they travel Baton Rouge for a matchup with LSU.
Rice: 22 Southern Miss: 40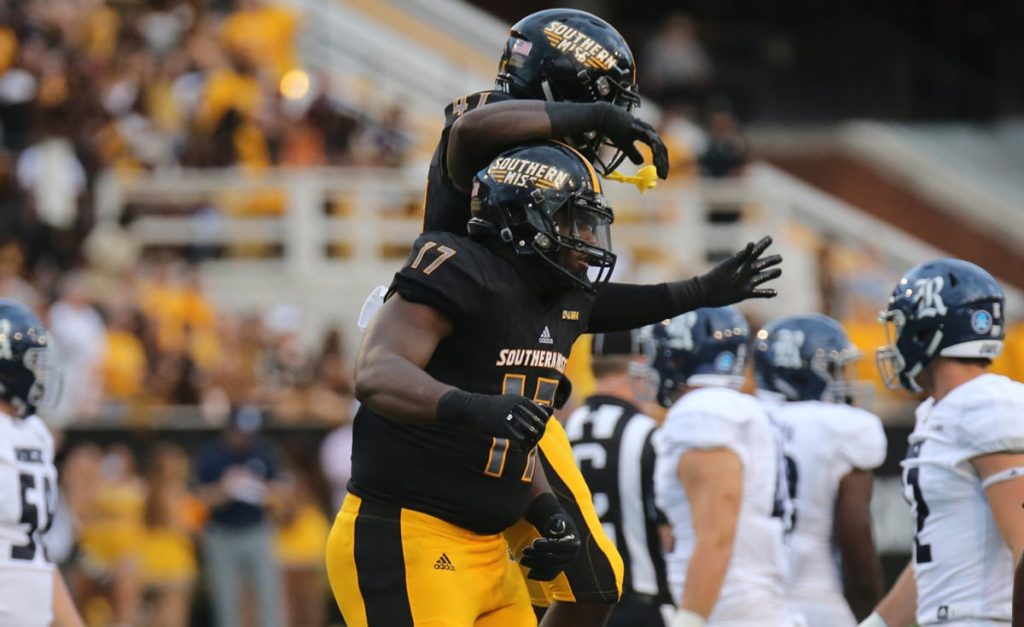 Southern Miss took the field for the first time since week two's loss to Louisiana Monroe, and began C-USA play with a big win over Rice. While there was talk this week about the return of Kwdra Griggs from his suspension, starting QB Jack Abraham played like he knew his job was on the line. 
The sophomore threw for 428 yards – the fourth-most yards in single-game in Golden Eagle history. Abraham also tossed 4 TDs to 4 different receivers in the winning effort. Abraham spread the ball around in the win with 9 different players catching a pass. De'Michael Harris led the way with 99 yards on 4 catches. 
Last week, RB T-Rod Daniels announced his intention to transfer and that meant Steven Anderson and Trivenskey Mosley had to step up. Anderson found the end zone and led USM in rushing with 54 yards and Mosley added 42 yards. 
Defensively, USM was able to make momentum-shifting plays including two interceptions, both of which led to USM touchdowns. 
"We want to create turnovers, we want to be a physical defensive unit. The nasty bunch prides itself on all of that. I certainly felt like today that the strength of our defense was that we created turnovers and gave our offense some plus yardage field position and they made some big plays," head coach Jay Hopson said.
Despite the big performance from Abraham, it appears that Griggs will return to his starting role soon as the Golden Eagles take on Auburn next week. 
"You will see Kwadra next week. We have been getting him in shape and getting him ready," Hopson said. "Jack was playing well tonight so we didn't feel like there was a big need. If we had needed him we would have played him tonight but I think we really kind of had this coming up week penciled in as the week to get him ready. I want to be fair to him and he is knocking rust off quickly and looking good in practice so you will see Griggs playing."
Scoring summary: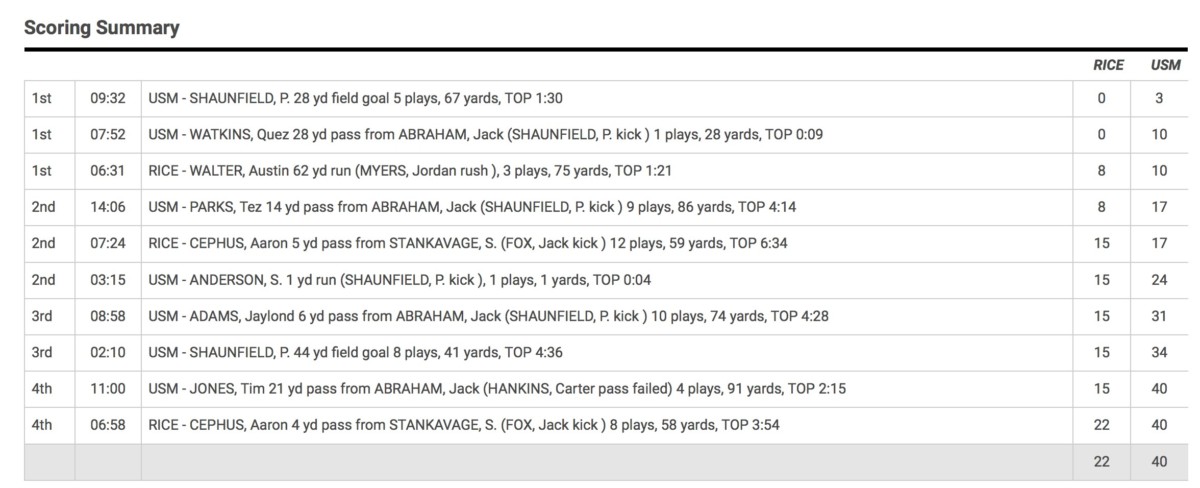 Quick Stats:
J. Abraham: 25/34 428 yards 4 TD 1 INT
Q. Watkins: 8 rec. 85 yards 1 TD
USM Defense: 256 yards allowed
Up next:
USM will try to pull an improbable upset as they travel to face #9 Auburn.
Stay up to date with all of Mississippi's latest news by signing up for our free newsletter here. 
Copyright 2023 SuperTalk Mississippi Media. All rights reserved.