Photo courtesy of Kelly Donoho/MSU Athletics
Mississippi State was searching for their first SEC win of 2018, and they got it as they knocked off a top-10 opponent. Ole Miss wasn't changed in their homecoming matchup as they put on an offensive clinic. Check out a recap of both games below:
#8 Auburn: 9 Mississippi State: 23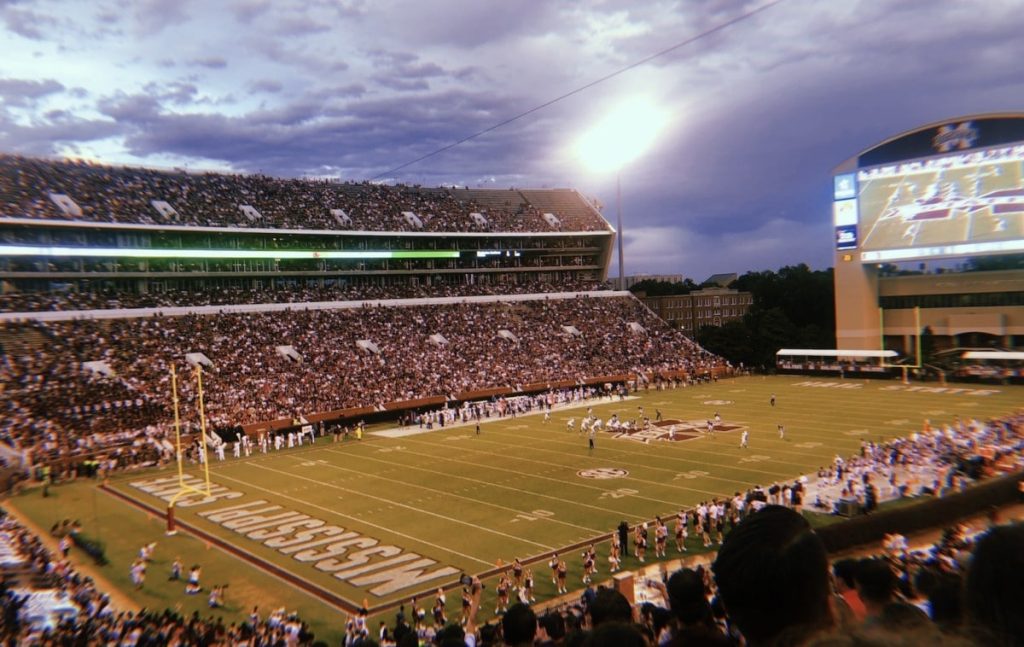 After two straight losses to open SEC play, Mississippi State responded in a big way with an upset of #8 Auburn in front of a rocking crowd at Davis Wade Stadium.
With both offenses struggling heading into to Saturday's game, many expected a defensive struggle, and early on, that's what they got. The teams traded field goals in the first quarter, and MSU would add another to grab a 6-3 lead early in the second quarter. With time ticking away in the first half, MSU would put a drive together to seize the momentum heading into the locker room.
QB Nick Fitzgerald took the Bulldogs on an 8-play drive and capped it with a 1-yard TD run as time expired in the half. The play was reviewed, but the result stood for the first TD of the night by either team.
After the half, MSU and Auburn would add FGs on their first drives and Auburn would get another to make it 16-9 early in the 4th quarter. A play that could've changed the game came on Auburn's second drive of the half. With the score at 16-6, Auburn's JaTarvious White broke a 42-yard run for what was a sure TD until MSU's Mark McLaurin chased White down and stripped the ball at the goal line for a touchback.
MSU was looking to extend their lead with a FG with over 7 minutes left in the game, but the kick was blocked and a long return and an unsportsmanlike penalty put the ball at the MSU 43 for the Tigers. The Bulldog defense would stand strong again and forced a turnover on downs.
After the turnover, the offense sealed the upset with a long drive that ended with another TD run from Fitzgerald, this time from 21 yards out to make it 23-9.
In recent weeks, MSU's struggles in the air were a detriment and the running game wasn't featured nearly enough. This week, head coach Joe Moorhead played to the team's strength and they rushed for 349 yards and passed for just 69 yards.
"I took my coaching pills this week, and I forgot them last week," Moorhead said about leaning on the run.
Fitzgerald was unstoppable when he kept the ball with 195 yards on 28 carries. The senior QB also broke Tim Tebow's rushing record for an SEC QB on their final drive. RB Kylin Hill was the ultimate compliant with 126 yards on 23 carries.
Even in their losses, the defense came up big, and last night was no different. Pressure never allowed Auburn's Jarrett Stidham to get comfortable in the pocket and the running game was held to just 90 yards. DE Montez Sweat was the driving force in the MSU defensive front with three sacks and couldn't be stopped. McLaurin's touchdown-saving strip was also a huge play in the flow of the game.
There are still questions about the offense's ability to stretch the field through the air, but if they continue to run the ball with this much success, it's hard to argue with the result.
Scoring Summary:

Quick Stats:
N. Fitzgerald: 9/17 69 yards 1 INT, 28 car. 195 yards 2 TDs
M. Sweat: 3 sacks
Time of possesion – MSU 41:05 Auburn 18:07
K. Hill 23 car. 126 yards
What's Next:
MSU gets a bye week to enjoy the upset win before taking on LSU (5-1) on the road.
ULM: 21 Ole Miss: 70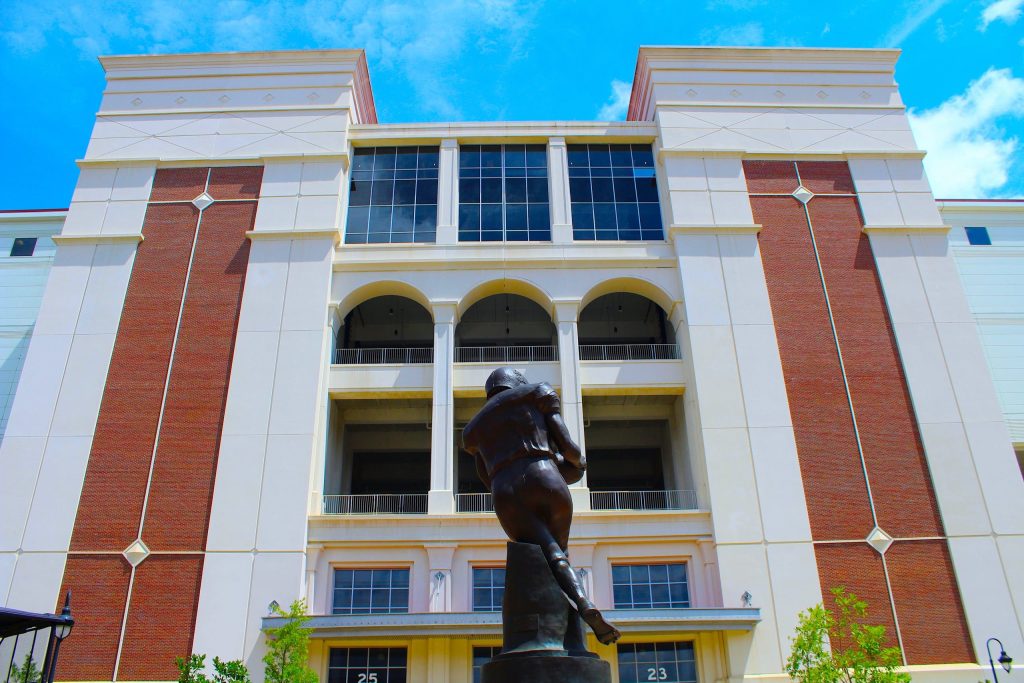 Last week, Ole Miss scored just 16 points and never found their rhythm. This week, they put up 70 points and couldn't be stopped, but the difference was the quality of the opponent.
After a forgettable night in Baton Rouge, Ole Miss turned around and did what they were supposed to do against Louisiana Monroe at home. The Rebels had seven possessions in the first half, and scored seven touchdowns as they never left a doubt in this one. The Rebels put up a school record 826 yards en route to their 4th win of the year.
The Rebel receivers shined as A.J. Brown, D.K. Metcalf and DeMarkus Lodge all went over 100 receiving yards and each had a TD. QB Jordan Ta'amu's day was done early with Matt Corral playing the entire second half with the game in hand. During his time under center, Ta'amu had as many touchdowns as he did incompletions – 3. The senior would also add two scores on the ground.
Corral stepped in and the showed the same efficiency as he went 10/10 throwing for 2 TDs and rushing for one. With the QBs running well, RB Scottie Phillips added 74 yards and two scores and the team rushed for 309 yards.
Defensively, Ole Miss allowed ULM to move the ball between the 20s but were able to keep them out of the end zone early on and force two turnovers. The Warhawks amassed 427 yards, but most came when the game was well out of reach.
"I felt like we were giving up a few too many yards but when I looked up, they had not scored very much," head coach Matt Luke said. "So, we were bending but they didn't break. Good that we came up with a big turnover down there in the red zone and like you eluded to a couple fourth down stops. We're really proud of them."
Bad news for the Rebels as an already depleted secondary saw DBs C.J. Miller & Myles Hartsfield go down with injuries. The Rebels had to switch RBs Tylan Knight and Armani Linton to DB this week, so depth is wearing thin.
The Rebels have shown the ability to put up these huge offensive numbers against lesser opponents, but they've been inept against their two SEC foes. While those opponents have been Alabama and LSU, they'll get a chance for their first SEC win against a struggling Arkansas team.
Scoring Summary:

Quick Stats:
J. Ta'amu: 21/24 374 yards 3 TDs, 6 car. 63 yards 2 TDs
M. Corral: 10/10 143 yards 2 TDs, 6 car. 78 yards 1 TD
D. Lodge: 9 rec. 179 yard 1 TD
A.J. Brown: 9 rec. 133 yards 1 TD
What's Next:
Ole Miss (4-2) hits the road to take on Arkansas (1-5).
Stay up to date with all of Mississippi's latest news by signing up for our free newsletter here. 
Copyright 2023 SuperTalk Mississippi Media. All rights reserved.