Week 10 of college football is in the books. Ole Miss let a late lead slip away against South Carolina, Mississippi State did what they were supposed to do in a tune-up game agaisnt Louisiana Tech and Southern Miss' defense created turnovers to help carry them to a win over Marshall.
South Carolina: 48 Ole Miss: 44
Story by Brian Scott Rippee, Ole Miss Beat Reporter for Sportstalk Mississippi
Ole Miss' football team, as currently constructed, has a narrow path to follow to win football games this season. Because of its talent-deficient, shorthanded defense, the offense must score points in bunches with the hope the defense is able to string together a couple of stops to create separation.
The Rebels appeared to be heading down that path towards victory for much of this game, but deviated late and it proved to be fatal in the 48-44 loss to South Carolina.
A somber Matt Luke addressed the media and faced the same questions he's been facing for nine weeks. What was his assessment of a struggling defense? How can the offense move the ball at will at times and then suddenly sputter so violently?
"It makes it tough when you know the kids left it all on the field," Luke said. "They battled their guts out, but we didn't make the plays we needed to make. There will be a thousand different things we could point to over the course of the game, but they made the plays they needed to make and we didn't."
In some ways, Luke's assessment is correct. It isn't an effort issue. It's an undisciplined defense devoid of talent and has been ravaged by injuries, which puts immense pressure on the offense to score — and by score, I mean score touchdowns — every time it touches the football. It's an arduous path to victory, but is the only one available to this team as constructed.
You saw Ole Miss complete the path in the Arkansas game. The defense held the Razorbacks to field goals in the second half while the Ole Miss offense raced down the field and scored touchdowns to crawl back into the football game and win it late. You saw Ole Miss fail in the loss to Auburn where the offense kicked field goals instead of touchdowns in the red zone, and the defense treaded water for as long as it could but eventually succumbed to a 277 yard third quarter in a multi-score loss.
Ole Miss appeared to be headed down this narrow and winding path in this game. The offense put up 400 yards in the first half and played to a 27-27 tie. The Gamecocks punted once and put up 316 yards of their own — and likely would've had more if Deebo Samuel hadn't returned the opening kick for a touchdown.
"You aren't going to win games in the SEC if you don't make tackles and stop the vertical ball," defensive coordinator Wesley McGriff said. "You have to keep the ball in front of you. Teams are just too good to give up those plays and expect to win the game."
The Rebels had a chance for a two-for-one scoring opportunity after getting into the end zone on the final drive of the half and then getting the football first to begin the second half. The offense settled for a field goal in the red zone to go up 30-27 and South Carolina immediately answered with a touchdown to retake the lead at 34-30. In nine red zone possessions, Ole Miss had three field goals, five touchdowns and a turnover.
"We know we settled for a couple of field goals," offensive coordinator Phil Longo said. "They made a couple of good plays too. That is football. I thought our plan was better. I thought our guys did a good job after the first quarter. We wanted to be more physical and run the football run the football down there. We wanted to be better. That was a big reason why we got in on a number of those touchdowns in the second and third quarter."
The defense got back-to-back stops in the form of a punt and a turnover on downs in which they stuffed the Gamecocks on a fullback dive. The offense parlayed those into two touchdown drives and the Rebels had a 44-34 lead in the fourth quarter.
The game was following the blueprint to a tee.
But then there was a mechanical malfunction. The offense sputtered in the fourth quarter. Its final four drives were: punt, punt, punt, turnover on downs. Ole Miss managed 18 yards of offense in the fourth quarter after racking up 590 in the first 45 minutes of the game.
"We had so much success during the game and the fourth quarter put us in a slightly different situation," Longo said. "I thought they did a good job in man coverage and made some plays. That was really the difference."
It put pressure on the shorthanded defense and they eventually caved. The Rebels mistakenly kicked to Samuel again, who returned it into Ole Miss territory and made a 47 yard touchdown drive a bit easier. It was suddenly 44-41.
The Ole Miss offense punted again, part of it induced by Jordan Ta'amu going out with an ankle injury and Matt Corral having to come off the bench. South Carolina parlayed the punt into a touchdown to take the lead. Mon Donson broke a 69 yard rush to set up the go ahead score. It put him over the century mark rushing on the day after replacing Rico Dowdle, who was injured in the first half.
"One of our goals was to make sure we didn't have a 100 yard rusher leave our stadium," McGriff said. "After that explosive run, we didn't meet that goal."
To its credit, the defense gave Ta'amu — who returned to the game for the final two drives — and the offense a chance after a three-and-out gave the Gamecocks an opportunity to put the game on ice. Mohamed Sanogo sacked Jake Bentley on third and four when a first down would have effectively ended the game. It gave the offense over two minutes to march the ball 71 yards to win the game with one timeout. A Damarkus Lodge reception and a Ta'amu scramble got the team to midfield, but three consecutive incompletions brought the drive to a halt and ended the game.
"It's just what Jordan chose," Longo said of the two deep incompletions to end the game. "We had a quick hitter underneath to get the first down. We had an intermediate route and a deep one. That was the match up and that is where he went."
https://www.youtube.com/watch?v=lo0NxRITzyA
The offense took a breath, struggling for four drives. It left the door open for South Carolina, who ran straight through it to the finish line.
Again, it is a narrow path for this team to win games. But it followed it all the way to the home stretch, but came up short. The slightest deviation wrecked its entire direction.
"They gave us a chance to win the football game," Luke said. "We had the football with a chance to win the game in the fourth quarter."
This is a stinging defeat for this team and the disappointment was evident in after the game. To Luke's credit, his teams never quit when the circumstances get dire. The turmoil-filled 2017 season is evidence enough of that.
Longo called this team a resilient group and thinks they will bounce back. He's probably right. Ole Miss will give a good effort in its final three games, but that just may not be enough given the arduous and narrow path this team has to follow to win games.
Louisiana Tech: 3 Mississippi State: 45
Story by Brian Hadad, Mississippi State Beat Reporter for Sportstalk Mississippi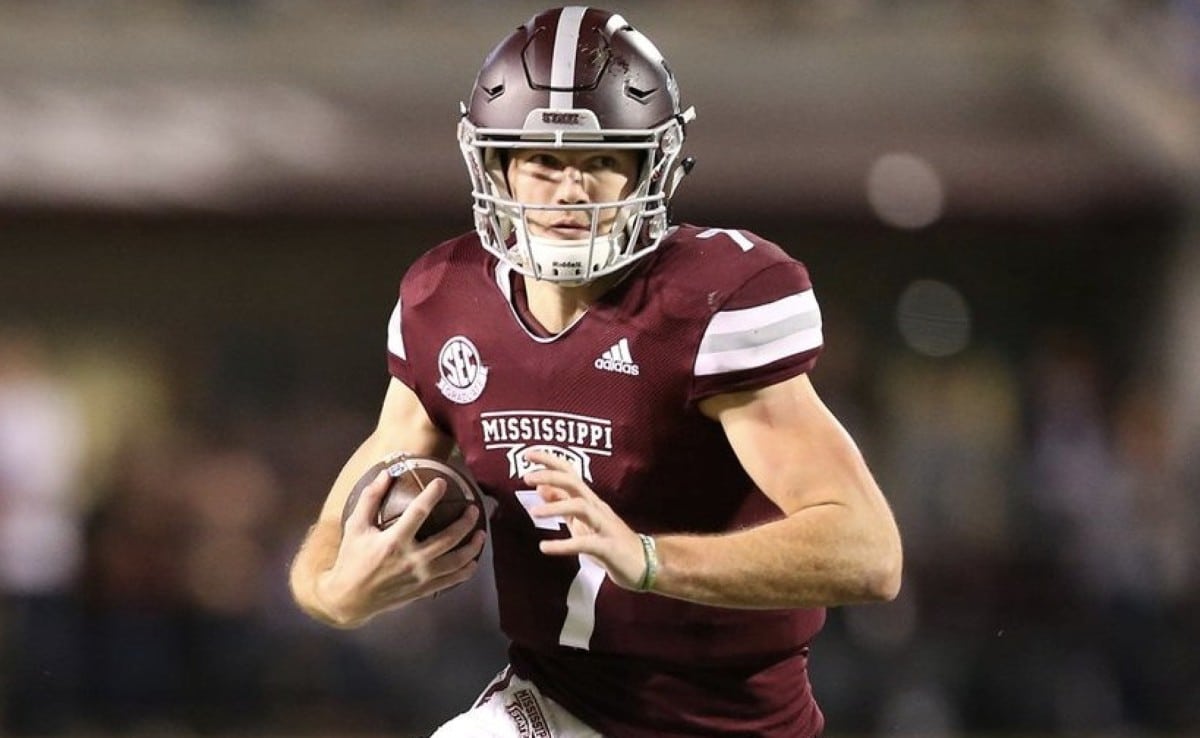 Mississippi State wanted to get back to back games where it felt good about its offense, coming off a 28-13 win over Texas A&M where the Bulldogs looked efficient and quarterback Nick Fitzgerald put together an SEC Offensive Player of the Week Performance. Saturday night allowed for exactly that, as the Bulldogs racked up 532 yards in a 45-3 win over Louisiana Tech. Fitzgerald again was electric, racking up 350 total yards and 4 passing touchdowns, as the Bulldogs were effective on both the ground and through the air. The Bulldog defense continued its incredible season, only allowing 238 yards from the Tech offense and keeping them out of the end zone entirely.
THE PLAY
Kylin Hill with a beautiful TD grab ?. #DevyWatch pic.twitter.com/Gf4R6WRy56

— Greg Brandt (@devywarehouse) November 4, 2018

Obviously there is no play of the game in a rout like this, but look at this pass and catch. That's just sheer perfection. Kylin Hill didn't do much on the ground tonight, but five catches certainly allowed him to be a big part of the offense tonight. As for Fitzgerald, he has never had back to back games like this in his MSU career, he is 31-50 for 486 yards and 6 TDs, coming off his worst game of the season at LSU. Fitzgerald finally has his completion percentage up over 50% for the season, and he's running the ball well too. I don't know if it has finally clicked for him and this offense, but you cannot deny they have played well the past two weeks.
THE PLAYER
Mississippi State was looking for somebody else to emerge as a receiver, and tonight, it was Deddrick Thomas making plays out of the slot and from the return man position. Thomas racked up 131 yards in total along with that touchdown. Thomas has been a guy in his MSU career that hasn't gotten a lot of chances but has made some big plays when given a look. As the Bulldogs look to close out this season strong, getting another playmaker involved in the passing game will be a big reason for optimism.
DEFENSE DOES IT AGAIN
There goes that man @_sweat9. #HailState? pic.twitter.com/qWcaefRdgJ

— MSU Football ? (@HailStateFB) November 4, 2018
They just don't stop. MSU keeps another team out of the end zone, under 300 yards, and forces another turnover, albeit an insignificant one. Bob Shoop just has his guys playing at the highest level imaginable right now, to the point where you are surprised when they give up a first down. Next week, however, that will be the true test of how good this defense really is.
ALABAMA AWAITS
FINAL#OutworkYesterday#RollTide pic.twitter.com/VLpppSfjAW

— Alabama Football (@AlabamaFTBL) November 4, 2018
There's nowhere left to hide, as the Bulldogs will travel to Tuscaloosa for a date with the nation's top-ranked team, the Alabama Crimson Tide, and their superhuman quarterback Tua Tagovailoa. Alabama is coming off a good old-fashioned beatdown of LSU in Tiger Stadium, and they'll be looking to continue their run to another national title. Obviously, this is always Mississippi State's biggest test of the season, but this year, it feels like an even higher mountain to climb thanks to the incredible numbers being put up by Tua and the Crimson Tide offense. It will take an incredible effort, a mistake-free performance, and some luck if the Bulldogs want to extend their winning streak another week.
Plenty to talk about all week on SportsTalk Mississippi and the Thunder & Lightning Podcast, I look forward to talking with you guys as the season enters the final days.
Marshall: 24 Southern Miss: 26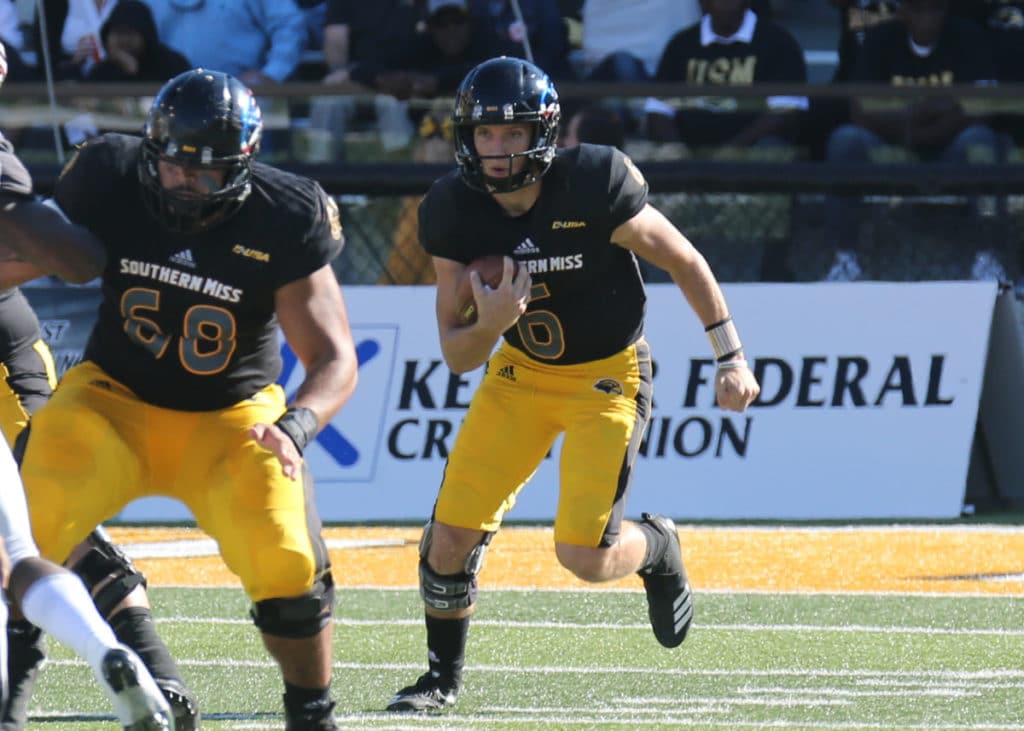 Tate Whatley got the start for USM with Jack Abraham out with an injury that he sustained in the loss to Charlotte last week, and he led the Golden Eagles to a victory.
Last week, USM had 3 turnovers, and with the game tied at 3-3, RB Zac Everett fumbled and Marshall's Brenden Knox returned it for a touchdown. On USM's next possession, Whatley would fumble and it appeared things were going downhill quickly.
The USM defense would then step up and Alex Thompson would intercept Marshall's Ty Williams, and the offense turned it into points with a 4-yard TD pass from Whatley to Quez Watkins.
Marshall got the ball back with the score tied at 10-10, but USM's defense would stand strong again as the half wore down. Jacques Turner got into the backfield and forced a fumble that was retuned for a TD and USM took a 17-10 lead into the half.
Marshall struck first in the 2nd half with a touchdown drive, and later in the 3rd quarter, a Marshall INT led to a USM field goal.
As the fourth quarter began, USM went on a 13-play drive that ate away 6:23 off of the clock, and it was capped off by a 1-yard TD run by Whatley. They would miss the extra point to make the score 26-17. Marshall would add a late TD, but it wasn't enough and USM held on to win.
The Southern Miss defense forced a total of 5 turnovers, and head coach Jay Hopson knew that the unit's performance was a key to the victory.
"Our defense battled," Hopson said. "I thought the guys did a great job swarming the ball and creating turnovers. It was a good team win."
In his first start, Whatley didn't put up big numbers but he did enough to manage the game. Whatley went 16 for 25 for 134 yards and a TD. He also led the team in rushing with 40 yards and a TD, although he did have a fumble.
Next week, the 4-4 Golden Eagles will travel to face UAB.
Stay up to date with all of Mississippi's latest news by signing up for our free newsletter here. 
Copyright 2023 SuperTalk Mississippi Media. All rights reserved.