A murder suspect from Tennessee is believed to be dead after being found in Jasper County.
The Jasper County Sheriff's Office has released a statement saying that a body has been found, and they believe it to be 22-year-old Casey James Lawhorn. Lawhorn was wanted out of Tennessee for the murder of his mother and his friend, Avery Gaines. Officials had found Lawhorn's car on Sunday on I-59, and a new post from the Jasper County Sheriff's Office states that Lawhorn's death is believed to be a suicide.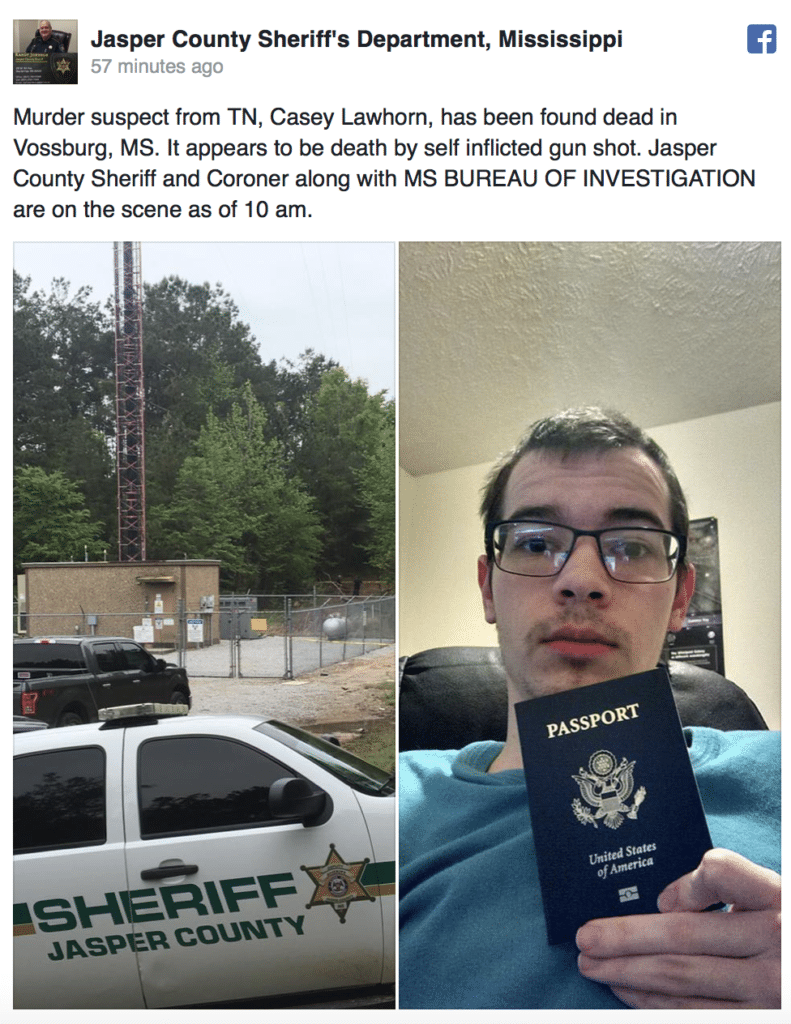 A report from The Chattanoogan claims that a social media post made by Lawhorn stated that he was going to find "a remote location to kill himself."
Lawhorn reportedly admitted to the shooting in the now-deleted Facebook post and reportedly said that he takes full responsibility for his actions, and that nothing caused him to carry out the murders. The post went on to say that he shot both Vi and Gaines with a stolen .22 [long rifle], according to Fox News.
In his post, Lawhorn stated that Gaines was a close friend of his. A Fox News report included a section of the post, and in it, Lawhorn describes his thoughts while in Jasper County and how he seemed to be looking forward to the end.
"What I did is unforgivable. And prayer is a waste of time, nothing happens after death, but if there is a hell, I'm going to be in the lake of ice at the bottom," read a post on a Facebook page purportedly belonging to Lawhorn. "However, as I sit here in Mississippi, writing this on the side of I-59 south after my car broke down, what I look forward to is the nothingness after death. I've spent a lot of time thinking about murder, wondering what it feels like. But I've barely felt anything." 
In his post, Lawhorn also said that he wanted the murder to be over quickly so his mother wouldn't know that he did it.
"The whole event took probably 3 or 4 minutes," the Facebook post reportedly said. "I had hoped both were going to be quick and efficient. I didn't want my mom to suffer, to die in horror, to die with the knowledge that her son did it(I didn't hurt our dog or cat, in case anyone was wondering about the animals)."
A media release from the Mississippi Department of Public Safety says that they are awaiting final confirmation on the identity of the body, but that it was found near the vehicle.
"A body believed to be that of Tennessee double homicide suspect Casey James Lawhorn, 22, has been located in a wooded area of Jasper County. The body has not been positively identified but was found about 100 yards from Lawhorn's abandoned car at the 118-mile marker of Interstate 59."
The investigation into this matter will continue.
Stay up to date with all of Mississippi's latest news by signing up for our free newsletter here. 
Copyright 2023 SuperTalk Mississippi Media. All rights reserved.